Video Documentation
Please see this:
Written Documentation
Ultimate Addons for Contact Form 7 lets you customize your place holder with the theme of your WordPress sites.
1. Turn on the Feature First
After installing Contact Form 7 and Ultimate Addons for Contact Form 7, and Activating them open Contact>Ultimate Addons turn the Placeholder Styling feature on.
2. Create/Open your Contact Form
Open Contact>Add New. Put a title for your form.
You will find a new option named UACF7 Placeholder on your Admin Panel.
Before you start customizing your placeholder. Add a Text Field first. For example, let's add a telephone number Text Field. Click Tel from the Admin Panel.
On the pop-up screen select the options you would require for the field. Put a Default Value (Ex. Your Number) and Tick the Use this text as a placeholder of the field option.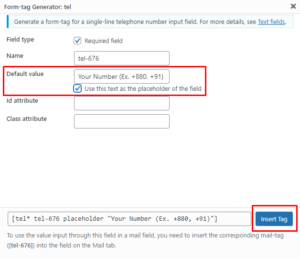 After that click on Insert Tag, to put the tag inside the Admin Panel. Don't forget to Save Changes.
3. Copy Shortcode
After you've inserted the tag inside the Admin Panel. Copy the Shortcode placed below the title of your Contact Form.
After that click on Page. You can open a new page for your Contact Form or you can add the form in an existing page by placing the Shortcode inside the Page you want. Here, we will open our Sample Page and place the tag inside this page and Save Changes.
This will show you a Contact Form just like given below.
Now, return to your Admin Panel and open UACF7 Placeholder.
4. UACF7 Placeholder
Inside the Panel, tick the Enable to turn the feature on. After that, you will find four options that lets you customize the Color & Background Color of your texts and Font Style & Font Weight of your texts.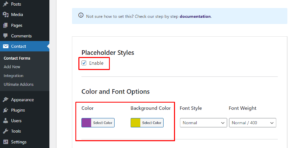 Here we added some colors and Saved Change. It will show you the changes as given below. (Note: The template shown here may vary based on the themes you use)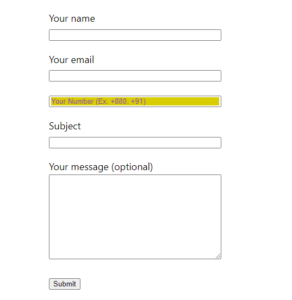 Now, you may choose any color, turn the fonts either Normal or Italic. The font weight lets you customize the boldness of your Placeholder Text. You will find feasible options on clicking the Dropdown Menu. You can provide custom number for your Font Size (in px).
Remember that, if you want to add a different Font Family. Write the name of the font family correctly.
5. Ready to use
After you are done customizing don't forget to Save Changes. Now, preview changes to see your customized Placeholder text.