Video Documentation
Please see this:
Written Documentation
We will get you to set up Star Rating Feedback in Contact Form 7 using Ultimate Addons for Contact Form 7
1. Turn on the Feature First
If you have installed Contact Form 7 and Ultimate Addons for Contact Form 7 in your system, you will find a Contact option inside your Admin Screen. Open Contact>Ultimate Addons.
You will find a set of features available with radio buttons on the right of each feature to turn them on. Find Star Rating, turn the feature on, and Save Changes from below.
2. Make a New Contact Form
Open Contact>Add New. Put a suitable Title and create a new Contact Form. Here, we put the title Star Rating.
3. Star Rating Tag
Now that you've turned on the feature and created a Contact Form, it is time to know the features that are available for you. Inside the Admin Panel, you will find a Star Rating Tag.

Open Star Rating. A Menu will pop up on your screen containing following features:
Field Type: This section has only one option that asks you whether this rating field in your Contact Form will be required one or not with a Tick Button on the left of the title.
Name: Since this is an HTML Tag, you can put a name for the Star Rating Tag specifically to keep track of the Tag in this section.
Rating Icon: In the free version, we provided two basic Star Icon Templates to mark your ratings inside the Contact Form. For more options, you may upgrade to Pro. There are hearts, thumbs up, smiles etc available and more to come soon.
Icon Class: This is a pro feature.
Star Rating Style: This is also a pro feature.
Default Selected Star: You can choose the number of Stars that will already be selected in your Form when a user visits the page. You may choose any number from 1 to 5. You have to put the digits numerically.
Change the Values of the Star: You can change the value of the star from 1,2,3,4,5 to qualitative measures like Strongly Agree to Strongly Disagree or other attributes according to your preferences. There is a section for each star to put the values.
And below is an Insert Tag Option for inserting the Tag inside the Admin Panel of your Contact Form.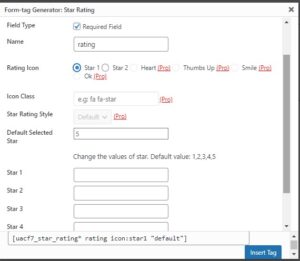 4. Setting Up Star Rating
Open Star Rating from the Tag Generating options. A Menu will pop up. Then continue the following:
If you want to keep this Star Rating a required option for your Contact Form, then Tick the button for the Required Field
Put on a name for the Star Rating Tag. g. Rating
Choose a Rating Icon.
Set a value for Default Selected Star from 1 to 5.
If you want to change the variable from numeric to character variables for each star, put the values sequentially in the Star 1, Star 2, Star 3, Star 4, and Star 5 Box.
Click Insert Tag from below to insert the tag inside your Contact Form Admin Panel.
After you've entered the Star Tag, you will find an HTML Tag given in the image below.
Rearrange the codes in the Admin Panel. Suppose, you want to put the rating below 'Your email'. Then Copy/Cut the HTML Tag and place it below 'Your Email' as given in the image below.
Note: If you want to put a label on your Star Rating then put the title and the Star Rating Tag inside <label>…</label> like given in the image below.
After you are done inserting Tag and rearranging the Codes, Save the changes from below.
5. Mail Setup
To receive the Star Rating feedback on your email, open Mail above the HTML Tag Generators. This is also called keys switch panels.
You will find a mail setup option for your Contact Form. If you wish to change your receiving mail address, you can provide the mail address inside the To box. If the mail address doesn't work you could use < [mail address]/> this tag to overcome this issue.

To receive the Star Rating feedback via email, Open Mail from the key switch panels. You will find a few suggested mail-tags inside the panel. Copy> [rating] and place it inside the Message Body as given in the image below:

6. Copy Shortcode
Now that you've inserted the Star Rating Tag and got everything set up, Copy the Shortcode below the title from the Admin Panel.
7. Your Star Rating Feedback is Ready
After you've copied the Shortcode, open Pages>All Pages> (Your Page). Now place the shortcode on your page and Save changes. After that, preview the changes.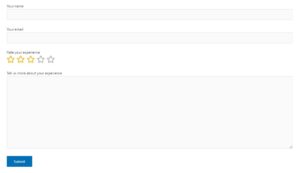 Your Contact Form is ready. Now if you put all the information and Submit. You will receive mail with Star Ratings from your audiences.
Ultimate Star Review Page
After installing the UACF7 Addon – Star rating pro plugin. You will get an extra menu option on the left side of your dashboard. You can able to a star review page on your website using our ultimate star rating pro addon.
For using the star review page, you must activate our ultimate database addon. And also you can able to configure which review you want to show on your website.