WordPress is an incredibly popular content management system (CMS), and as of 2023, it powers over 43% of all websites on the internet. In numbers, 810 million websites are using it.
WordPress offers wonderful features. Among those, plugins are considered the best. WordPress plugins are add-ons that can extend the functionality of your website, allowing you to add features such as contact forms, social media integration, e-commerce capabilities, and more.
Why You Should Opt For Plugins
There are thousands of plugins available for WordPress, including many that are specifically designed for travel websites. These plugins can offer features such as:
Booking and reservation systems
Maps and location-based features
Reviews and ratings
Currency conversion
Weather widgets
Social media sharing
The number of plugins you should use on your travel website will depend on your specific needs and requirements. It's important to choose plugins carefully, as too many can slow down your website and even lead to compatibility issues. Overall, the use of plugins can be a valuable tool in enhancing the functionality and user experience of your travel website, but it's important to use them judiciously and to ensure they are well-maintained and compatible with your site.
Tips For Choosing A WordPress Plugin For Travel Website,
Before moving towards some WordPress plugins for travel websites, let's have a look at some tips to help you choose suitable plugins.
Identify your website's specific needs: Before searching for plugins, identify the specific features you need to enhance your website. For example, do you need a booking system, a map feature, or a reviews section? Make a list of these features to help guide your search for relevant plugins.
Check plugin ratings and reviews: Look for plugins that have high ratings and positive reviews. This can be an indication of the quality and reliability of the plugin. You can check the ratings and reviews on WordPress.org, the official WordPress plugin repository, or third-party review sites.
Ensure compatibility with your WordPress version: Make sure the plugin is compatible with your current WordPress version to avoid any conflicts or issues.
Check plugin updates and support: Look for plugins that are regularly updated and supported by the developer. This ensures that the plugin is up-to-date with the latest WordPress version and that any issues can be addressed in a timely manner.
Consider plugin compatibility with your theme: Some plugins may not be compatible with certain WordPress themes. Check the plugin documentation or contact the developer to confirm compatibility with your theme.
Look for lightweight and fast-loading plugins: Plugins that are lightweight and fast-loading can improve your website's performance and user experience. Avoid using too many heavy plugins that can slow down your website.
Opt for plugins with good documentation: As suggested by the Head Editor at UK dissertation editing service, look for plugins that have good documentation to help you with installation, configuration, and troubleshooting. This can save you time and frustration in the long run.
Overall, take the time to research and carefully select the plugins that best meet your website's needs, compatibility, performance, and support requirements.
WordPress Plugins For Travel Websites
As a travel website owner, you want your site to stand out from the crowd and provide your visitors with an exceptional experience. One way to achieve this is by using plugins – small software programs that add extra features and functionality to your site. In this article, we will introduce you to 9 must-have plugins that will help take your travel website to the next level.
1: Tourfic
Tourfic is a free WordPress plugin that allows you to create a travel booking website with little to no-effort. It is a cutting-edge WordPress plugin for the hotel and travel industry. Its advanced functionality empowers you to create online booking systems with ease, allowing your customers to book their travel and accommodation online in a smooth and efficient manner. By leveraging the power of WooCommerce, Tourfic offers a user-friendly interface that streamlines your order and payment processes.
Additionally, your customers can create their own accounts to manage their bookings, while you benefit from a range of advanced pricing logics to facilitate better management of your essential business processes. With Tourfic, creating a website akin to the world-renowned Booking.com, Agoda, Hotels.com and Airbnb platforms is a breeze, and you can get started without delay.
Key Takeaways
Add Unlimited Tours
Tour Photo Gallery
Features, FAQs and Terms & Condition Per Tour
Tour Highlights Section
Tour Include/Exclude Section
Tour Itinerary
Tour Price by Persons (Adult, Children, Infant)
Dedicated Customer Review System (See Review section for breakdown)
Wishlist for Tours
Enquiry / Ask a Question Form
and many more options
2: Yoast SEO
Yoast SEO is a powerful plugin that helps optimize your website for search engines. By analyzing your content and providing suggestions for improvement, Yoast SEO can help you improve your website's ranking on Google and other search engines. In fact, according to a study by Backlinko, websites that use Yoast SEO have a higher average search engine ranking than those that don't.
Yoast SEO is especially important because competition is fierce in the travel industry. By using Yoast SEO to optimize your content, you can improve your chances of ranking higher in search engine results pages (SERPs) and attract more visitors to your site.
Key Takeaways
Helps optimize WordPress sites for search engines
Provides real-time content analysis and suggestions for improvement
Offers a wide range of customization options for title tags, meta descriptions, and social media snippets
Provides XML sitemap functionality and automatically generates sitemaps
Includes advanced features like breadcrumb navigation and schema.org structured data
Available in both free and premium versions with additional features and support.
3: Fluent Forms
Fluent Forms is a plugin that makes it easy to create contact forms, surveys, and other types of forms for your website. With its drag-and-drop form builder and a variety of customizable templates, Fluent Forms allows you to create professional-looking forms without any coding skills.
Fluent Forms can be used to create contact forms for bookings, feedback forms for customer service, and even survey forms to gather feedback on your website's user experience. By using Fluent Forms, you can engage with your audience and gather valuable feedback that can help you improve your website and services.
Key Takeaways
Easy to use drag-and-drop form builder
Offers pre-built form templates
Includes advanced form fields like file uploads, multi-page forms, and conditional logic
Integrates with popular email marketing and payment platforms
Provides spam protection and security features.
4: Jetpack
Jetpack is a multifunctional plugin that provides a suite of tools for your website. Some of its features include website security, site performance optimization, and social media integration. With over 5 million active installations, Jetpack is a trusted plugin used by website owners around the world.
Jetpack can be used to improve website speed, protect against spam comments, and provide social media sharing buttons. By using Jetpack, you can ensure that your website is secure, fast, and user-friendly.
Key Takeaways
Provides site security, backup, and performance optimization features
Offers design and customization options for WordPress sites
Includes features for site statistics, content delivery, and mobile optimization
Offers subscription, social sharing, and comment functionality
Includes a range of additional features like spell checking, automated social media posting, and more.
5: W3 Total Cache
W3 Total Cache is a plugin that improves website speed and performance by caching your website's pages and assets. By reducing load times and improving website performance, W3 Total Cache can help improve your website's user experience and increase your website's search engine ranking.
Website speed is especially important because visitors may be accessing your site from different locations around the world. By using W3 Total Cache, you can ensure that your website loads quickly and provides a seamless user experience.
Key Takeaways
Improves website performance and speed by caching website pages and files
Offers a range of customization options for caching, including minification, database caching, and object caching
Provides features for content delivery network (CDN) integration and browser caching
Improves server performance and reduces the load time for web pages
Helps improve search engine rankings and user experience.
6: TripAdvisor Widget
TripAdvisor Widget is a plugin that allows you to showcase your TripAdvisor reviews on your website. With over 730 million reviews and opinions, TripAdvisor is a trusted source for travel information and can help build trust with potential customers.
TripAdvisor Widget is a great way to showcase your business's positive reviews and ratings. By displaying your TripAdvisor reviews on your website, you can build credibility and attract more customers to your business.
Key Takeaways
Allows users to easily display TripAdvisor reviews and ratings on their WordPress site
Provides customization options for the number of reviews, layout, and style
Displays real-time information from TripAdvisor, including reviews, ratings, and photos
Provides social proof and improves user trust by showcasing positive reviews
Helps boost SEO by providing fresh and relevant user-generated content on the site.
7: MonsterInsights
MonsterInsights is a plugin that integrates your website with Google Analytics. With its user-friendly dashboard, you can track your website's traffic, user behavior, and other metrics, and make data-driven decisions to improve your website's performance.
MonsterInsights can help you understand your visitors' behavior and preferences, such as which pages are the most popular and how long visitors are staying on your site. This information can help you tailor your website to better meet the needs and interests of your audience.
Key Takeaways
Integrates WordPress sites with Google Analytics to track site traffic and user behavior
Provides real-time stats for website performance, including pageviews, bounce rate, and session duration
Offers advanced tracking features like eCommerce tracking, file download tracking, and event tracking
Provides easy-to-read reports and insights for website owners and marketers
Offers both free and premium versions with additional features and support.
8: WP Live Chat Support
WP Live Chat Support is a plugin that allows you to provide real-time customer support through your website. With its user-friendly interface and customizable chat box, WP Live Chat Support makes it easy to engage with your visitors and answer their questions in real-time.
For a travel website, WP Live Chat Support can help you provide instant customer service to your visitors, such as answering questions about travel packages, destinations, and bookings. This can help build trust with your audience and increase the likelihood of them making a booking on your website.
Key Takeaways
Allows users to add live chat functionality to their WordPress site
Provides a simple and intuitive chat interface for users and visitors
Offers customization options for chat window design, greetings, and messages
Provides automated and proactive chat features like auto-responses, triggers, and notifications
Helps improve customer service and user experience on the site.
9: Smush
Smush is a plugin that optimizes your website's images by reducing their file size without compromising their quality. By reducing the size of your images, you can improve your website's loading speed and provide a better user experience for your visitors.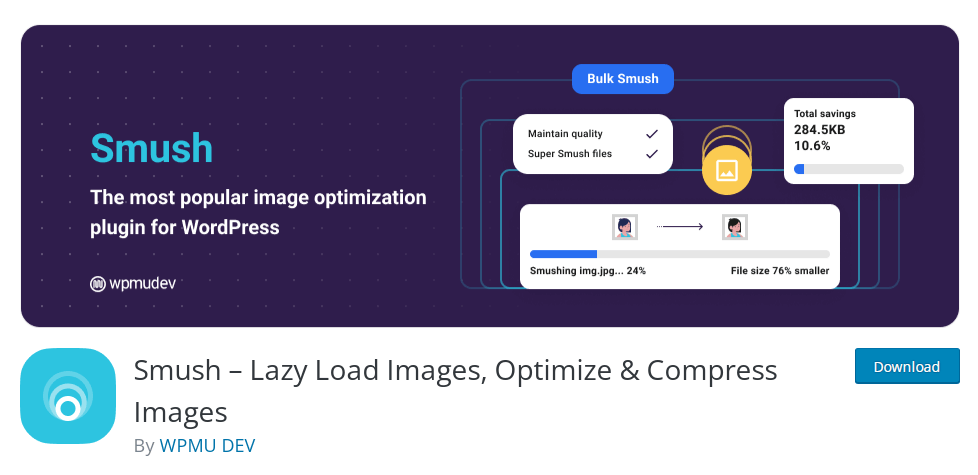 High-quality images are essential for showcasing your destination and travel packages. However, large images can slow down your website's loading speed and negatively impact user experience. By using Smush, you can optimize your website's images and provide a fast and seamless user experience.
Key Takeaways
Helps optimize images on WordPress sites for better performance and faster page load times
Provides bulk image compression and optimization features for existing images on the site
Offers automated image resizing and scaling features to improve website speed
Provides optimization suggestions for new images uploaded to the site
Helps improve website SEO and user experience by reducing image file size and improving page speed.
While Summing Up…
In conclusion, these 9 must-have plugins can help take your travel website to the next level by improving website performance, providing a seamless booking experience, engaging with your audience, and improving your website's search engine ranking. By using these plugins, you can provide your visitors with an exceptional user experience and stand out from the competition in the travel industry.
---
This article is written by Claudia Jeffrey. She is currently working as a Senior Editor at Crowd Writer, where she serves students with custom dissertation writing. She loves traveling and often travels solo to explore the beauty of mother earth. Previously she worked as a Website Manager at the same firm. She often blogs at Word Count Jet.