Are you looking for the best MotoPress alternative? If so, the battle between MotoPress and Tourfic might excite you to the fullest. Some say MotoPress is fantastic, while others say Tourfic is outstanding.
But the truth is both plugins have their own advantages and disadvantages. And both have a set of exclusive features to make the tour and travel booking business lucrative.
MotoPress booking plugin is a decent choice for the majority of WordPress users. It has many advanced features to make a hotel booking website outstanding.
On the other hand, Tourfic is a brand-new choice for many WordPress users for its impressive offerings, particularly for creating hotel and tour booking features with multivendor functionalities.
But how do you decide which one is the better option? This article will walk you through a comprehensive comparison battle so you can eventually know which one to beat.
No more stalling, no more hype – this battle is ready to start right now! Let's get ready to rumble!
Is Tourfic the perfect MotoPress alternative? Let's compare them
Let's review the critical comparison of MotoPress vs. Tourfic in this section from different perspectives:
Multi-vendor integration
Multi-vendor integration for WordPress travel websites is essential to allow multiple agencies and sellers to sell tour or booking services. It works just like a marketplace.
To be more precise, the functionality of this feature creates an equitable environment where multiple vendors can effectively market their products and services to clients. Also, it allows travelers to explore various options from different sources.
MotoPress booking WordPress plugin did not offer a built-in multi-vendor integration option. Although it allows third-party plugins to create multi-vendor websites, they are not verified or tested to get the desired results.
However, Tourfic gains the whip hand regarding the availability of dedicated beauty of multi-vendor integration. Your customers can get the chance to book tours or hotels from various platforms and websites. That means you can effortlessly create multivendor websites like Agoda or Booking.com with Tourfic.
Unlike MotoPress, Tourfic offers the following notable multivendor features:
Ajax-based login and registration form: The vendors and customers get Ajax-based login and registration forms. They don't need to reload their pages while registering or logging in using the form.
Vendor email verification: Email verification functionality for vendors is required before uploading data. However, only the admin can turn the email verification on/off throughout the process.
Vendor registration: The admin has complete control over the vendor registration process. They can restrict the logins of various vendors whenever the admin wants. For example, a vendor cannot log in unless their email is verified.
Here are a few key differences in terms of multivendor functionalities:
| | | |
| --- | --- | --- |
| Multi-vendor functions | MotoPress | Tourfic |
| Vendors ability to add hotels and tours with all the fields | ❌ | ✔️ |
| Dedicated order details pages for vendors | ❌ | ✔️ |
| Dedicated login and registration system for vendors | ❌ | ✔️ |
| Enable/disable specific vendors | ❌ | ✔️ |
| Email verification for vendors | ❌ | ✔️ |
Hotel booking and management system
Both MotoPress and Tourfic allow you to create unlimited hotels and rooms. They also allow you to set particular room prices and check the room availability based on Ajax operation as well. This means you and your website users don't have to reload pages every time while checking availability.
Moving forward, MotoPress does not ship with a hotel photo gallery nor the amenities to add features, FAQs and terms and conditions per room. It also has no social sharing option, ask-a-question form, wishlist, or number of rooms according to date.
In addition, it also can't receive partial payment, use OpenStreet maps, offer airport pickup service, add a hotel video gallery and implement so many other necessary features.
On the other hand, Tourfic can bridge the gap with these features with other bells and whistles needed. So, we can safely say that Tourfic is quite powerful in terms of hotel booking and management systems when compared to MotoPress.
| Hotel booking and management system​ | MotoPress | Tourfic |
| --- | --- | --- |
| Add Unlimited Hotels | ✔️ | ✔️ |
| Add Unlimited Rooms | ✔️ | ✔️ |
| Set room price per Room | ✔️ | ✔️ |
| Hotel Photo Gallery | ❌ | ✔️ |
| Features, FAQs and Terms & Condition Per Room | ❌ | ✔️ |
| Room availability check based on Ajax | ✔️ | ✔️ |
| Dedicated Customer Review System (See review section for breakdown) | ✔️ | ✔️ |
| Social Sharing Option (Facebook, Pinterest, LinkedIn, Twitter) | ❌ | ✔️ |
| Enquiry / Ask a Question Form | ❌ | ✔️ |
| Wishlist for Hotels | ❌ | ✔️ |
| Per Room Gallery & Features | ❌ | ✔️ |
| Number of Rooms based on the date | ❌ | ✔️ |
| Room price by persons (Adult, Children) | ✔️ | ✔️ |
| Room availability based on date | ✔️ | ✔️ |
| Room price based on the date | ✔️ | ✔️ |
| Room Inventory Management | ❌ | ✔️ |
| Advanced / Partial Payment | ❌ | ✔️ |
| Dynamic Location Search based on OpenStreetMap on Option Panel | ❌ | ✔️ |
| Dynamic Location Search based on Google Maps on Option Panel | ✔️(Paid Addon) | ✔️(Free) |
| Show Hotel Location on Map with Popup | ❌ | ✔️ |
| Add Video on Hotel Gallery | ❌ | ✔️ |
| Airport Pickup Service | ❌ | ✔️ |
Booking and analytics data on the dashboard
Both the plugins use the default analytics tool of WooCommerce on their respective dashboards. They also take pride in custom booking modules, including order ID, order details, order date, order status, customer information, payment method information and so on.
| | | |
| --- | --- | --- |
| Booking and analytics data on the dashboard | MotoPress | Tourfic |
| Default analytics tool provided by WooCommerce | ✔️ | ✔️ |
| Custom booking module: Order ID, order details, order date, order status | ✔️ | ✔️ |
| Custom booking module: Customer information | ✔️ | ✔️ |
| Custom booking module: Payment method information | ✔️ | ✔️ |
Tour booking capabilities
MotoPress does not even come up with the bare minimum regarding tour booking capabilities. Why is it so? That's because MotoPress was not even intended to create tour booking websites. It's only intended to develop hotel booking and appointment websites.
As a result, Tourfic dominates the battle with its dedicated tour and itinerary functionalities. With Tourfic's tour booking and itinerary capabilities, you can create a travel booking agency at any scale.
So, if you're looking for a tour booking solution, you can downright go for Tourfic. Here are the necessary tour booking capabilities that Tourfic offers, unlike MotoPress.
| Tour listing and booking system | MotoPress | Tourfic |
| --- | --- | --- |
| Add unlimited tours | ❌ | ✔️ |
| Tour photo gallery | ❌ | ✔️ |
| FAQ section | ❌ | ✔️ |
| Features and terms and condition Section | ❌ | ✔️ |
| Tour highlights section | ❌ | ✔️ |
| Tour include/exclude section | ❌ | ✔️ |
| Tour itinerary | ❌ | ✔️ |
| Set tour as featured | ❌ | ✔️ |
| Tour price by persons (Adult, children, infant) | ❌ | ✔️ |
| Dedicated customer review system (See review section for breakdown) | ❌ | ✔️ |
| Wishlist for tours | ❌ | ✔️ |
| Enquiry / ask a question form | ❌ | ✔️ |
| Continuous tour (Tour availability every month within the mentioned range) | ❌ | ✔️ |
| Fixed tour (tour availability on a fixed date) | ❌ | ✔️ |
| Tour price per group | ❌ | ✔️ |
| Custom availability | ❌ | ✔️ |
| Availability based on time and dates. | ❌ | ✔️ |
| Per day availability | ❌ | ✔️ |
| Advance / partial payment | ❌ | ✔️ |
| Tour video on gallery | ❌ | ✔️ |
| Sell tours extras | ❌ | ✔️ |
| Set minimum days before restrictions on tours booking | ❌ | ✔️ |
| Dynamic location search based on OpenStreetMap on option panel | ❌ | ✔️ |
| Dynamic location search based on Google Maps on the option panel | ❌ | ✔️ |
Widgets and shortcodes for Elementor
MotoPress and Tourfic are both compatible with Elementor with widgets and shortcodes. You can have the flexibility like drag and drop to create visually stunning and functional travel websites. However, with Tourfic, you can get slightly more flexibility to develop and edit four more widgets.
| | | |
| --- | --- | --- |
| Shortcodes and elementor widgets | MotoPress | Tourfic |
| Search form (Horizontal) | ✔️ | ✔️ |
| Search result | ✔️ | ✔️ |
| Recent tour slider | ❌ | ✔️ |
| Recent hotel slider | ❌ | ✔️ |
| Tour destinations | ✔️ | ✔️ |
| Hotel locations | ✔️ | ✔️ |
| Wishlist | ❌ | ✔️ |
| Login and registration form | ❌ | ✔️ |
Payment gateways
Before you choose a hotel booking or tour booking solution, make sure they ship with support for popular payment gateways. With MotoPress, you must pay for the add-ons to integrate the WooCommerce payment gateways.
Surprisingly, Tourfic brings the privilege of using all the WooCommerce payment gateways out of the box. Having said that, you don't have to spend any extra bucks to use all the popular payment gateways such as PayPal, Stripe and Authorize.net.
| Features | MotoPress | Tourfic |
| --- | --- | --- |
| Payment gateways | An additional addon required for WooCommerce payment gateways | Any free payment gateways backed by WooCommerce (Paypal, Stripe, Authorize.net etc) |
API-based integration with top travel websites
API-based integration with top travel websites will smooth your experience if you want to showcase the travel or tour booking rates dynamically. In this regard, Tourfic completely dominates MotoPress as MotoPress is only a hotel and appointment booking plugin.
| API Integration with top travel websites | MotoPress | Tourfic |
| --- | --- | --- |
| Booking.com integration | ❌ | ✔️ |
| TravelPayouts hotel integration | ❌ | ✔️ |
| TravelPayouts flight integration | ❌ | ✔️ |
Number of active installations
Today, more than 1,000 websites use the Tourfic WordPress plugin to create websites. This number includes only active users (installations) of Tourfic.
The exponentially growing number of active users of Tourfic proves its popularity is evident in the travel website creation landscape.
These users continuously use it while making and handling feature-rich and professional websites. Moreover, these active downloaders have given 5 out of 5 stars ✨ ratings on the WordPress.org repository.
On the other hand, the MotoPress tour booking plugin has more than 10,696 downloads. This data shows there are thousands of websites that are using the MotoPress plugin with confidence.
The significant number of downloads for the MotoPress tour booking plugin strongly indicates its popularity and trust among website owners. Despite its popularity, all new and old users have given only a 3.8-star 🌟 rating on a scale of 5 to this plugin on the WordPress.org repository.
| | | |
| --- | --- | --- |
| Ratings and active installations | MotoPress | Tourfic |
| Rating on WordPres.org | 3.8 out of 5 | 5 out of 5 |
| Active installations | 10,000+ | 1,000+ |
So, in terms of numbers and a more extensive user base, MotoPress has a plus point. However, the customer satisfaction rating is far better for Tourfic compared to MotoPress. Again, your choice between these plugins should not solely rely on numbers.
Customer support
MotoPress boasts a sizable user base, primarily due to its established presence. Users benefit from a well-established support system.

Meanwhile, Tourfic garners attention from users seeking innovative features that address their needs. The customer support team of Tourfic is also worth considering.
When we consider customer care for WordPress plugins like MotoPress and Tourfic, both have their customer care and maintenance parameters. Let's see what support and care both plugins offer to their customers:
| | | |
| --- | --- | --- |
| Quality of customer support and care | MotoPress | Tourfic |
| Good response time | ✔️ | ✔️ |
| User review/feedback system | ✔️ | ✔️ |
| Pricing and support levels | ✔️ | ✔️ |
| Email availability | ✔️ | ✔️ |
| Phone number availability | ❌ | ❌ |
| Self-service options (FAQs, video tutorials, or user guides) | ✔️ | ✔️ |
| Live demo | ✔️ | ✔️ |
| Support resources (Forums, knowledge bases, documentation) | ✔️ | ✔️ |
| Testimonial options | ✔️ | ✔️ |
| Data security and privacy | ✔️ | ✔️ |
| Customer satisfaction survey | ✔️ | ✔️ |
| Social media support | ✔️ | ✔️ |
| User community | ✔️ | ✔️ |
| Support tickets and tracking system | ✔️ | ✔️ |
| Self service options (FAQs, video tutorials, or user guides) | ✔️ | ✔️ |
| Availability (24/7) | ✔️ | ❌ |
| Multilingual support | ✔️ | ✔️ |
| Contact us form | ✔️ | ✔️ |
Remember, the quality of customer service or customer support is very subjective. It may vary based on the individual experiences.
For example, some users prefer to contact the team via email, while others use social media platforms to contact the customer service team.
You can personally contact the customer support for both plugins and analyze their response time. Moreover, check other customer care parameters according to your requirements.
Speed optimization feature
To run circles around your competitors, you can optimize your website's speed to reduce bounce rate and improve search engine ranking. To this end, you may need to employ third-party plugins for your website.

The most exciting part is that Tourfic can optimize your website speed by compressing CSS and JS and using CDN services. Unfortunately, MotoPress doesn't provide this feature.
| Feature | MotoPress | Tourfic |
| --- | --- | --- |
| Speed optimization (Minification of Tourfic CSS, JS) | ❌ | ✔️ |
| Use of CDN service for 3rd Party asset files | ❌ | ✔️ |
Mobile app
Over the last decade, more and more people have been using smartphones to book hotels and tours from their websites. So, having a mobile app version of your hotel and tour booking website is a plus.
Fortunately, MotoPress packs this features while Tourfic is yet to bring its mobile app to the market.
| Feature | MotoPress | Tourfic |
| --- | --- | --- |
| Mobile app | ✔️ | ❌ (Upcoming) |
Miscellaneous
When it comes to changing styles, MotoPress struggles a lot compared to its rival Tourfic. When Tourfic can enable you to use a complete style panel, disable hotel or tour features separately and change the permalinks of your hotel and tour listings, MotoPress can only provide you with a simple and easy-to-use option panel.
| | | |
| --- | --- | --- |
| Miscellaneous | MotoPress | Tourfic |
| Complete Style Panel | ❌ | ✔️ |
| Easy to use Option Panel | ✔️ | ✔️ |
| Disable Hotel or Tour Features Completely | ❌ | ✔️ |
| Change Permalinks of Hotel / Tour | ❌ | ✔️ |
Pricing: MotoPress vs. Tourfic
MotoPress and Tourfic – both come in two versions: One is the free version and the other is the premium / pro version.
You don't need to pay a single penny while using the free versions of MotoPress and Tourfic booking plugins. Anyone can access and use the free versions of both plugins. However, free accessibility comes with a few limitations.
You can purchase the PRO VERSION of your chosen plugin to access extra and advanced features. Let's compare the pricing tables of premium subscriptions of both plugins.
# Premium Plans of MotoPress:
| | | |
| --- | --- | --- |
| Plan | No. of sites on which the plan works | Price |
| Basic / Starter Plan | Works for a single Site | $ 99.00 per year |
| Business Plan | Works for unlimited sites | $ 199.00 per year |
# Premium Plans of Tourfic:
| | | |
| --- | --- | --- |
| Plan | No. of sites on which the plan works | Price |
| Basic / Starter Plan | Works for 1 Website | $59 Annual License$149 Lifetime License |
| Premium Plan | Works for 5 Websites | $149 Annual License$299 Lifetime License |
| Business Plan | Works for Unlimited Websites | $249 Annual License$649 Lifetime License |
After contrasting both tables, we can conclude that Tourfic offers more perks and benefits in terms of pricing. Tourfic's premium subscriptions are lower in price as compared to MotoPress Pro.
MotoPress complete overview: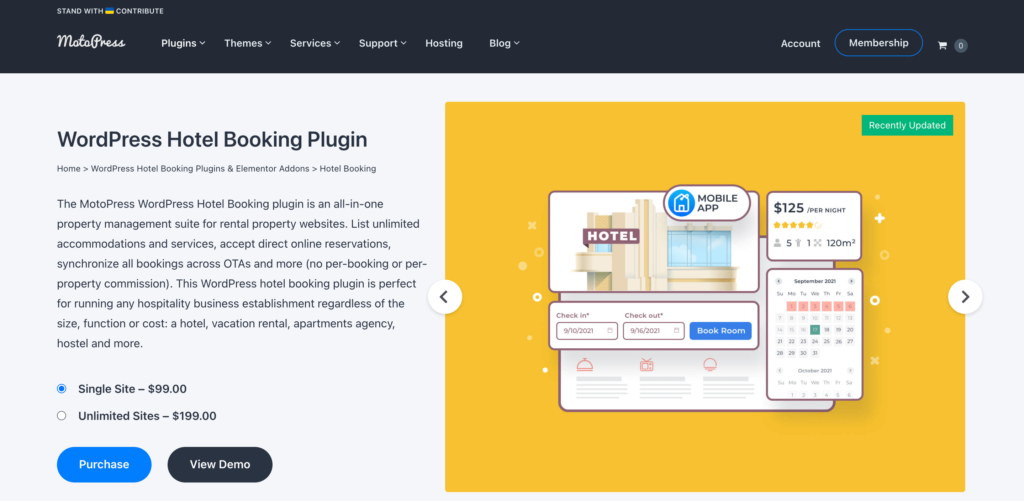 MotoPress Booking Plugin is one of the best user-friendly solutions for managing reservations and bookings on your WordPress website.
It's one of the most popular WordPress booking plugins regarding active installations. It allows businesses in the hospitality and service industries to automate their booking processes.
Instead of using many plugins for different purposes on your web, the MotoPress tour booking plugin offers many features under its umbrella.
For example, it provides customizable booking forms, real-time availability calendars, flexible pricing options, and secure payment gateways.
This integrated approach streamlines the user experience, reduces potential conflicts between different plugins, and enhances the efficiency of tour booking websites.
More interestingly, the MotoPress plugin seamlessly integrates with various property types, from hotels to vacation rentals.
Its intuitive interface and responsive design smoothen the booking experience for both site owners and customers. Now, let's review the powerful features of MotoPress:
Advantages of MotoPress:
Let's scan a few key features of MotoPress Booking Plugin:
Sync with OTAs
MotoPress synchronizes your bookings and availability just like Booking, HomeAway, Airbnb, TripAdvisor, and many others. All these reputed websites support iCal. One of the significant benefits you'll get through iCal support is to get surety of real-time, accurate, and synchronized bookings and availability across multiple platforms.
The good news is that the MotoPress booking plugin supports iCal and automatic synchronization.
This way, you can avoid overbooking and generate calendars to import them from OTAs. Thus, this feature provides a seamless experience for both property owners and guests.
Property presentation
The MotoPress plugin works for the following scenarios:
Rent out single accommodation like a cabin, a villa, etc.
Rent out unlimited properties like hotel rooms, holiday homes, etc.
You can customize the following according to your accommodation type:
Description
Bed size
Price
Comments
Sleep
Booking system on the property page
Displaying extra services
Available packages
Property search form
MotoPress has a mobile-friendly and intuitive property search form. Customization of fields and finding properties have become super easy on any device. Effortless bookings are effortlessly accessible with this feature.
Custom fields for advanced searches
MotoPress Booking Plugin can enhance guest experience with custom search options. You can add filters like location, price, and more for convenience.
You can make your guest find a perfect stay effortlessly. With MotoPress, you'll feel that better sorting options are just one step closer!
Real-time availability calendars
Your guests will get information about the availability of any designated property in real-time on your website. You can also show the status of availability and unavailability of anything in different colors.
Multiple accommodations booking at one go
This feature is handy for serving intelligent automation services to your guests for their dynamic journeys. For example, one guest can reserve multiple properties at one time.
Flexible rates and inventory management
The features of setting up flexible rates and room inventory management allow property owners to adjust pricing and availability quickly. These features empower hosts to optimize rates for different seasons and events to get maximum occupancy and rates.
Here are the key benefits of MotoPress' flexible rates and inventory management:
Dynamic seasonal pricing: Regulation of rates according to the seasons, like specific days, low/high seasons etc.
Complex rates based on property facilities: You can easily maintain fenced rates of the same accommodations with options like non-cancelable and non-refundable reservations, advanced amenities, breakfast and private bathroom.
Properties rates per person: If you want to dynamically change your property rates according to the guests' requirements, MotoPress can do this for you. The variables of per guest price will show accurate results.
Flexible rates per length of stay: If your guests want discounts on more extended stays, you can create weekly, monthly, and even custom duration rates according to the length of stay.
Discount coupons: You can create coupons right from the admin dashboard of the MotoPress booking plugin. You can set up discount amount, check-in date, check-out date, expiration date and minimum or maximum days of stay.
Compulsory taxes and fees: You can customize mandatory taxes and fees according to the charges, whatever suits you.
Bookable extras or fee services: You can set up bookable extra features or fee services.
Handling booking payments and gateways: Handling booking payments and setting up various payment gateways is a matter of a few steps with MotoPress. You can accept payments online or after arrival, set payment gateways with WooCommerce with a paid extension, add up instant or manual booking confirmation, record reservations manually, edit original reservation bookings, and allow the guests/users to create and see their personal accounts of current and past bookings.
With MotoPress, you can accept payments from gateways like Stripe, PayPal, Braintree, 2CheckOut and Bambora.
Drawbacks/limitations
MotoPress has the following drawbacks:
Complexity for naive developers
The MotoPress booking plugin is complex. The new users and naive developers who don't have advanced knowledge of working on a complex plugin find it hard to work on it.
Not flexible and easy to set up
Although MotoPress has a lot of positive reviews and demos, it doesn't offer native flexibility for options like multivendor functionality and ease of use while setting up a booking website. Though it has extensive documentation, its setting up process is time-consuming.
No tour booking functionalities
MotoPress does not come with any native tour booking functionalities. It would be a bummer if you want to implement both hotel booking and tour booking features on your website.
Reviews about MotoPress
If we only talk about reviews of the MotoPress booking plugin on TrustPilot, we can find more than 450 reviews. Not to mention, 90 percent of the ratings are based on five stars.
"MotoPress is great to get help for your booking website. The team is really experienced. Their online chat for help is great. Eugene is very cooperative and nice, especially. Thank you so much!"

According to the recently published review of Patricia Llonch
MotoPress booking Plugin got a 3.8 average rating on WordPress from 54 reviews. Also, it reached 31 optimistic reviews on the Capterra review platform.
Tourfic complete overview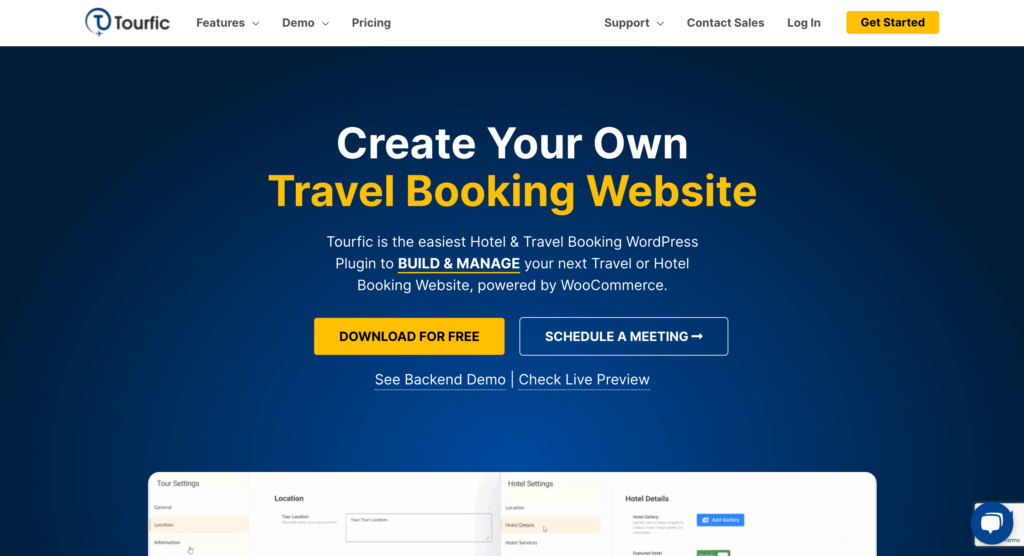 It's a versatile WooCommerce-based tool that helps to streamline the booking process for hotel and tour booking websites. It integrates seamlessly into websites and allows businesses to showcase their offerings, set availability and accept reservations online.
The users can effortlessly browse, search, select and book tours, activities or accommodations. Thus, it enhances customer experience. Whether you are a travel agency looking for adventure or a hotel owner seeking relaxation, Tourfic covers everything you need.
Getting in touch with a more loyal online audience for your hotel business or travel agency is just a step ahead with the help of Tourfic.
Advantages of Tourfic
Let's deep dive into the critical features of Tourfic:
Location map
Location Map is one of the unique features of the Tourfic travel and tour booking plugin. This feature allows travelers to explore destinations with ease. Tourfic uses advanced mapping technology to give its users detailed geographical locations and information.
The overall travel experience of hotel owners and travel agencies with the Tourfic plugin will become fascinating due to the "Location Map" feature powered by both OpenStreetMap and Google Maps.
Furthermore, this compelling feature of Tourfic adds a captivating dimension to the travel experience. OpenStreetMap's open-source and highly detailed mapping data ensures that users can access precise location information, helping them make informed travel plans.
Video and image gallery
It's said, "A picture is worth a thousand words." High-quality visuals are pivotal in attracting potential customers. That's why the "Video and Image Gallery" feature in the Tourfic plugin enables businesses to showcase their offerings vividly.
Logic for advanced pricing
With the help of advanced logic, Tourfic empowers travel operators to implement dynamic pricing strategies. This feature utilizes data-driven logic to optimize pricing. It helps to ensure the competitiveness and profitability of the tour and booking website owners.
Dynamic options for room and tour packages
The dynamic option is another amazing feature of Tourfic. It grants the flexibility of tailoring room and tour packages to the businesses. The users can set packages according to customer preferences. Thus, it's a powerful tool for crafting personalized itineraries.
Room inventory control
Effective inventory management is crucial for hotel and travel businesses. That's where the feature of Room Inventory Control comes into play.
It streamlines the inventory management system. For example, it automatically reorganizes the availability of each room. This feature helps businesses avoid overbooking and optimize occupancy rates.
Travel extras
Tourfic offers additional services and amenities with the help of extra travel features. It flourishes in upselling opportunities. Moreover, it's a valuable tool to boost revenue while enhancing the travel experience.
Discounts for the itinerary builder and partial payment
The Itinerary Builder and Partial Payment feature offers a discount option. It attracts budget-conscious travelers and encourages booking.
Small deposit
Let's not miss out on another important use case of Tourfic – Small Deposits. It caters to travelers looking for flexibility in payment. Plus, the customers feel secure while booking with a smaller initial deposit. It also increases the conversation rates.
Wishlist
This feature is a valuable tool for customers to save and plan their dream vacations. It fosters engagement and helps users keep track of their desired trips.
Support for the customer review system payment method
Encouraging customer reviews is essential for building trust. Tourfic's support for the customer review system makes it easy for your customers to share their experiences and rate your business.
Payment methods
Tourfic accommodates various payment methods. The booking plugin offers convenience to customers while ensuring secure transactions.
Secure payment methods are a critical aspect of online travel bookings. Setting up a partial payment method is also possible with Tourfic.
Compatible with popular affiliate plugins
It expands revenue streams while co-working with other top Affiliate Plugins like AffiliateWP, Solid Affiliate, and Slice WP. So, it allows businesses to monetize their websites through affiliate partnerships seamlessly.
Multilingual integration
Tourfic creators understand the importance of global reach. It supports multiple languages to reach out to a diverse, international audience easily.
Complete style panel
The appearance of the plugin matters a lot. So, Tourfic creators add the Complete Style Panel feature to customize your website's appearance quickly. It also ensures that your travel website aligns with the brand's identity and aesthetics.
Tour video options
Tourfic offers an option to upload attractive tour videos for video marketing. For example, you can upload a teaser video for your travel business.
Apart from the features mentioned above, here are a few others that might give you the extra mile:
Advanced pricing (per person, per room, per customized time)
Dynamic room options (description, title, total guest count, features, conditioning pricing, etc.)
Individual room gallery (separate photo gallery for each room that is separated from the main gallery)
FAQ with accordions (built-in FAQ system)
Custom price by date (multiple prices per multiple dates)
Room features (developers can set up room features with innovative icons like refrigerator, TV, air conditioner, WiFi, coffee machine, etc.)
Tour extras (Setting up customized tour extras is easy with Tourfic, like hotel drop off, airport pick up, etc.)
Continuous/fixed tour (setting up ongoing or fixed-type tours has become possible with this feature)
Discounts (Availability of setting up a fixed discount or percentage discount)
Trip reviews (Customers share thoughts about their booked times.)
Thus, Tourfic is packed with a number of useful functionalities. It has the potential to take your websites to new heights.
Drawbacks/limitations
Although Tourfic comes to rescue you in creating compelling and dynamic tour booking websites, here are a few limitations of this powerful plugin:
Dedicated themes limitation
Tourfic has only one dedicated theme called Travelfic. However, it enlists more upcoming theme options in its roadmap. So, we hope it'll be coming up with more opportunities.
Relatively small community
Tourfic is a newly-released WordPress plugin compared to its competitors. So, you might not see the community to be that big. However, it has managed to build a supportive community in a very short period. That means the community is going to grow at a much faster rate.
Reviews about Tourfic
There are 37 optimistic reviews about Tourfic on TrustPilot. Most importantly, more than 94 percent of reviewers have given a 5-star rating to this powerful plugin.
"The support and care from Themefic is outstanding. Their Tourfic plugin and its addons are the best. Currently, I'm using the pro version, and it's fabulous. Their developer's team is adding new features at a slow pace. Also, their existing features have improved so much. Once, I requested the team to make improvements in an addon, and they did that accordingly. Great development!"

According to Javier Eduardo from ES on 23rd September 2023
"I love the plugins of Themefic. I'm a user of Tourfic Pro, and I like it so much. Their fast and professional support is also loveable. When I sent them a ticket, they resolved my problem within minutes. Highly recommended plugin."

According to another reviewer, Michael Waweru from DE on 10 September, 2023
Also, there are 15 more reviews and comments on WordPress.org. Interestingly, all users have given 5-star ratings to this plugin.
For instance, Xavier C from Trip to help.org states the following on the official website of Themefic:
"After searching for so many plugins for my professional travel agency, I decided to choose this plugin of TOURFIC from Themefic. I tried so many solutions, but my last choice is Tourfic. It solved all of my agency's needs, and the positive fact about this plugin is that it's improving little by little. Its new options and features have made me one of the biggest fans of this plugin. I think my site can't breathe without it."

Xavier C from Trip to help.org
Final verdict: Is Tourfic the perfect alternative to MotoPress?
Travel and tour booking websites have become aesthetically pleasing and futuristically functional. Implementing all these has become easier because of WordPress hotel and tour booking plugins like MotoPress and Tourfic.
Thus, both plugins have all the basic and dream features of the best hotel booking plugin everyone desires to get in their booking websites.
However, if you want to create a travel agency or tour booking website, MotoPress can't offer the required feature as it's not built to make a tour booking or travel booking website.
On the other hand, Tourfic offers both hotel and tour booking functionalities under its umbrella with multivendor functionalities, one of its unique selling propositions.
So, if you plan to scale your hotel booking website to a tour booking website, you can go for Tourfic.
Moreover, if you want the premium features of a hotel booking website, even in the free version, you can consider Tourfic.
Finally, looking at the comparison charts and user ratings, you'll notice that Tourfic outperforms MotoPress in almost all cases except for a few exceptions.
Again, if you want to adopt a proven solution with a larger community, a mobile app and more dedicated theme options, you can consider MotoPress without any doubt.
Before deciding, we recommend you identify your specific business requirements and pick the one that addresses your needs. This is quite pressing as it's not wise to switch from one solution to another too often.
So, what plugin did you choose? We would love to know your thoughts in the comment section below.
Have you ever tried MotoPress or Tourfic on your WordPress website before? Don't hesitate to share your experience with us.