Can you imagine becoming a millionaire simply by writing for a travel or just by traveling? It might sound strange that someone could become a millionaire simply by travel blogging, but that's because it is. Okay, listen up…
Getting started with travel blogging is the first step toward earning money. Many bloggers, like Matthew Kepnes, Mark Weins, Johnny Ward, Heather Delaney Reese, Sharon, and others, are among the 20 highest-paid bloggers. They are estimated to make 7 to 6-figure incomes per month. 
If you dream of creating your own travel blog and want to know more about the highest paid travel bloggers, you can read this article to the end. This will give you a clear idea of how you can become a travel blogger.
But before we move any further…
How do travel bloggers make money?
Blogging isn't easy because there's so much competition online, so you'll need some strategies to raise your site above the noise.
Travel bloggers' earnings vary significantly depending on several variables, including their audience size, niche, and monetization strategies. To make money from their blogs, many travel bloggers use the following strategies:
Affiliate marketing
Affiliate marketing can make a big difference for your travel blog.
Also, if you're unfamiliar with affiliate marketing, it works like this: whenever a blogger recommends a product they are using, they include a link to the product's sales page.
If they are part of the brand's affiliate program, they get a cut of the sale when someone clicks on their link and purchases the product. But don't worry, the buyers won't have to pay anything extra, and you will only gain from this.
Brand ads
"Brands Ads" is the partnership between bloggers and companies that sell travel-related goods and services while keeping their audience's trust by posting honestly.
In these partnerships, the bloggers promote content about the brand's products or services in exchange for compensation. You can sign up for the following websites to find brands interested in working with bloggers.
Brands will contact you directly to promote their wares when your site has sizable followers. You can market those brands and services through sponsored articles, social media campaigns, and display ads on your website.
Also, remember when forming business relationships with the companies you are working with, you can meet your blog niche and the needs of your readers.
Brand ambassadorship
While comparing the two terms, "Brands Ads" and "Brands Ambassadorship," the latter is the more profitable option since it provides you with a long-term partnership with companies.
As a travel blogger, you can create high-quality, engaging content that appeals to your target audience to establish a solid online following and readership to gain brand ambassadorship.
You should also reach out to tourism boards, travel brands, and other relevant businesses to pitch them on ways to work together to attract brands that will connect with your audience and match your niche.
Once you secure a position as a brand ambassador, you can count on consistent income for the foreseeable future.
Paid press trips
The term "Paid Press Trip" refers to when a blogger is invited to a destination to try out a hotel's or travel agency's services, and the host organization or company pays for the blogger's travel expenditures. This covers all of the travel expenses and amenities of a blogger.
It frequently leads to long-term partnerships and paid collaborations later on, which benefits your blog, too.
Freelance writing
Through freelance writing, you won't be making money directly from your blog, but instead, you can increase the number of readers by contracting to write for other magazines and websites, which will, in turn, interconnect back to your blog.
Selling eBooks, books, and online courses
Nomadic Matt and Wandering Earl, two of the most popular travel bloggers, use this strategy to spread the word about their sites.
The Nomadic Matt is selling his book and blogging course, while the Wandering Earl is cashing in on the popularity of his e-book on cruise ship jobs.
So, to expand your blogging business with new revenue streams, consider offering online courses or selling products, audiobooks, e-books, etc.
Offering website services
With the right planning, you can increase your revenue by at least twofold!
Offering services on your website, such as writing and editing content, social media management, etc., is one way to take advantage of your expertise and generate twice as much income as you've been generating before.
Photography/Videography
If you are good at photography, you have another edge, as photography/Videography can also help you make money from travel blogs. You can either work as a freelance photographer for other travel bloggers and brands for content creation.
Apart from that, you can also directly license your photographs.
Banner ads (Google Adsense + Ad networks)
Banner Ads are one of the coolest and easiest ways to earn a handsome income on your travel blogs.
All you need to do is activate your Google AdSense account, and you will get paid for the ads displayed on your website every time a viewer reads your blog.
Isn't it simply amazing?
Some of the best ad networks that you can go for are
AdThrive
Google Adsense
Ezoic
SEO sponsored posts
Another common way that helps more or less all the travel bloggers earn is sponsored posts.
So what happens is that as you post more frequently and the blog starts to gather traffic, your website's domain authority starts to grow. The more the DA of your blog, the better your website's SEO health.
As a result, more potential advertisers start contacting you and paying you to post their links on your site.
However, the best SEO practice is to mention on your website that it is a paid link.
Some of the easiest ways to find sponsored posts are social media groups and your email.
Apart from that, there might be several other ways to opt for, like monetizing YouTube channels and Instagram, making traveling products, running tours, etc. So, make sure to look for those ways on your own.
20 Highest paid travel bloggers – Our top picks
Travel bloggers are new entrepreneurs in the breed of digital nomads who have intertwined the art of vlogging and blogging. They do it by sharing their travel experience with the audience, and in turn, they earn a profit.
So, let's unleash the list of the most successful travel bloggers and their mystery to high-income levels.
1. Matthew Kepnes from Nomadic Matt
When enlisting the highest paid travel bloggers worldwide, the young Matthew Kepnes deserves to be on the top. He is the highest paid blogger in the world.
He is a full-time content writer and travel blogger who has traveled to more than 100 countries and earned a lot of money through it, too.
It was only in 2004 when Matthew Kepnes went on his first trip, and that enriched his soul with a thirst to explore the whole world. Therefore, after completing his MBA, Nomadic Matt stepped out to explore the world and make his passion his source of income.
Today, he runs a successful travel blog named Nomadic Matt that attracts millions of organic audiences monthly. Additionally, he wrote a famous book, "How to Travel the World on $50 a Day," that was sold in hands.
His known sources of income are:
Travel blog and media school
ebooks
Destination Specific Guides
Affiliate marketing
2. Mark Weins
Mark Wiens is a well-known blogger, vlogger, and YouTube personality.
He enjoys exploring new places and trying new meals; he became famous and among the highest-paid bloggers in the world when his two passions came together.
From the blog Matrationology and YouTube channel, the known Social media sensation has earned more than $9.5 million.
Most of his blogs are based on visiting and reviewing the local cuisines across the globe.
Apart from landing a successful blog, he runs a restaurant in Thailand and an e-store to sell his goodies.
3. Johnny Ward from One Step 4Ward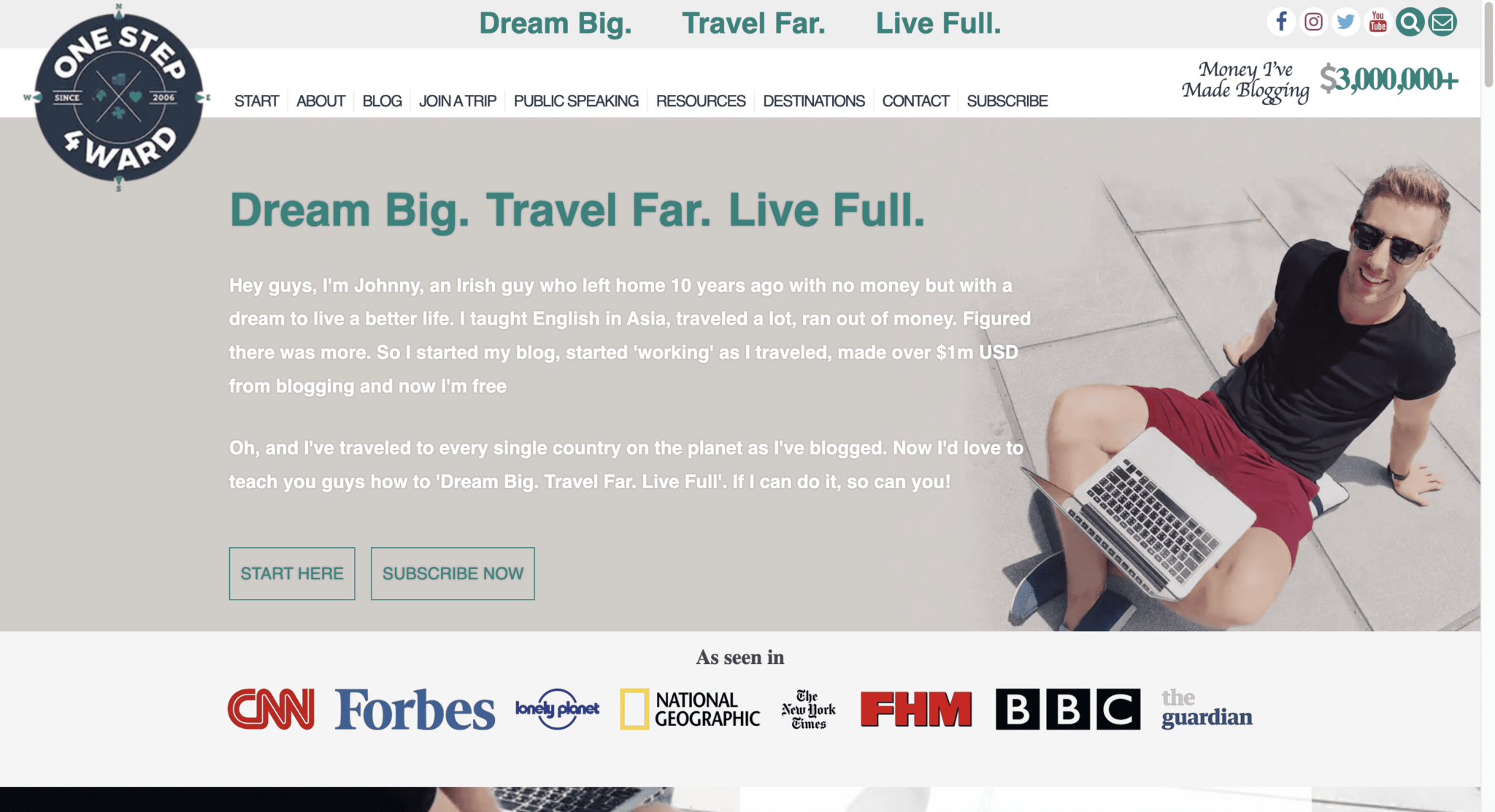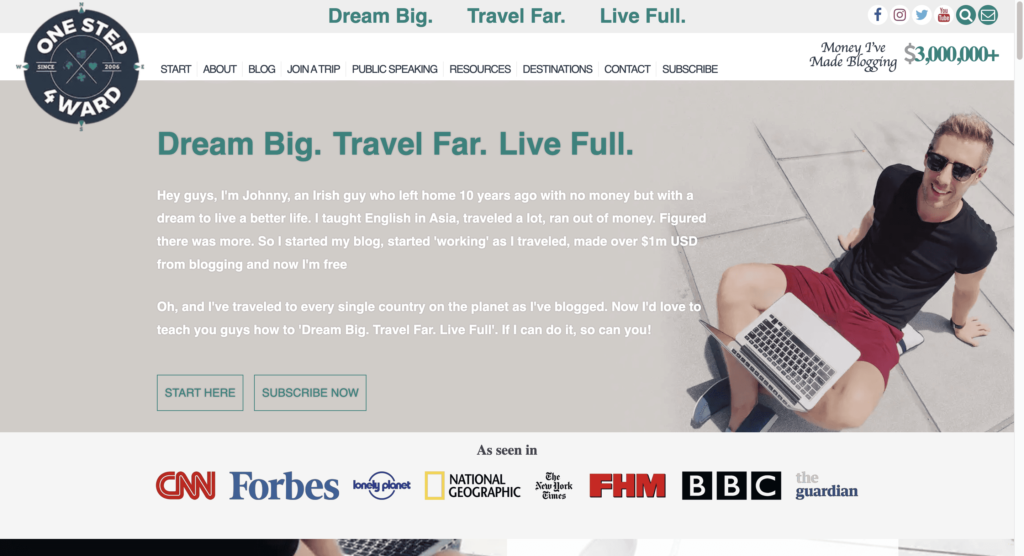 A known entrepreneur and travel blogger, Johnny Ward is a living example of becoming a millionaire by pursuing his dreams with full determination.
Soon after completing his education, Johnny Ward embarked on the journey to achieve his dream life. Inspired by Matthew Kepnes, Johnny Ward kickstarted the process with a travel blog, and within no time, he grew the website so much that he started to earn $1000 per ad.
The known Irish traveler has visited every country and is on a mission to climb the seven summits and Mt. Everest.
His website, One Step 4ward, involves different segments related to travel, adventure, crazy travel stories, travel tips, blogging to earn, and endless opportunities to become a successful millionaire.
4. Heather Delaney Reese from It's A Lovely Life
Heather Delaney Reese and her family are the jet-setters who run a successful blog called It's A Lovely Life for the last 20 years, worth several millions.
The whole journey of Heather Delaney Reese started in 2000 when she set to travel and enjoy life after completing her degree in journalism.
Today, the family travels throughout the year, and on the days when they don't travel, they live in California, teaching people how to earn by simply blogging, reviewing food and products, etc.
5. Sharon of Where's Sharon Family Travel Blog
Sharon is a high-paid travel blogger behind Where's Sharon Family Travel Blog.
Her blogs are all based on traveling with family and living a quality life. Most of her blogs are based on luxurious adventures, and she lets her audience have a glimpse of both luxurious and low-budget insights.
Today, she is earning not only from her blog but also through affiliate marketing, sponsored ads, brand partnerships, etc.
6. Katie and Ben from Two Wandering Soles
Katie and Ben from Two Wandering Soles are yet another Highest Paid Travel Bloggers who know how to turn their passion into a paycheck.
The process started when the two lovers got married at the age of almost 25. They settled out of the daily 9 to 5 grind to enjoy a holiday of 3 months, and from that, they went on the mission to make traveling their prime source of income.
Today, the adventurous couple has traveled to several countries and run a successful travel blog called Two Wondering Soles. In it, they mostly share their adventurous traveling experience, how it is to travel and live in a van, practical tips about traveling in a van for days, travel photography, etc.
They mostly earn through marketing, free trips, brand partnerships, etc.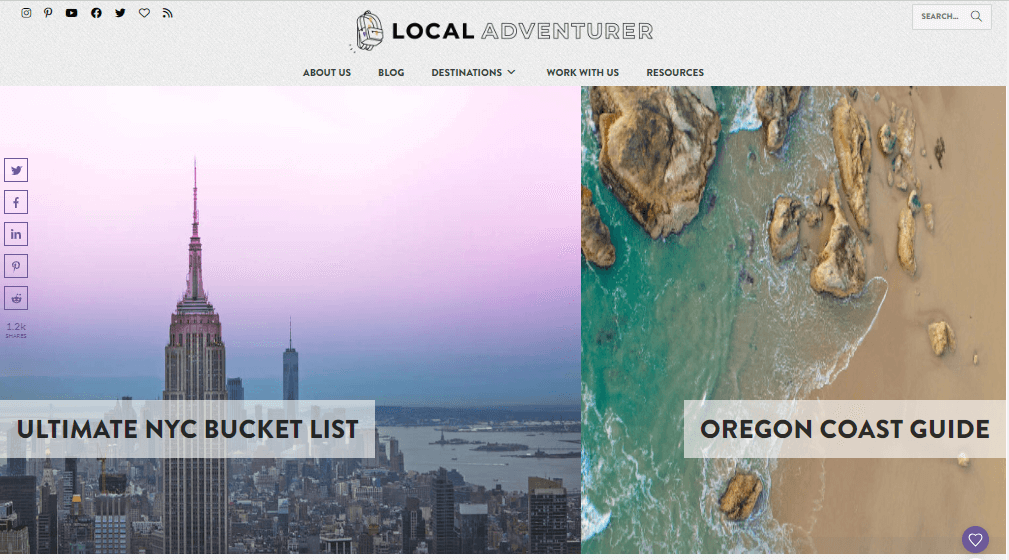 Esther and Jacob are also famous social media sensations which are loved by people all across the world for their unique traveling adventures.
Initially, the process started when Esther started to post about traveling on her wedding website, and later, she gave it a try by visiting the local areas of the country and featuring them.
Fortunately, that turned out to be a great success, and since then, Esther and Jacob have been exploring new areas.
They are a team of 6 members, and their blog has been counted as one of the top 5 travel blogs running in the U.S.
Indeed, a remarkable achievement!
And the best thing is that the team plans to give 50 percent of their profits to an NGO.
8. Greg and Holly Johnson from Club Thrifty
Next, meet Greg and Holly Johnson, an American couple who started a blog back in 2003 called the Club Thrifty to pay their debts. Today, it has become a treasure-evolved blog based on travel tips, savvy credit card reward strategies, and lifestyle travel advice.
Initially, the blog was primarily based on financing, banking, and budgeting. But with time, as they paid their loan, they started to travel to different countries and share their epic journey with the audience through their Club Thrifty blog.
Since the couple has faced money challenges, they try to help others break free from debt. In fact, they have written a book, Zero Down Your Debt, too.
9. Dariece and Nick from Goats on the Roads
Dariece and Nick are a lovely couple who run a successful travel blog and YouTube channel called Goats on the Roads.
For years, they have been working as a travel blogger and freelancer. Their YouTube channel and blog primarily focus on travel adventures, traveling tips, and freelance writing. Additionally, they do freelance photography and offer online courses about travel blogging and monetization.
10. Dave and Deb from The Planet D
Dave and Deb are an unstoppable duo who have visited more than 1150 counties.
They run a successful travel blog called The Planet D, in which they share their funny yet exciting travel experiences. Their blogs are so perfect that Forbes claimed them among the world's top 10 travel bloggers.
Apart from running a blog, they do sponsored posts, partner with brands, affiliate marketing, sponsored posts, tourism campaigns, etc., to get their adventure and trips paid off to the fullest.
Additionally, they have won the Society of American Travel Writers Award two times.
11. Amanda Williams from Dangerous Business
Amanda Williams is a wanderlust travel blogger who started the travel blog Dangerous Business to chase her passion for writing about dreams.
She is a copy editor by profession, but with time, her job let her realize that she loves writing about traveling.
Since then, she has visited more than 60 countries and six continents and shares about their adventurous trips and solo inspirational stories.
The unique fact about Amanda Williams is that despite being one of the Highest Paid Travel Bloggers, she hasn't quit her job. And that's the message she wants to spread. You can become a travel blogger and continue your job. Most of her blogs incorporate methods in which you can add travel to your daily lifestyle.
12. Derek Baron from Wandering Earl
Derek Baron is another name that has gained much recognition as a travel blogger. He is an English teacher turned travel blogger.
He has been traveling since 1999 and has visited more than 118 countries.
He has run a blog called Wandering Earl since 2009 and posts on it regularly about the unique areas he visits. His main aim is to show people that long-term traveling is not a crazy thing to think of. You can try it out and live your life to the fullest.
He also has a trip-arranging company called Wandering Earl Tour that arranges small tours for people and takes them to unique world areas.
13. Lia and Jeremy from Practical Wanderlust
Lia and Jeremy are known vlogging and blogging couple who do joyous traveling throughout the year and make their viewers laugh to the fullest.
The two run a successful blog called Practical Wanderlust and a YouTube channel sharing details about their traveling and adventures. Apart from this, they run another successful travel site in which they help other bloggers earn more than a full-time job by merely traveling. They offer travel guides and tips, budget management, and travel counseling to help blooming bloggers reach new heights.
Their prime source of income are:
Sponsored posts
Affiliate programs
Consulting
Advertising
14. Monica from The Travel Hack
Next, meet Monica, the travel expert behind the successful travel blog "The Travel Hack".
She is a married woman and a joyous mother of three who has been blogging since 2009 and shares the adventures of traveling to different countries on her blog, including travel advice, consulting, and tips.
However, after COVID-19, her priorities changed, and she started to enjoy life's small luxuries.
Since then, she has traveled locally instead of engaging in far-flung travel and is happy making many unforgettable family memories.
15. Matt Karsten Expert Vagabond
Matt Karsten is a known digital nomad, photographer, and travel blogger.
He is one of the travel bloggers who was clear since day one that he is not made for a regular job and that traveling is his only means of living and earning. That is why Matt Karsten saved for one year from event photography and freelance skills to go on a 1-year trip to Guatemala.
And guess what? It turned into a more than a decade travel trip that continues to date.
In this period, he traveled and explored more than 50 countries and initiated a blog called Expert Vagabond to share his memories.
In the blog, he shares his professionally photographed pictures of different areas, funny traveling experiences, adventures, low-budget travel guides, etc.
Some ways he earns while traveling are influencer marketing, freelance travel photography, affiliate marketing, selling travel courses, brand ambassadors, etc.
16. Kach from Two Monkeys Travel Group
Kach is a known nomad Filipino blogger who has traveled to more than 140 countries in the past ten years and has a long list of other countries to visit.
It was only in 2013 that Kach understood that she was not made for a regular 9 to 5 job, and thus entered the world of traveling and blogging.
And she can visit so many countries despite her weak passport only because of her passion.
Today, she runs a successful travel blog named Two Monkey Travel Group, featuring adventure and luxury travel guides, itineraries, destination travel blogs, etc., thus earning by offering services like travel consulting, trip planning, brand ambassador, paid Press Trips, and sponsored posts.
She lives in a stone house villa and has a monthly income of $10,000 to $15,000.
17. Jeremy from Living The Dream
A known traveler and founder of "Living The Dream", Jeremy is yet another travel blogger who has been able to turn his adventurous dream life into a source of income.
He has traveled to more than 70 countries, mostly with his wife. Therefore, in their blog, Jeremy and his wife document the best areas to visit in a country, the foods you must try, and some adventure activities.
He is one of the travel bloggers known and liked more for his adventurous traveling, like scuba diving in the Galapagos, visiting mountain gorillas of Uganda, etc. And that is the reason why his blogs are always a treat to read.
According to the income report, Jeremy earns USD 6000 to 12000 monthly.
18. James Hills From Mantripping
The owner of the company mantripping.com, James Hills, is yet another person who earns a handsome amount while travel blogging. He created his blog in 2008, initially focusing on men's living and lifestyle. But with time, it evolved, and James Hills also started incorporating food reviews and travel stories in his blog.
One unique fact about his traveling blog is that James Hills incorporates his travel stories, interviews other travel bloggers, and learns about their experiences.
19. Brian Kelly From The Point Guy
Brian Kelly is one of the most highly-paid travel bloggers and one of the best travel influencers.
He kick-started his journey of traveling and became a travel blogger in 2010 by writing a blog in his very own The Point Guy.
The best fact about Brian Kelly is that he focuses on letting people learn how they can experience traveling at a minimal cost.
And that's why people love him so much that his website gets 10 million monthly visits.
20. Stephanie of Travel Break
Stephanie of Travel Break is a young girl who has earned fame and financial success through her travel blog. Like others, he also opted for a regular job to earn.
But things took a turn when she bought a one-way Sydney ticket and became a full-time travel blogger.
Today, she is a successful travel blogger and an incredibly skilled author.
Related article: Top 5 Travel Bloggers You Should Be Following in 2023
The business of travel blogging –
Basic expenses
Are you feeling inspired to become the next highly-paid influential travel blogger? Then wait a minute, as here comes a sneak peek.
Where travel blogs help you earn more than a 9 to 5 job and help you live your dream life, you need to spend some time in the business to meet the public's demand.
Some of these that most successful travel bloggers opt for are:
1. Hosting, domain, plugins, themes, web development and security
Whether you set up a travel blog or fashion blog, you can buy a hosting service, domain, and premium plugins to help your website work better.
For a newbie, opting for a CMS like WordPress with cheaper hosting packages, free themes and plugins is an excellent way to go. Once you get some traction for your blogs regarding traffic, you can shift to premium ones.
You can get your domain from Name, Namecheap, GoDaddy and other famous places. Some of the best companies that offer a good hosting package are:
SiteGround
Hostinger
Cloudways
Namecheap
inMotion
Bluehost
Hostgator
To build and maintain your website with WordPress, you'll need a theme and some plugins. Luckily, the WordPress ecosystem is full to the brim with free themes and plugins.
2. Virtual assistants and freelance writers
Most successful bloggers hire virtual assistants and freelancers who help them write and create content and publish blogs more frequently.
Once, a blogger was asked, and he said he had hired a team of VA, graphic designers, and content creators to assist him in running a successful and well-managed travel blog.
However, if you're new to travel blogging, it's a great idea to start writing with your own hand. Later, when you profit from your business, you can hire people for your website maintenance.
3. Audio/video gadgets for content creation
Here are some everyday gadgets that travel bloggers may find helpful:
Camera: A good quality DSLR camera and lenses for taking high-quality photos during travels. A mirrorless or point-and-shoot camera can also work well and be more compact.
Laptop: A lightweight laptop is essential for travel bloggers to write blog posts, edit photos, manage their site, and keep up with work on the road. MacBooks and Ultrabooks are popular choices.
Smartphone: Used for taking photos/videos, uploading content, social media, navigation, and as a WiFi hotspot. An iPhone or Android smartphone with a good camera and lots of storage is recommended.
External hard drives To backup photos and videos from trips. SSD drives are fast, durable, and hold lots of data.
Drone: Helps capture unique aerial footage and photography during travels. The DJI Mavic and GoPro Karma are popular compact options.
Gimbal stabilizer: Allows smooth panning and stabilization when shooting videos. Useful for vlogging. The DJI Osmo is a common choice.
Microphone: Better audio when filming videos. A clip-on Lavalier mic or shotgun mic improves sound quality.
Portable charger: To charge devices on the go when access to outlets is limited. High-capacity external battery packs from Anker or RavPower are popular.
Tripod: Used with cameras and smartphones to reduce blur and capture sharper long-exposure photos. Lightweight travel tripods are ideal.
VPN subscription: To access the internet securely and bypass geolocation restrictions while traveling abroad.
The key is finding gadgets that aid content creation and help elevate production value while fitting within a travel-friendly budget. And don't forget the accessories like SD cards, cables, power strips etc.
4. Online media expenses
Lastly, promotion is expansion. Travel blogging needs a regular advertising backup like any other business to run successfully. Additionally, it helps get you free travel trips.
You can promote your website content through Google ads and Social Media ads as well.
You can consider sending newsletters and updates to your visitors via email services like MailChimp, MailPoet, MailerPoet and ActiveCampaign.
You can advertise by ads, reaching some potential advertisers, partnering with social media sensations, etc.
Tips for newbie bloggers – How can you monetize your travel blog?
Lastly, let's wrap it up with a tip segment for newbie travel bloggers that can help them become high-earning travel bloggers quickly.
1. Have business plans and goals
If you want to join the ranks of the most successful travel bloggers, you can't treat blogging as a hobby but instead treat it as a vocation. It's important to consider the long-term goals, content strategy, and content creation for your blog.
By laying out a strategy and establishing concrete objectives, you'll have a clear picture of where you want your blog to go and what steps you need to take to get there.
2. Create a plan for your content, like how you'll optimize and monetize it.
You need a strategy for your content—what you'll post, when you'll post it, what topics will generate the most interest among those in your target audience, etc.
You can also research the various blog monetization methods to ensure your site is properly monetized.
3. Participate in networking events to get added to the PR list.
Another way that travel bloggers and almost all bloggers try is to participate in events and introduce their names in the industry.
So, you can participate in as many networking events as possible.
For example, how about starting with the great ITB Asia or WTM London?
4. Find a coach! Take travel blogging and business classes
Guess what? Studying algebra without a tutor? Seems baseless? So is travel blogging.
To run a successful travel blog, you should take tips from successful people and coaches in the field and pave your way to success.
5. Boost your strengths!
Lastly, focus on your strengths and try something new yet exciting that manages to attract a huge fan base.
For example, you can start sharing about the culture of areas you visit, help users learn their language, etc. For example, you can visit India and make top-earning travel blogs in India about their traditional foods that are appreciated throughout the world for their unique taste.
Final thoughts on higest paid travel bloggers
From capturing life-taking adventures to luxury getaways, travel blogging has turned into a passport to a full-time income source. In fact, it is helping people hit 6 to 7-figure income easily, and visionaries like Matthew Kepnes, Mark Weins, and Johnny Ward are living proof.
The best part about travel blogging is that you can chase your dreams, live a dream-like life, and still cash it. Isn't it amazing?
So, why not dip your toes into the world of travel blogging and open to endless horizons?
If you liked this article, don't hesitate to share this on social media so that you can help your friends make an informed decision. Finally, don't hesitate to subscribe to our newsletters to get more exciting news, offers and articles in your inbox.