Gone are the days when you actually needed professional website developers to develop your dreamy website. But, the emergence of page builders has changed everything and given you the power to develop your site with your own hands.
Now, do you want to have the best WordPress page builder to create your own website with no coding? Congratulations!
You have landed on the right avenue as we have handpicked top best WordPress page builders and will discuss each one with key features, pros, cons, and of course the pricing. Besides, through this article, you can learn why a page builder is a go-to tool for you.
Adding to that, we will walk you through the path of "what to look for in a WordPress page builder". Also, don't forget to grab the insights of different page builders from this write-up. So, without further ado, let's dig deeper.
Insights to Different Best WordPress Page Builders
Reasons Why You Choose the Best WordPress Page Builders
WordPress Page Builders have become increasingly popular among website developers and bloggers for numerous reasons. Here are some of them.
User-friendly interface
The drag-and-drop interface stands as a hallmark feature within the repertoire of a typical WordPress page builder.
It presents an extraordinary capability that empowers not only novices but also individuals lacking technical prowess to seamlessly fashion intricate layouts devoid of any form of vexation or complication.
No coding required
Honestly speaking, a WordPress page builder reduces the absence of writing code. Undoubtedly, it makes a room for individuals or even small businesses without dedicated developers to still shine in creating visually appealing and functional websites.
Time and cost efficiency
Unlike coding, using a WordPress page builder can help you save a big amount of penny. For example, it doesn't allow you to develop a website from scratch with coding or hiring a seasoned developer.
Consequently, you can save a significant amount of bucks, especially in smaller projects.
Customization
Providing different types of customizable elements, like layouts, fonts, colors, and more is one of the important characteristics of WordPress page builder.
This gives you the ultimate power to create your website exactly the way you want. And, it's the power of the customization option of a WordPress page builder.
Pre-built templates
Within the realm of WordPress, a multitude of page builders abound, each offering an array of pre-fashioned templates tailored to cater to diverse website categories.
The heartening revelation accompanying this is the profound flexibility that allows you to seamlessly align these offerings with your precise and individualistic requisites.
Responsive design
The majority of contemporary webpage construction tools guarantee the responsiveness of the websites they generate.
This responsiveness entails the automatic adaptation of these websites to diverse screen dimensions and a variety of devices, thereby significantly augmenting the overall user experience.
Flexibility
Undoubtedly, WordPress page builders frequently furnish an array of modules or widgets that can seamlessly be incorporated into your website's framework.
Moreover, these builders bestow supplementary functionalities, obviating the necessity for external third-party plugins or themes.
Iterative design process
Page builders grant you the remarkable capability to witness instantaneous alterations as you enact them. Moreover, they seamlessly enable an iterative design methodology, affording you the opportunity to experiment with and hone your design swiftly and seamlessly.
Wide range of plugins and integrations
It's worth noting with a touch of fascination that a plethora of WordPress page builders available in the current market boasts remarkably comprehensive plugin ecosystems.
These ecosystems offer you the remarkable capability to effortlessly integrate diverse sets of tools and functionalities into your website, forging a seamless and harmonious digital experience.
Reduced learning curve
It is often stated that acquiring proficiency in using a WordPress page builder involves a less daunting learning curve when contrasted with the mastery of programming languages and web development combined with design principles.
Regular updates
Top-tier WordPress page builder plugins consistently offer a key attribute: regular updates meticulously designed to tackle any emerging security apprehensions.
Furthermore, they exhibit a commitment to the augmentation of functionalities by introducing novel features, all the while enhancing the overarching performance benchmarks. This commitment to refinement and innovation truly defines a premium-grade page builder.
Community and support
Having a supporting community plays a pivotal role in terms of quick fixes when you run into an issue. This affiliation underscores the fact that an extensive array of resources, tutorials, and forums are at your disposal.
These invaluable assets collectively empower you with the means to adeptly address any challenges that may arise during your utilization of a WordPress page builder.
Related Learning Material: How to create a hotel booking website with WordPress (The ultimate guide)
20 Best WordPress Page Builders to Create Your Website
We've tested and handpicked the 20 best and the most popular page builders in our roundup. Let's discover them:
But if you're new to the WordPress world, it might feel a bit overwhelming to choose the one that is right for you.
So, we've done our homework to create the five best and the most reliable page builders for you so that you can make your informed decision faster. Here are the top 5 recommended page builders for you:
| | |
| --- | --- |
| Page Builders (Editors' Pick) | Pricing |
| 1. Elementor | $59/year |
| 2. WPBakery | $59 (lifetime) |
| 3. Divi | $89 per year (or $249 lifetime) |
| 4. Visual Composer | $49/year. |
| 5. Beaver Builder | $99/year |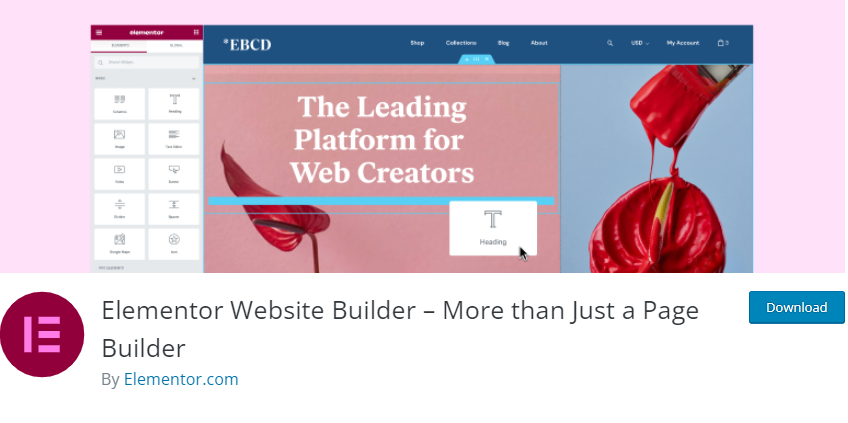 Elementor is probably one of the most powerful and well-known free WordPress page builders out there in the market. And, it is something that we have used on my website and got the satisfactory result. So, that's the reason why it has got the first spot on the list.
Elementor comes up with both a free and a paid version. But for the most basic functional page-building experience, the free version is nothing less than fabulous. Moreover, endowed with a real-time, interactive design interface coupled with direct manipulation through drag-and-drop functionality, you have the capability to fashion your website while being able to immediately visualize its actual appearance.
Finally, If you want to leverage global fonts and colors for consistency throughout your website, then turning to Elementor emerges as the unequivocal choice. However, if your aspirations encompass delving into more intricate functionalities and addressing advanced stylistic considerations, the pro version presents itself as capable of encompassing a plethora of supplementary features and attributes.
Features that make it one of the best WordPress page builders:
Marketing automation and CRM integrations (Pro Feature).

Image & video sliders (Pro Feature).

90+ Professional widgets (Pro Feature).

Full website kits & templates library (Free+Pro).

Compatibility with popular multilingual plugins like WPML, Polylang, TranslatePress, Weglot, and more.

ISO 27001 certified.

40+ free widgets ( Pro Feature)

WooCommerce widgets, login forms, subscription and contact widgets.
Pros:
The free version already includes an abundance of templates and features

Rapidly adapted and utilized superior components

Flexible and precise layouts

Premium 24/7 support
Cons:
User-friendly but has a learning curve with a host of features.
Pricing: Though Elementor is free on the WordPress repository, the pro plan starts at $59/year.
Beaver Builder stands out as a formidable WordPress page builder that frequently comes into view within the vast realm of the internet. Upon conducting a thorough comparison between Elementor and Beaver Builder, we ultimately chose to remain loyal to Elementor as our primary page-building tool. Nonetheless, it's worth noting that Beaver Builder boasts a multitude of contented users, mitigating the disparity between the two options.
Similar to Elementor, Beaver Builder assists you in creating stunning and polished WordPress pages effortlessly, all while delighting in the convenience of the drag-and-drop functionality. Therefore, stop the act of composing HTML or grappling with perplexing shortcodes.
Features that make it one of the best WordPress page builders:
Lightweight and semantic markup ensuring maximum performance

Photo, color, and video row backgrounds

Works with pages, posts, and custom post types

Compatible with contact form, pricing table, tabs, slider, subscription form, social icons, map, blog posts, etc. ( Premium Feature)

Beautiful pre-made layout templates (Premium Feature)

Full-width, column-based layouts
Pros:
Superior performance.

The free version provides essential foundational features at no cost.

Wide range of content modules.

Responsive and mobile-friendly design layouts.

Theme compatibility and integration

Regular updates and active support
Cons:
Might complicate future theme changes.

Possible conflicts with other themes/plugins.
Pricing: The plugin is free, however, the pro version starts at $99/year.
Gutenberg serves as WordPress's "block editor," ushering in a modular method for transforming your entire website. You can edit distinct content blocks within posts or pages, incorporate and fine-tune widgets, and even craft your website's headers, footers, and navigation using comprehensive site editing capabilities.
Every part of your content in the editor, whether it's a paragraph, a group of pictures, or a title, is like a separate building block. Similar to real building blocks, these WordPress blocks can be put in, organized, and changed around. This helps users make content with lots of media and set up how their website looks, all in an easy way that makes sense visually. Plus, you don't need to use tricks like shortcodes or special code languages (HTML and PHP) to do it.
Features that make it one of the best WordPress page builders:
Live editing facility in the front end.

Save and reuse frequently used content structures.

Intuitive interface for adding, rearranging, and moving content blocks.

Text formatting options within content blocks.

Extensive selection of pre-built content blocks for various elements.
Pros:
Extra installation is not required.

Simple yet powerful interface.

A better option for simple content design.
Cons:
Certain blocks might not display well on all devices

Advanced users may feel restricted in customization options
Pricing: The plugin is completely free in the WordPress repository.
Let us introduce you to another WordPress page builder, Brizy, a fast and next-generation one. The text, buttons, images, icons, videos, maps, and a plethora of other elements are at your disposal, poised to swiftly assist you in crafting your page design.
What's more, the design kit of the Brizy website builder consists of over 500 blocks, empowering you to craft websites within a matter of minutes and you'll certainly feel that there's nothing a miss. Finally, count on Brizy for prompt and consistent updates.
Features that make it one of the best WordPress page builders:
Over 4000 icons included.

Smart text editor to edit all the texts in one place.

Easy content adjustments in width, height and alignment.

Over 500 pre-made blocks.

Intuitive drag-and-drop facility.

Real-time editing.

400+ templates.

Customization for borders, corners, margins, and padding.

Global styling support.
Pros:
Effortless and smooth real-time editing directly on the front end.

A wide selection of 150+ pre-designed content blocks.

An array of professional layouts tailored to various application scenarios.

Enhanced user administration through role assignment.
Cons:
The foundational features are constrained and possess room for enhancement.
Pricing: You can download this plugin from the WordPress repository at no cost. However, the pro version starts at $13/month.
Great! We've arrived at yet another remarkable WordPress page builder plugin. Ultimate Blocks stands out as a Gutenberg-based blocks plugin, catering particularly to bloggers and marketers. The core objective of this plugin revolves around enhancing content creation through Gutenberg, enabling users to craft content that is not only superior but also more captivating and immersive.
Nonetheless, we had reservations about including Ultimate Blocks in my list of favorites, primarily because it doesn't quite fit the conventional definition of a WordPress page builder. Rather, it serves as a supplementary tool to enhance the capabilities of Gutenberg for building pages. However, much like its counterparts in the realm of page builders, it has earned its place as a reliable asset in my toolkit. Thus, I deemed it appropriate to append it to my list of preferred choices.
Features that make it one of the best WordPress page builders:
Has a content filter.

20+ custom blocks.

Customization option for the color, layout, and appearance.

Multi-functional.

Optimized for SEO.
Pros:
A variety of content blocks

Work well on different devices and screen sizes, ensuring a consistent user experience

Focuses on performance optimization
Cons:
It might not cover all the specialized blocks or features that some users might require.

Free plugins like Ultimate Blocks might have limited support compared to premium solutions.
Pricing: The plugin is free on the WordPress.org repository.
Divi stands as a top-tier WordPress page builder, offering a robust all-in-one solution for crafting websites through visual design.
Divi enhances WordPress by integrating an instinctive drag-and-drop page builder, enabling users to swiftly craft pages in real time. This provides an authentic "What You See Is What You Get" (WYSIWYG) design encounter on the front end (or back end) without necessitating any coding skills.
Interestingly enough, inside Divi, each element possesses the potential for extensive customization through robust design choices and functionalities. These encompass hover states, responsive design, transformative effects, blend modes, filters, background masks and gradients, sticky elements, scroll animations, display conditions, dynamic content, and a plethora of additional features that you surely love to have onboard.
Features that make it one of the best WordPress page builders:
Over 300 complete website packs.

2000 + layouts directly from the builder.

Over 200 design elements.

20+ Native WooCommerce modules for creating custom WC pages.

Manage custom designs via Divi Library or Divi Cloud.

Unlimited website usage.
Pros:
Pre-designed templates.

Real-time editing.

Responsive design.

Customization options.

Global elements and styles.

Split testing feature.

WooCommerce integration.

Regular updates.

Community and support.

Multilingual support.

Security measures.
Cons:
Potential for slower loading times due to its feature-rich design.

Difficulty in transitioning to other themes or page builders due to its unique page builder system.
Pricing: The builder is only available under the premium version that starts at $89 per year (or $249 lifetime).
Visual Composer is a handy tool that helps you create stunning websites. You can use it to design everything from the top part of the website to the very bottom, as well as different types of pages like ones that show your old posts or when someone tries to visit a page that doesn't exist.
What's more, you can totally change how things look by making your own special designs for posts, pages, and archives, and you don't need to use any code to do it. With this website builder, create improved websites by using a built-in tool called Visual Composer Insights that helps you understand the quality of your website's content and its search engine optimization (SEO).
Features that make it one of the best WordPress page builders:
Over 200 professional pre-made templates.

300+ content elements with advanced design options.

SEO Optimized.

Third-party integrations with essential plugins for various purposes.

Integrates with multiple font and icon libraries.

Frontend builder with instant content update.

10+ free landing page templates.
Pros:
User-friendly content building.

Versatile layout options.

Seamless media handling.

Time-efficient designing.

Simplified page customization.
Cons:
Too many features might feel a bit overwhelming for beginners.
Pricing: Initially, the plugin is free in the WordPress repository. However, the pro plan starts at $49/year.

WPBakery creates one of the most well-liked choices for building pages on the market. It's really good at making pages with fancy and complex designs.
What sets the WPBakery page builder apart is that it has two ways to edit – one where you see the page, and another where you see the dashboard. This lets people choose if they want to move things around on the page itself or on the site's control panel.
Adding to that, the included skin builder helps you put special things onto a WordPress theme that you pick. This part makes sure your website looks the same all over with its own style.
Features that make it one of the best WordPress page builders:
Over 50 built-in widgets.

250+ add-ons to control a website's layout.

Compatible with any other WordPress theme.

More than 100 pre-designed templates.
Pros:
Easy drag-and-drop website building.

Many pre-designed content elements.

No coding skills are required.

Responsive designs for different devices.

Time-saving for website development.

Regular updates and improvements.

Lifetime deal is cheaper than others.
Cons:
Unfortunately, the plugin has no free version to test.
Pricing: The regular price starts at $59 (Lifetime).
Originating in 2011, SeedProd was initially designed to enable the crafting of Coming Soon Pages or Maintenance Mode Pages. This facilitated the ability to privately refine your website while presenting visitors with a professional "Coming Soon" or "Maintenance Mode" page. This core functionality remains integral and is executed with exceptional proficiency.
However, the simplicity of SeedProd's page builder resonated strongly with users, prompting a desire to construct their entire websites using it. Responding to this widespread demand, the developer of this plugin has created a path to employ SeedProd as your very own WordPress website builder.
This clearly implies that users have the full authority to hammer out every element of your personalized WordPress theme using SeedProd. This holds WordPress Headers, Footers, Single Page Templates, Archives, Global Components, WooCommerce Product Pages, WooCommerce Carts, and beyond. Again, the most remarkable aspect is that SeedProd serves as a No-Code Website Builder, eliminating the necessity for coding expertise or prior experience.
Features that make it one of the best WordPress page builders:
80+ pro page blocks.

200+ professionally designed WordPress themes, landing page templates & layout sections.

Different landing page templates.

Bloat-free code.

Spam protection facility.

WooCommerce blocks.

Theme template tag blocks.

Revision history, undo & redo facility.
Pros:
Easy-to-use WordPress landing page plugin.

Quick setup and customization options.

Templates for various page types.

Integrates with popular email services.

Mobile-responsive designs for accessibility.
Cons:
May not be suitable for complex websites.
Pricing: The pro basic plan starts at $39.5/Year.
The MotoPress Content Editor plugin serves as an uncomplicated drag-and-drop tool for building pages. It seamlessly integrates with all WordPress themes, ensuring compatibility. Designed with user-friendliness in mind, it offers a range of pre-defined front-end layouts to kickstart your design process. Furthermore, it provides ample flexibility to interchange content blocks and customize your page structures as needed.
While it might not boast the extensive range of features found in tools like Divi or Elementor, MotoPress Content Editor is a perfect choice for website owners seeking a streamlined approach. It provides ample options to craft an immersive site while maintaining an emphasis on simplicity.
Features that make it one of the best WordPress page builders:
Intuitive front-end editor for WordPress.

Drag and drop elements.

Ready to use content elements.

Predefined layouts.

Multilingual interface.

WPML compatible.

WordPress multisite compatible.

Google web fonts.
Pros:
Easy to use for non-techies.

Customizable without coding.

Supports various content types.

Responsive design options.

Integrates with popular plugins.
Cons:
Unfortunately, MotoPress doesn't have any free plan.
Pricing: The basic plan starts at $39/year.
The Oxygen page builder plugin sets itself apart from the other typical WordPress page builders by utilizing an independent sandbox module that does not need the use of a theme. While this module remains linked to WordPress, it essentially functions as a distinct entity.
What particularly appeals to us about Oxygen is its streamlined approach, eliminating the bulk of the usual tabs and toolbars associated with WordPress. Instead, it hones in solely on the essentials of page building, offering intuitive buttons for crafting containers, paragraphs, and text blocks.
Again, Oxygen proves advantageous for website proprietors who possess a higher level of code proficiency. Although not particularly suitable for novices, the tool empowers you to oversee intricate particulars, arguably surpassing the capabilities of any other plugin available.
Features that make it one of the best WordPress page builders:
Full coding ability along with a solid visual frontend builder.

More than 20 highly configurable WooCommerce elements.

Powerful dedicated header builder.

Oxygen offers a real-time visual building experience.

Uses Flexbox and CSS Grid for more responsive designs.

Google font face limiter.

Global and page-level scroll and entrance animations.
Pros:
Visual website design without code.

Faster page loading times.

Responsive designs for all devices.

Customizable templates for various sites.

Full control over design details.

Compatibility with popular WordPress plugins.

SEO-friendly coding options available.

Efficient and clean code output.

Design consistency across the site.
Cons:
In contrast to other builders, Oxygen's design library is less extensive.

Unlike the other page builders mentioned, it lacks pre-installed marketing functionalities and integrations.
Pricing: Oxygen is a completely premium tool and its price starts at $129.
Experience the elegance of Themify Builder, a WordPress page builder that combines both freedom and potency. Elevate the aesthetic of your WordPress website to levels beyond imagination. What makes the difference is its cache system that reduces server resources and can process pages faster.
The Builder has been crafted with a modular design, meticulously optimized to leverage enhanced performance resources. Moreover, it boasts SEO-friendliness, seamless translatability, and robust compatibility with multi-site networks.
Features that make it one of the best WordPress page builders:
Over 60 predesigned builder layouts.

60+ animation effects.

Draggable column widths.

Copy/Paste modules, rows, and columns.

Frontend live preview editing.

A collection of 25+ add-on modules.

Undo/Redo builder modifications.
Pros:
Intuitive drag-and-drop interface.

Pre-designed layout templates available.

Customizable styling options offered.

Responsive design capabilities included.

Seamless integration with Themify themes.
Cons:
Limited design flexibility compared to other builders.
Pricing: The builder is free in the WordPress repository, however, the add-on price starts at $39.
Originally, Spectra by Brainstorm Force, the company behind the Astra theme, was the name used to be the Ultimate Addons for Gutenberg. However, with the lapse of time and growth, the name faded away. It started adding creative blocks to the WordPress block editor.
Now, you can call Spectra a full-fledged add-on for the WordPress block editor. Literally, it has everything like the tools, templates, and necessary resources that count as a builder.
One of the amazing features of this add-on builder is the copy-and-paste tool that simply makes room for the users to paste styles anywhere on your WordPress website. The interesting fact about this builder is that it's fast and stable just because of not rely on external code.
Features that make it one of the best WordPress page builders:
Large library of readymade templates.

Over 30 essential blocks.

A bunch of professional-quality wireframes.

Dynamic content blocks.

Advanced block presets.

28 creative and unique blocks.

Copy-paste styles.
Pros:
A fully responsive plugin.

GDPR compliant.

Reliable and very user-friendly.

Priority support.
Cons:
The tool could be slightly heavy for beginners.
Pricing: The tool is free. Also, it has a pro plan which starts at $61.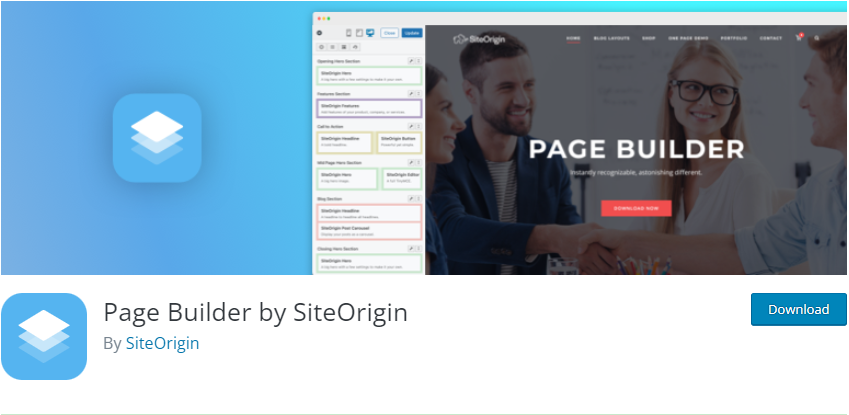 SiteOrigin Page Builder is perhaps one of the oldest page builders on our list. The notable aspects of this page builder are the free widgets bundle, compatibility with WordPress themes, and the history-browser feature.
The live editing facility of this tool allows you to observe your content and edit widgets live. And, this feature is only available with the best quality WordPress page builders. What's more, the builder allows its users to roll forward and back entirely through the changes you make. Thus, you can freely experiment with different layouts and content.
Features that make it one of the best WordPress page builders:
Row, cell & widget styles.

Simple content creation interface.

Simple drag and drop.

Live editing facility.

Compatible with different translation plugins.
Pros:
A responsive page-building tool.

Beginner-friendly page builder.

Reasonable price option.
Cons:
Perhaps, unlike the Elementor and Beaver Builder, this tool isn't fully perfect for advanced functionalities.
Pricing: Initially, the plugin is free but its pro plan starts at $29.
Another free and open-source yet powerful WordPress site builder is the Live Composer. The drag-and-drop editing and landing page building capacity are the things that forced us to count it in.
The interesting things you will get while using this site builder are the creation of landing pages, galleries, portfolio projects, and news sites just with the touch of dragging and dropping content elements.
The interesting fact about this builder is that it ships with a number of add-ons and Woocommerce integration that enables eCommerce businesses to whop up. However, these add-ons charge the bucks.
Features that make it one of the best WordPress page builders:
An array of multiple-page element modules.

2 basic themes.

Gutenberg compatibility.

Blank canvas and pre-made themes.

Over 40 content modules.
Pros:
Basic, yet intuitive, builder for all skill levels.

Comprehensive list of modules.

Full customization options.
Cons:
The builder could be perfect for some additional advanced functionalities.
Pricing: The builder is free but the extensions start at $69.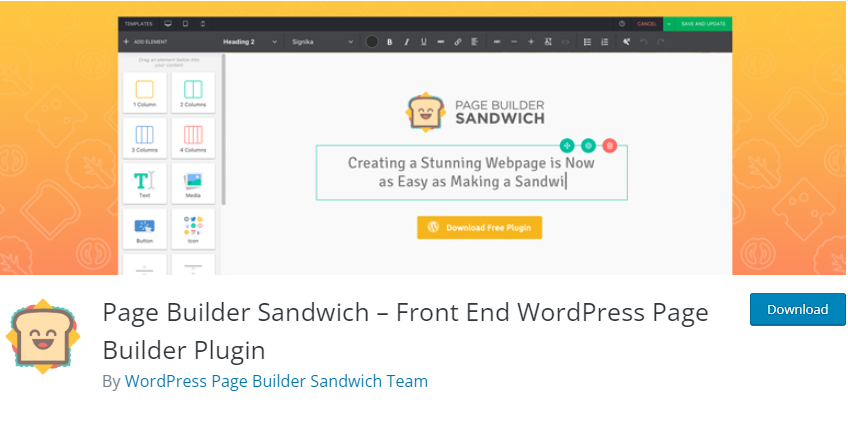 Page Builder Sandwich, an intuitive WordPress plugin, is a front-end visual page builder that operates on a drag-and-drop mechanism. This tool empowers you to fashion exquisite web pages with ease and creativity at the forefront of the design process.
Like Microsoft Word or Google Docs, the page builder gives you the ultimate taste of real-time editing. Thus, you can save time not to switch from the backend to the frontend. What's more, using this page builder, you can change and tweak sizes, colors, and styles as well. Moreover, you can add borders, effects, and more that ensure the quality design of your website.
Features that make it one of the best WordPress page builders:
1,700+ more vector icons.

Customized Google Maps.

600+ plugins and 600+ shortcodes are supported by the Shortcode




Mapper.

Ghost buttons and more styling options for buttons.

Access to pre-designed sections and templates.
Pros:
Compatibility with any theme and plugin.

Faster loading speed.

Responsive and intuitive design.
Cons:
Beginners can find it slightly difficult to

use

.
Pricing: The page builder has both free and pro plan that starts at $29/year. They also have a lifetime deal that starts from $89.
Another powerful visual page builder is Thrive Architect. The builder is the perfect option for most business website buildings. It comes with pre-built elements, landing-page templates and dynamic animations which together make Thrive Architect a popular visual builder option.
Moreover, Thrive Architect allows us to create lucrative homepages with features like horizontal opt-in forms, social share icons, etc. With the vast array of typefaces and custom fonts, we can create things like stunning posters, banners, and magazine-style layouts.
Features that make it one of the best WordPress page builders:
Pre-built conversion elements.

Integration with various email marketing tools.

The header-and-footer option.

Full-width layouts with a Wow Factor.

Over 270 pre-designed landing page templates.
Pros:
Top-notch support when necessary.

Regular updates to fix bugs.

Responsive and mobile-friendly design.
Cons:
The tool might not be perfect for regular websites.
Pricing: The price is $199/Year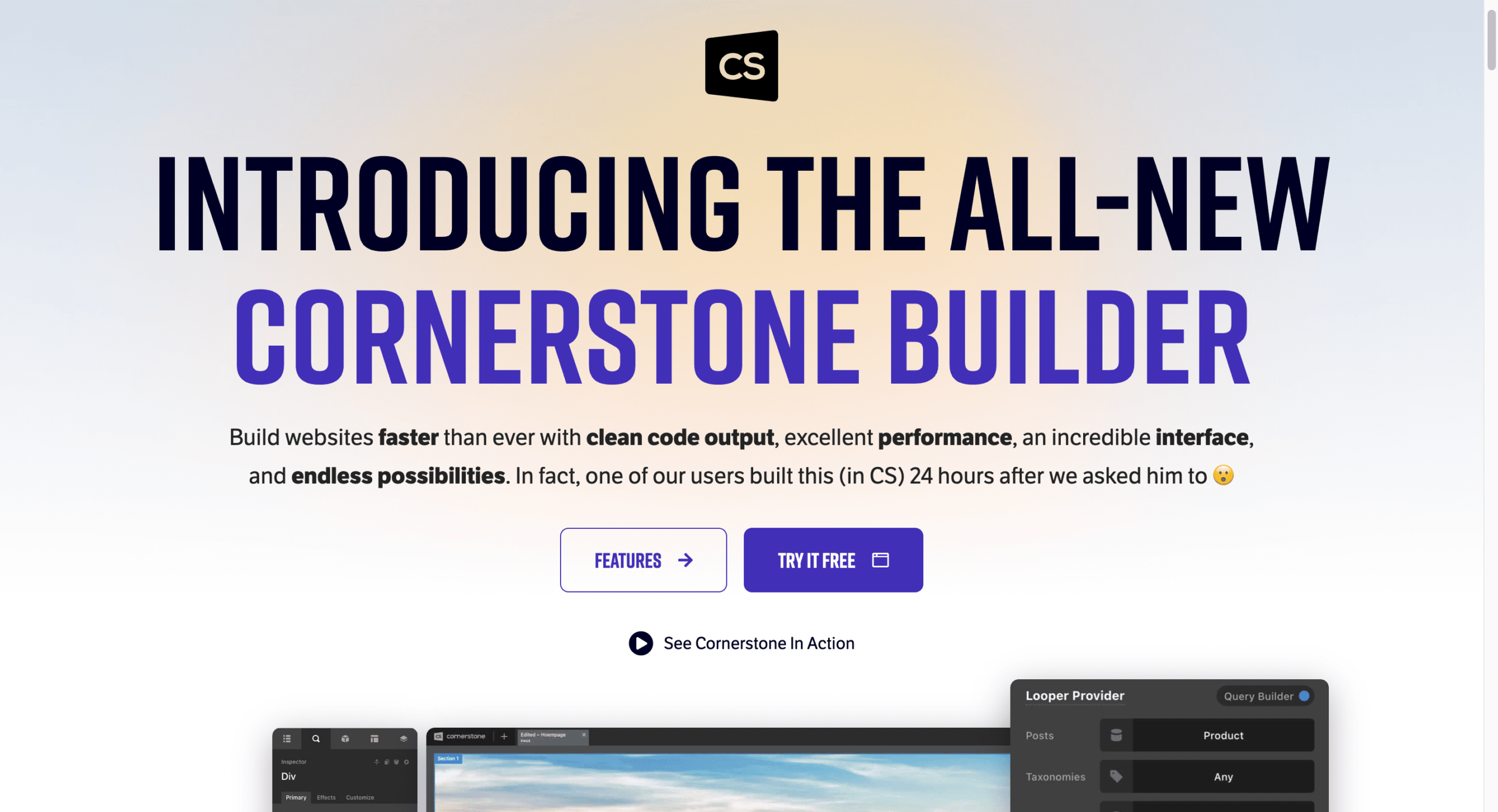 Cornerstone is a premium page builder that provides more than 40 page elements. The compatibility with all themes out there in the WordPress ecosystem has made it a lucrative page builder. The exciting part of this tool is that its lean stylistic foundation ensures the exact things you need to build your website.
The real-time editing and preview help its users to see the changes which ultimately save time through not switching from the backend to the frontend.
Features that make it one of the best WordPress page builders:
Clutter-free building interface.

Live CSS coding.

Clean code output.

One unified interface for the entire workflow.

Over 100 fully customizable prefab elements.
Pros:
Sleek and intuitive design.

No complex coding.

All-in-one site-building platform.
Cons:
Unfortunately, the tool doesn't come up with a free plan.
Pricing: The plan starts at $99/year.
Breakdance stands as an innovative WordPress page builder plugin, revolutionizing website creation through its intuitive visual drag-and-drop interface. This powerful tool empowers users, whether they're beginners or professionals, to craft captivating websites with ease.
Positioned among the leading WordPress page builders, Breakdance shines with its pioneering functionalities and impressive speed, offering unparalleled flexibility and simplicity in the website design journey.
Features that make it one of the best WordPress page builders:
Superior loop/query builder.

Integration with WooCommerce.

Global settings.

Limitless customization options.

Dynamic data & conditions.

130+ built-in elements.

Visual drag-and-drop interface.
Pros:
Superior performance with SEO optimization.

Both beginner and professional-friendly.

Superior loading speed.

Saving time and effort in designing.
Cons:
No free plan is available.
Pricing: $99.99 per year for an unlimited site license.
Last but not least is the Landing Page Builder by PluginOps. It seamlessly integrates with your themes and relies solely on HTML/CSS. It has been meticulously crafted for the sole purpose of designing landing pages.
This plugin empowers you to effortlessly relocate any element, rearrange rows, and seamlessly move widgets using intuitive drag-and-drop functionalities. Its high-speed performance guarantees a smooth experience for every visitor to your website, ensuring their engagement and retention.
Features that make it one of the best WordPress page builders:
Easy to use drag and drop layout builder.

Visual page editor.

Comes with pre-designed page templates.

Compatible with almost all modern WordPress themes.

Premium integrations with different email marketing services.
Pros:
Build standalone pages.

Suits simple and advanced landing pages.

Offer free widgets.

Super fast loading speed.
Cons: Limited functionalities compared to the other competitors.
Pricing: The tool is free in the WordPress repository. It has also a pro plan that starts at $59/year.
What to Look for in the Best Page Builder in WordPress?
Of course, we can't overlook the fact that a WordPress page builder is a really important tool for making good websites. So, before you decide to use this tool, make sure you think about some important things that will affect how good the tool is.
Here are a bunch of really important factors to consider while choosing the best page builders in WordPress:
Ease of Use
The easy-to-use and friendly interface is the most important aspect that most users usually look for. This is because it lets them make and change designs without needing to write any code or have any coding knowledge.
The best WordPress page builders are truly intuitive in terms of consistent user interface and user experience.
Drag-and-drop Functionality
The drag-and-drop interface is a really valuable tool when we're dealing with the best WordPress page maker. It's something you definitely shouldn't miss. This special tool lets you easily put things on your webpage by dragging them and then dropping them where you want. And not just that – you can also change the order of things and set them up just the way you like.
Pre-designed Templates
You should pick a tool for building web pages that offer many pre-made designs created by experts. These designs help you begin making your website in a great way and in the end, you can keep your important time saved. Remember, the best WordPress page builders will not disappoint you in terms of getting a wide array of different templates.
Responsive Design
Avoid purchasing a WordPress page builder that cannot produce designs that adapt well to different devices. Always ensure that any design offered by your chosen page builder can adjust properly to various screen sizes. This aspect is highly significant when it comes to constructing a website.
Element Variety
The tool you'll use to make your next webpage should come with lots of different building blocks for your content. These building blocks include things like text, pictures, videos, buttons, and forms. Having these options at your fingertips will allow you to easily put together many different and interesting designs for your webpage in no time at all.
Remember, the best WordPress page builders do not skimp on providing a wide variety of Elements.
Customization Options
Extensive customization options for each element are one of the most important aspects of a quality or top-notch WordPress page builder. This actually lets you make changes to colors, fonts, how far apart things are, and other style stuff.
Third-party Compatibility
Making sure that a page builder can work well with plugins and themes created by other people is really important. This makes the best WordPress page builders able to do more things. In fact, it can even do some really cool and advanced stuff that makes building websites super awesome.
Performance
The speed at which your page loads is really important, and it's something you shouldn't overlook. To put it simply, the best WordPress page builders are designed to load quickly. Additionally, you want to make sure that the builder creates code that is clean and optimized. This helps your website perform its best.
Support and documentation
If you don't get the right help when you need it and if there aren't clear instructions and guides, your page-building tool is just like any other basic tool. You might face problems that you can only solve with the help of support and clear instructions. So, make sure all these things are in place before you decide to buy a page-building tool.
Community and Updates
Your new page-building tool should ideally come with a large user group who help each other and often get new improvements from the person who made the tool. These two things make sure that the system where the tool exists is healthy and keeps getting better.
Cost
The top-tier WordPress page builder offers various ways to pay for them. Some have a free version, some have a mix of free and paid features, and others are entirely paid. So, take a look at how much money you have and then decide which tool you want to get.
Data Portability
Your next WordPress page builder shouldn't lock you into a specific platform. So, it's important to pick a tool that lets you smoothly move your content to a different builder if you ever want to change in the future.
User Reviews and Recommendations
It's really valuable to take a look at what other people are saying about the page builder. Reading about their experiences in user reviews, testimonials, and recommendations can give you a good idea of what it's like to use it in the real world.
After you've made sure that everything seems good and meets your expectations, you can go ahead and purchase the best WordPress page builder you prefer.
Security
Safety is something else that users worry about. When you're deciding top identify the best WordPress page builders, make sure to see if it has a history of keeping things secure and if it uses the best methods to make sure users' websites are protected from potential problems.
Related Learning Material: How to Create a Travel Booking WordPress Website with a Free Theme
Best WordPress Page Builders

–

Frequently Asked Questions (FAQs)
What is a WordPress page builder?
Basically, a WordPress page builder is a tool that makes room for its users to create and design web pages using some entities like a visual, drag-and-drop interface. And, with surprise, it doesn't require any coding knowledge. Moreover, it simplifies the process of building complex layouts and designs.
Can I use page builders with any WordPress theme?
It goes without saying that all the best quality WordPress page builder is compatible with WordPress theme. But, it will be a tremendously wise decision to check the compatibility of the chosen page builder with the theme you buy.
Will using a page builder slow down my website?
The question is quite complex, however, some page builders might add some overhead to your WordPress website. But, honestly speaking, most page builders are hammered out keeping the concept of speed performance in mind. Hence, you should choose a well-known and quality page builder to avoid any negative phenomenon on loading times.
Can I switch between page builders without losing content?
Possibly you might encounter some formatting issues or loss of styling. So, it is advisable that you create a backup and make a test on a demo site to ensure the proper transition.
Can I create responsive designs with page builders?
The truth is that the best page builder for WordPress allows its users to create responsive designs. Moreover, it ensures that every page of your website looks and functions well on all kinds of devices no matter whether it is a smartphone or tablet.
Before You Leave
There you have it! We've reached the endpoint of our roundup. Then again, if you want to create stunning and functional websites with zero coding knowledge, the importance of using a page builder is limitless.
With the user-friendly interface, drag-and-drop functionality, and a wide range of customization options the best WordPress page builder offers, give you the way to build lucrative websites. The truth is that from beginners to experienced developers, there is a page builder out there to suit every need. So, who are you waiting for? Start your dreamy website right now.
If you liked this article, don't hesitate to share this on social media so that you can help your friends make an informed decision. Finally, don't hesitate to subscribe to our newsletters to get more exciting news, offers and articles in your inbox.