Adding before and after sliders can spice things up for any website and its user interface. But there's only so much you can do with static images if your requirements are something more. Well, BEAF's pro users can now add videos to their sliders with the new update!
Changelog
YouTube video slider feature added with BEAF Pro (requires a separate addon). 
Player controllers for video controllers have been added. 
Minor bugs. 
Compatibility checks were performed.
Adding Videos to Your BEAF Sliders 
BEAF's previous design limited users to using images, which may feel a tad limiting in some cases. To alleviate that, we have integrated YouTube's API to allow you to use the same sliders with videos. 
Now, all you have to do is add the link to the two videos you want to compare from YouTube. All you have to do is install our new separate addon for BEAF's video capabilities. 
Live Preview View Documentation
YouTube allows for free uploads and storage, it has remarkable server bandwidth, and the stability is unmatched – making it an excellent choice. 
Retaining the Previous Goodies along with New Features
BEAF's video capabilities retain all the abilities it had with static images. The media orientation, a bucket load of templates, headings, descriptions, or the buttons – everything is still as customizable as it was. Usual controls over the labels, mouse hovers, or overlays are also present for videos! 
In addition to those, we've added the capability to customize the video width and video height for better control.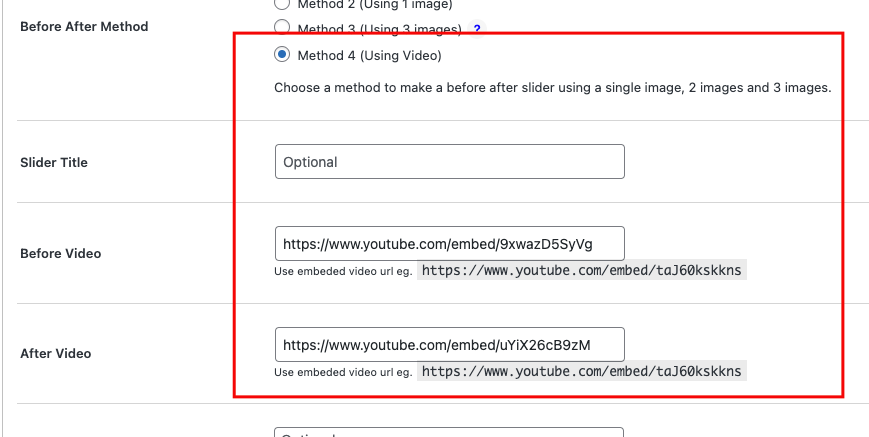 With all the Necessary Media Controls
Videos require some additional controls for users to efficiently gauge them. This makes video controls a must. 
BEAF adds three controls at the bottom of the before-after window – play, pause, and mute. The play and pause buttons predictably keep the videos in sync when users hit either of the buttons. This ensures users don't have to use the seek bar or scour the video. 
This is what the new BEAF update brings forth for pro users, making things more interactive and accessible than before.