Keeping track of your appointments and bookings on your site usually takes extra time and effort, and sometimes it can be challenging to manage everything. So, using well-organized WordPress booking plugins is crucial whether you are setting up meetings, scheduling your services, planning events, etc.
Here, using these plugins, you will encounter an interface for an automated online booking process. You can also quickly manage your appointments by receiving notifications of all schedules, establishing scheduling parameters, and using other new features.
This article will discuss the best 7 WordPress booking plugins for your e-business. To explore more things, keep reading till the end of this blog post. Happy learning!
What Kind of WordPress Booking Plugins You Should Choose?
In the modern era, you must modify your appointment booking form to meet your company's needs. But try to check for a few standard features in your WordPress booking form plugin.
Customers should be able to use your appointment scheduling form to ask for specific time slots during your working hours.
It should be mobile device-compatible so that clients can quickly make appointments from their phones and laptops.
A good booking form will save a ton of appointments in your WordPress database or a calendar application like Google Calendar.
Once a customer's booking is accepted, send them an email automatically.
Best WordPress Booking Plugins For E-Business
You can be lucky to learn that a handful of amazing WordPress booking plugins can help you quickly manage all your bookings and appointment-related activities.
So, let's have a quick look at the following top booking plugins.
1. Tourfic – The Best Hotel and Travel Booking WordPress Plugin
If you're looking for an easy-to-use, cost-effective, and reliable WordPress booking plugin for your e-business, Tourfic will be your best choice. There are some key reasons behind this. First of all, Tourfic plugin helps to create a premium & user-friendly travel agency site or tour operator website without delay. Then, it mainly comes with a lot of shortcodes that will make your life easier. This plugin can provide dynamic sliders showing where hotels and motels are as well as how many there are.
However, Tourfic WP plugin has a custom booking module such as -order ID, order details, order date, order status, and so on. Also, the tour listing & booking system is one of the cool features of this wp travel plugin. This feature includes- a tour exclude/include section, tour price by each person, wish list for tours, etc.
You can also enjoy some other advanced features of this WordPress travel plugin, which are- API-based integration with top travel sites, a default analytics tool provided by WooCommerce, dedicated login & registration method for vendors, support for any payment method like as- PayPal, Stripe, and so on.
2. WP Hotel Booking
The top WordPress tour booking plugin is WP Hotel Booking. With this plugin, you can handle room administration, coupon management, reservation management, order processing, and many other tasks. This wp hotel booking plugin gives you extra packages & some ways to keep track of your hotel's additional services, like parking, Wi-Fi, and taxi service. The plugin also supports unique date features and many currencies. You can use this WP plugin entirely free of charge.
There are a few valuable add-ons within this free plugin. There are verified payment gateways, swipe payments, room blocks, coupons, a booking report, WooCommerce compatibility, and WPML support.
Free Download
3. MotoPress Hotel Booking
Motopress Hotel Booking is one of the most flexible tools for running an online hotel reservation business of any size. It's a modern online management system that comes with a lot of accommodation options. So this hotel booking plugin is a one-stop shop and also a quick solution for hotel owners. When you get to its core features, you'll find flexible booking rules and easily changeable custom pricing based on the season, number of visitors, and holidays.
You can get the key features with this hotel booking plugin. Those are- an infinite number of search forms for availability,
continuous synchronization with external OTAs, monthly and weekly rates available, payment choices both online and offline (PayPal, 2Checkout, Braintree, Stripe, etc.), the ability to promote and offer additional services, numerous booking confirmation methods, email alerts for visitors.
4. BookingPress
BookingPress is a user-friendly and free hotel plugin WordPress. You can use this plugin for any service-based business site. It's a flexible booking hotel plugin with many useful features that make it easy for people to book appointments on your WordPress site. You don't need any third-party plugin to set up or manage it. You can do both from the admin panel.
You will have full control over the client list and filtering choices. You can also organize, filter, and find your buyers' list and online booking.
5. Sugar Calendar
Sugar Calendar is a powerful WordPress plugin for managing events and making calendars. This WP plugin can make event schedules, collect payments, and more. Sugar Calendar synchronizes events with your Google Calendar to improve your workflow. You can connect Sugar Calendar to other WordPress form builder plugins like Ninja Forms or WPForms to get the most out of form builders and events.
What we appreciate most about the Sugar Calendar are its speed and simplicity. In contrast to other plugins, this one is lightweight and plays nicely with other WordPress plugins.
Sugar Calendar is the right plugin to use if you want to plan one-time events or events that happen regularly. It has calendar widgets, excellent time zone compatibility, works on all devices, and has everything you need.
6. Bookly
Bookly is a simple and user-friendly appointment booking WordPress plugin. This WP plugin is perfect for private professional services like lessons, gyms, clinics, doctors, and dentists. With the free version, you can use an unlimited number of booking forms, a quick online booking tool, and a view of the calendar for a month, a week, or a day.
The Bookly Pro package offers a variety of helpful add-ons like service extras, location, checkout, custom Bookly invoicing, and so on that allow you to choose from more features.
Hence, you can also use some of the latest features, like as- email & SMS notifications, customized booking forms, an insightful admin panel, and categorizing your key services. Currently, there are more than 30,000 active installations of the plugin.
7. Booknetic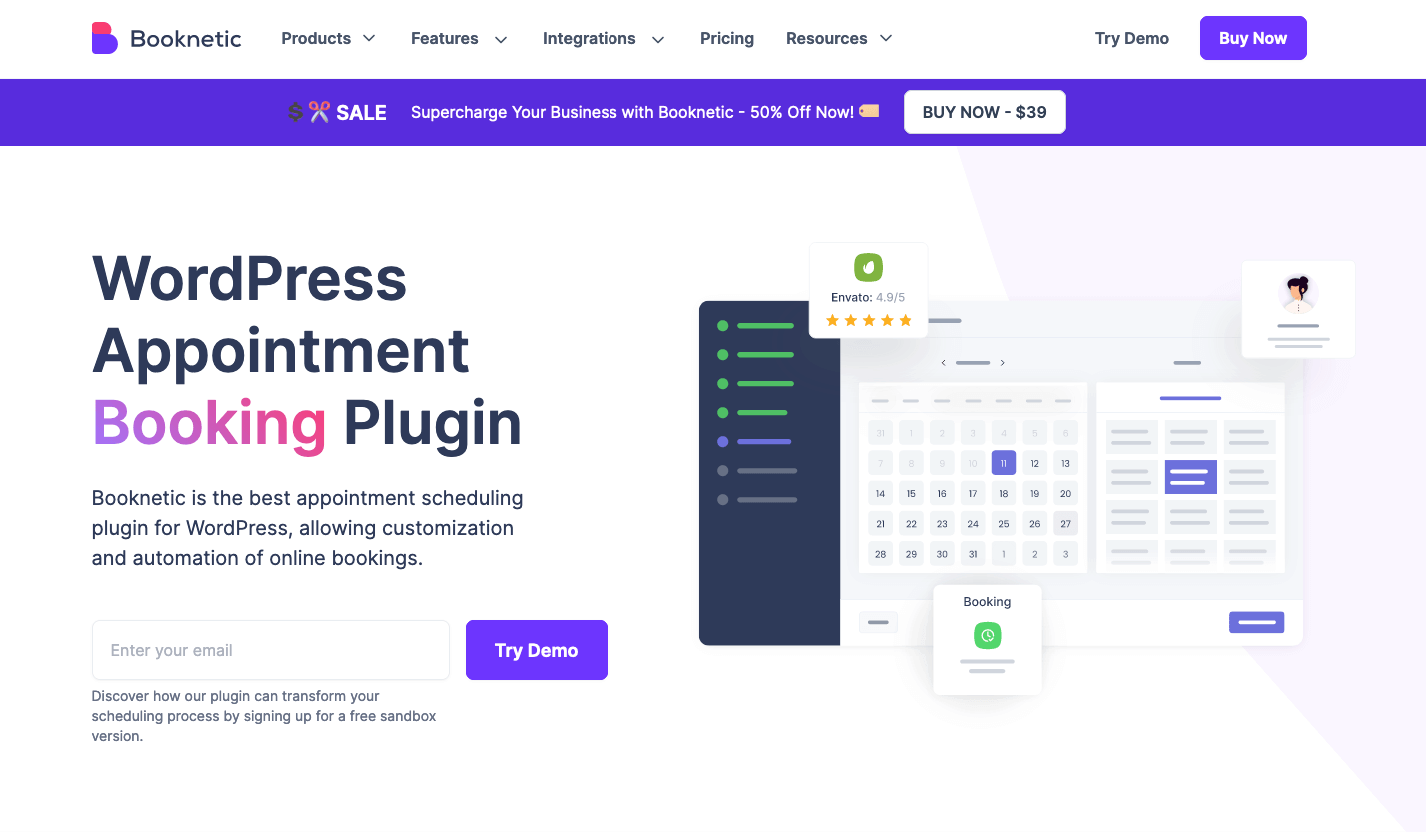 Booknetic is a well-known appointment booking plugin. This plugin makes booking appointments online easier for any company in any industry because it can be changed and customized. From beauty/ hair/spa salons to gym/fitness studios, law companies, health centers, choreography studios, private tuition programs, auto-repair shops to tattoo stores, it's fully adaptable.
Booknetic is one of the most popular WordPress plugins in the business world because of how well it takes care of and helps its customers.
This plugin includes some latest features such as zoom integration and receiving payments by integrating PayPal, Stripe, etc.
WooCommerce payment integration, multi-templates, multi-level service categories, a visual translator option for any language, gift cards, coupons, and so on.
Final Thoughts
In a nutshell, you've already known about the top WordPress booking plugins that are good for different kinds of businesses and have various new features. It's now up to you to study them and choose the best one that matches your company. Whichever option you pick from this list, you will not regret it.
Finally, if you want to grow your e-business rapidly by generating more clients, then Tourfic – A top WordPress booking plugin will be your best choice. Because this travel plugin will provide everything you need for a professional website within your reasonable budget.
Do you have any questions about this blog post? Please let us know.  Thanks for reading!