Your search for the best WooCommerce Travel Booking Plugins for tour agencies will end with this technical blog post. Here is a complete list of the best travel plugins for WordPress that tourism companies should use.
By expanding the site's capabilities, the WordPress tour plugin improves its usability. Even if you use the best WordPress themes for travel agencies, you will still need a few extra plugins.
So, let's not waste any time and dive into the top 9 WooCommerce Travel Booking Plugins for tourism businesses in 2023. Keep reading. Happy Learning!
Best 9 WooCommerce Travel Booking Plugins for Your Tourism Business
At present, there are a ton of WordPress plugins available. Here, we've provided a list of the best nine WooCommerce Travel Booking Plugins for your tour business in 2023. Let's have a quick look at the following plugins:
1. Tourfic – A Unique Hotel & Travel Booking WordPress Plugin
In the digitalized era, Tourfic is one the best travel plugins for managing tours on WordPress, and it's used to book hotels and tours professionally.
Tourfic WordPress Plugin has been made to help you improve your custom WordPress hotel website, tour operator site, or travel agency site, where you can list your hotels, motels, tour packages, etc., and get paid for each booking.
Key Features:
Supported any payment gateways powered by WooCommerce
Compatibility with well-known affiliate plugins
Having separate or combined search boxes for hotels & tours
Ajax-based filter system
Client review system for tours and hotels
Section for disabling or enabling customer reviews
Shortcodes and Elementor Widgets
Travel booking and analytics data on the dashboard
User-friendly Option Pane
2. Yatra – Travel Booking WordPress Plugin
Yatra is a powerful WooCommerce Travel plugin that lets you book any travel and tour package. Professional travel agencies usually use the plugin to make reasonable travel packages and pages about destinations.
Key Features:
It offers smart tags in email communications.
It's possible to use a PayPal payment gateway here.
Having the "My Account Section" and the "Separate Customer Section."
Receiving regular updates on this plugin.
Availability calendar with changing daily pricing
Booking and inquiry email alerts
Advanced filtering and search
Pricing labels for dynamic or flexible pricing.
Fully prepared for translation into any language.
3. Travelpayouts – WordPress Travel Plugin for Your Site
Travelpayouts gives users more ways to change things than any other travel and tour plugin for WordPress. You can offer your clients an easy-to-use booking system with search package options, widgets for popular flights, and simple ways to pay.
Key Features:
There are customizable options for 11 airline tables and two hotel tables.
The monthly payout options
The use of Google Maps to show where things are.
You can earn up to 70% commission from marketers using this plugin.
It also lets its users search through a forum.
The price comparison tables for clients
4. WP Travel Engine – WordPress Travel Booking Plugin
WP Travel Engine is another extremely well-liked WooCommerce Travel plugin. It's packed with numerous useful features, including booking information, email notifications, and more. Only PayPal is offered here as a payment method. There are also four tabs: FAQs, Price, Itinerary builder, and Page Overview.
Key Features:
It is also possible to add an unlimited number of travel packages.
It makes traveling easier when booking online.
Making the online booking process easier for travelers.
The plugin is fully prepared for translation into any language.
Having an advanced search engine option.
A fast and detailed booking process is included here.
SEO-friendly functionalities, such as the integration of schema (microdata).
5. WooTour – WooCommerce Tour Booking Plugin
One of the most widely used WooCommerce Travel Booking Plugins is WooTour. You can quickly establish events, excursions, and appointments with the help of this plugin.
The WordPress hotel booking plugin makes it easier to sign up customers on the backend and gives them a way to book tours quickly.
Key Features:
Having a great booking system with WooCommerce.
Using any payment which supports WooCommerce.
Having a review and coupon system.
PDF invoice support
WPML Compatibility
Support the Loco Translate plugin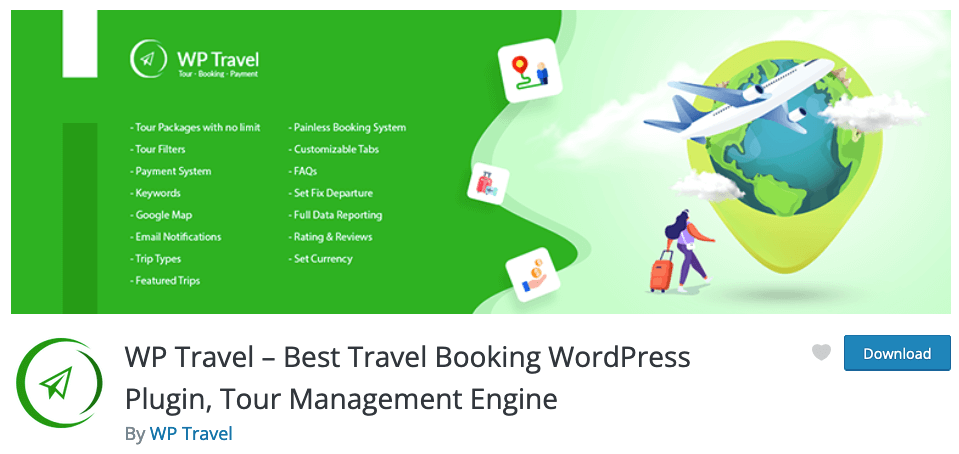 6. WP Travel – WordPress Plugin for Booking Travels
WP Travel works with all the most creative travel themes for WordPress. This WordPress hotel booking plugin helps to create amazing pages about traveling and other adventurous activities. It's one of the simplest to scale and use.
Key Features:
It lets you accept payments, makes booking methods easier, and reaches more people.
It allows you to add free or paid service options for individual travel.
Having the unlimited tour package option.
It allows users to leave reviews or give ratings for each trip. Also, you can hide them for each trip if needed.
Having the trip search/filter widget option.
7. Oganro – WordPress Tour Booking Plugin
Oganro is another flexible WooCommerce Travel plugin. This travel portal widget is based on B2C and B2B travel websites. This plugin has a cool feature that lets you combine the websites of your tour company and a wholesale travel package provider.
Key Features:
This plugin accepts any currency.
This plugin supports multiple languages.
Quick set-up plugs and play
Fully customize the front widget
Directly connect with the booking system
User-friendly admin interface
Fast & free support service
Support mobile devices
8. Tour Master – WooCommerce Travel Plugin
Tour Master is the easiest-to-use WordPress tour booking plugin on the website. With this plugin, you can do a lot, like setting prices based on the season, making payment tables, printing invoices, and report sheets, etc.
Key Features:
10 various tour styles
Having the search bar and category lists
Variable price options
This plugin simplifies booking offers and status checking.
Tour Master accepts PayPal, credit cards, Paymill, and bank transfers.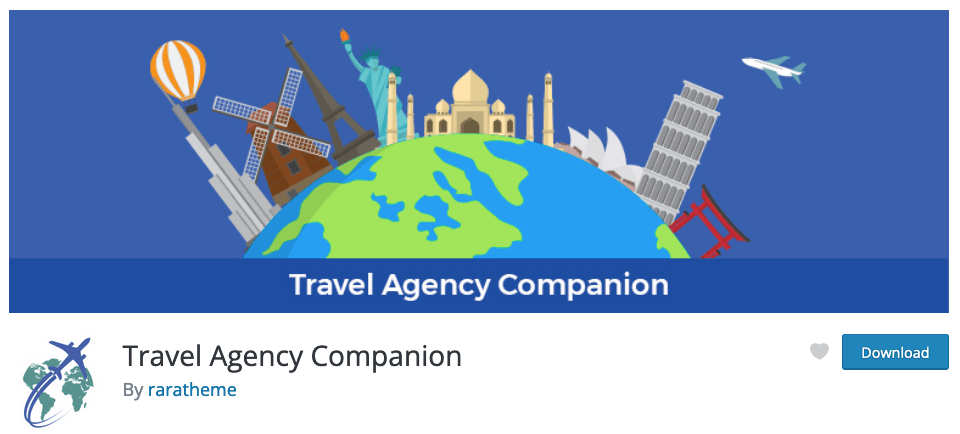 9. Travel Agency Companion – WordPress Tourism Plugin
This WooCommerce Travel booking plugin is a great way to improve the efficiency of your website and add new features. The plugin enhances your site with numerous new functions and widgets.
Key Features:
This plugin gives the travel agency theme more ways to change the look of the home page.
Having widgets for featured posts, popular posts, and customized posts.
This plugin also adds the recent post widgets.
The plugin is ready for translation into any language.
It's simple to edit and customize your tour sites.
Wrapping Up:
In a nutshell, there are thousands of WooCommerce Travel Booking Plugins available. Only the most reliable WP plugins can improve your site's performance to the next level and make life easier for your consumers. That is why it's crucial for any tourism company to select the right WooCommerce Travel Booking Plugins to beat their competitors.
We've already mentioned a list of the top 9 WordPress plugins for travel agencies or companies. These WP tour plugins are superb for various travel and tourism sites. Now, you need to choose the best one from the above-mentioned WordPress plugins based on your travel agency's needs. To explore more things, you can also visit each one's website.
Finally, if you are looking for the most reliable and cost-effective WooCommerce Travel plugin with all the advanced or latest features, Tourfic Plugin will be the best choice.
Because Tourfic-the best travel WP plugin will provide everything you need to build your tourism company and make more money online by selling your tour packages worldwide with any payment gateway of WooCommerce.
Have a question about this blog? Please leave a comment below.