Monster's Award, you have probably heard its name, has come again into the arena of the WordPress community. The good news is that Tourfic has been nominated for the first time in the "Best WordPress Booking & Appointment Plugins" category.
Your every single vote means a lot for us to recognize an amazing WordPress plugin that truly deserves the best in the category. Moreover, it'll fuel our interest in making this tool even better than ever.
What does Monster's Award mean for the WordPress community?
The Monster's Award is a special award given every year by TemplateMonster in the WordPress community. It's not about making money – it's all about recognizing the best WordPress stuff, like themes and plugins, as chosen by the WordPress community itself.
The significance of the nomination: Industry recognition
Being nominated for a Monster's Award is a major accomplishment, as it shows that the community has recognized the product or service as being one of the best in its category. This can lead to a number of benefits, including.
i. Increase brand awareness and visibility
A Monster's Award nomination is an excellent method to spread the word about your product or service among the WordPress community. More clients, associates, and partners may result from this.
ii. Improve credibility and trust
Being nominated for a Monster's Award shows that our products or services are well-respected by the community. This can motivate us to build credibility and trust with potential customers and partners.
iii. Greater market share
Having a Monster's Award nomination will help us gain more market share within the WordPress community. This is because it demonstrates that our product or service is among the top offerings in its field.
iv. Increase sales and revenue
In the end, having our company product shortlisted for a Monster's Award may result in higher income and sales. This is due to the fact that it might assist you in drawing in additional clients and partners.
Tourfic's unique selling points: What sets it apart
Tourfic powered by WooCommerce is the most user-friendly hotel & travel Booking WordPress Plugin to create and manage your next travel or hotel booking website.
Most importantly, this plugin comes up with almost all the bells and whistles needed for a hotel and travel booking WordPress Plugin. For example, it has a unique tour listing and booking system from which one can easily list any kind of tour plan for booking.
Interestingly enough, you can set up any payment gateway where customers can pay and book their tour plans with ease. Here are some exclusive benefits that the tool comes with:
Designed for small to large-scale travel agencies and hotels.
Multi-vendor capabilities.
Integration with third-party travel sites (Booking.com / Travel Payouts / Agoda etc, depending on the availability)
Multilingual, multi-currency, affiliate program support (Integration with third-party plugins)
Based on WooCommerce. So, you can capitalize the default functionalities of WooCommerce like payment gateways, reporting, sell analytics and others.)
Self-hosted based on WordPress.
Aesthetic and intuitive design.
GDPR compliant.
White label branding [will be released soon]
How to vote for Tourfic
Don't take it as a hassle. Voting for Tourfic is just like a piece of cake!
First, visit the Monster's Award link and then select the account icon from the top right corner of the page.
After that, you can either sign in or sign up. Choose an option that you prefer.
Then, you'll get a popup window to enter your credentials.

You can use your email to sign up. In that case, you may need to verify your email.

Or, you can simply use your Facebook or Gmail account to sign in or sign up faster.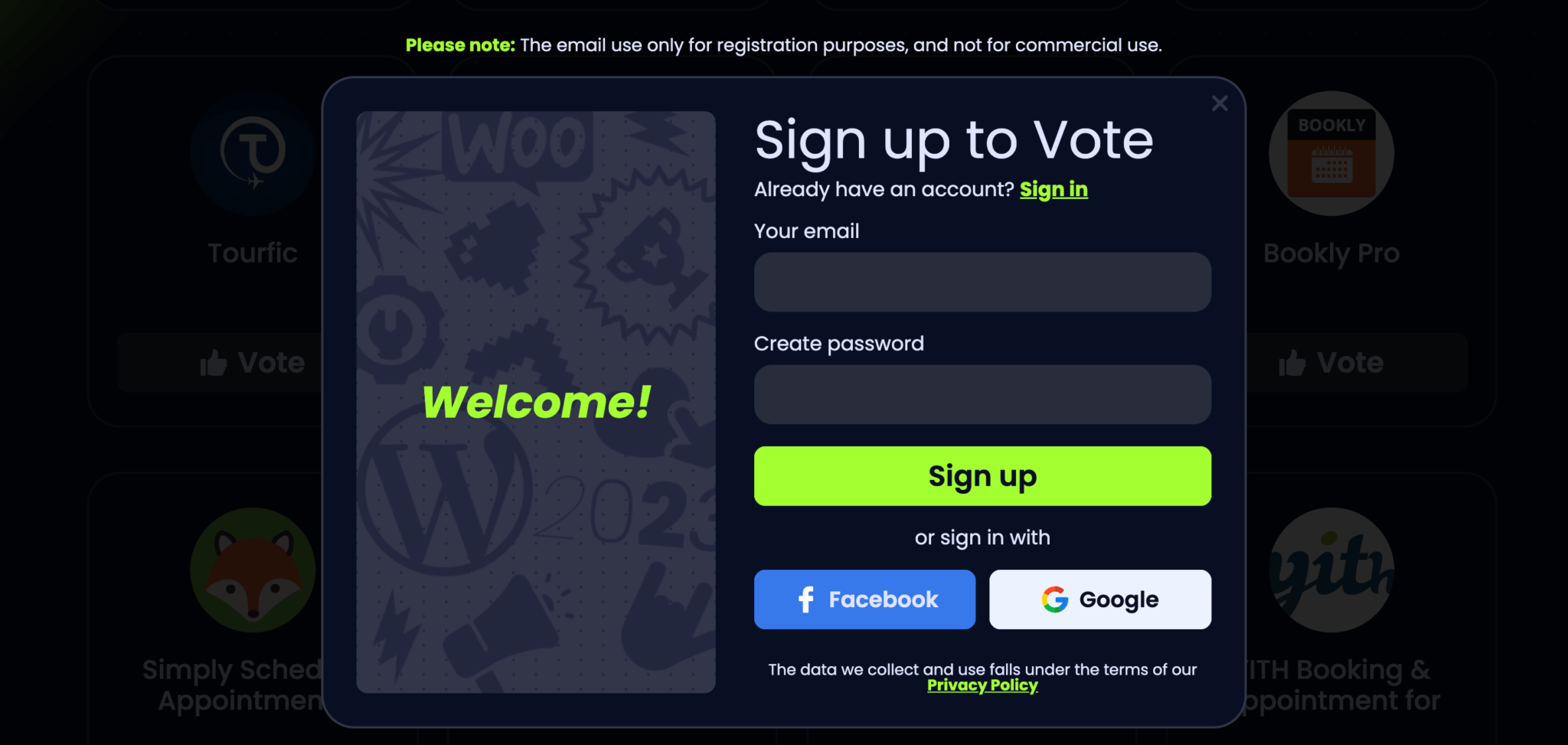 Once you log in, you'll be able to cast a vote.
To cast a vote for Tourfic, select the Booking & Appointment category.
Then, hit the Vote button by navigating to the Tourfic logo and name area.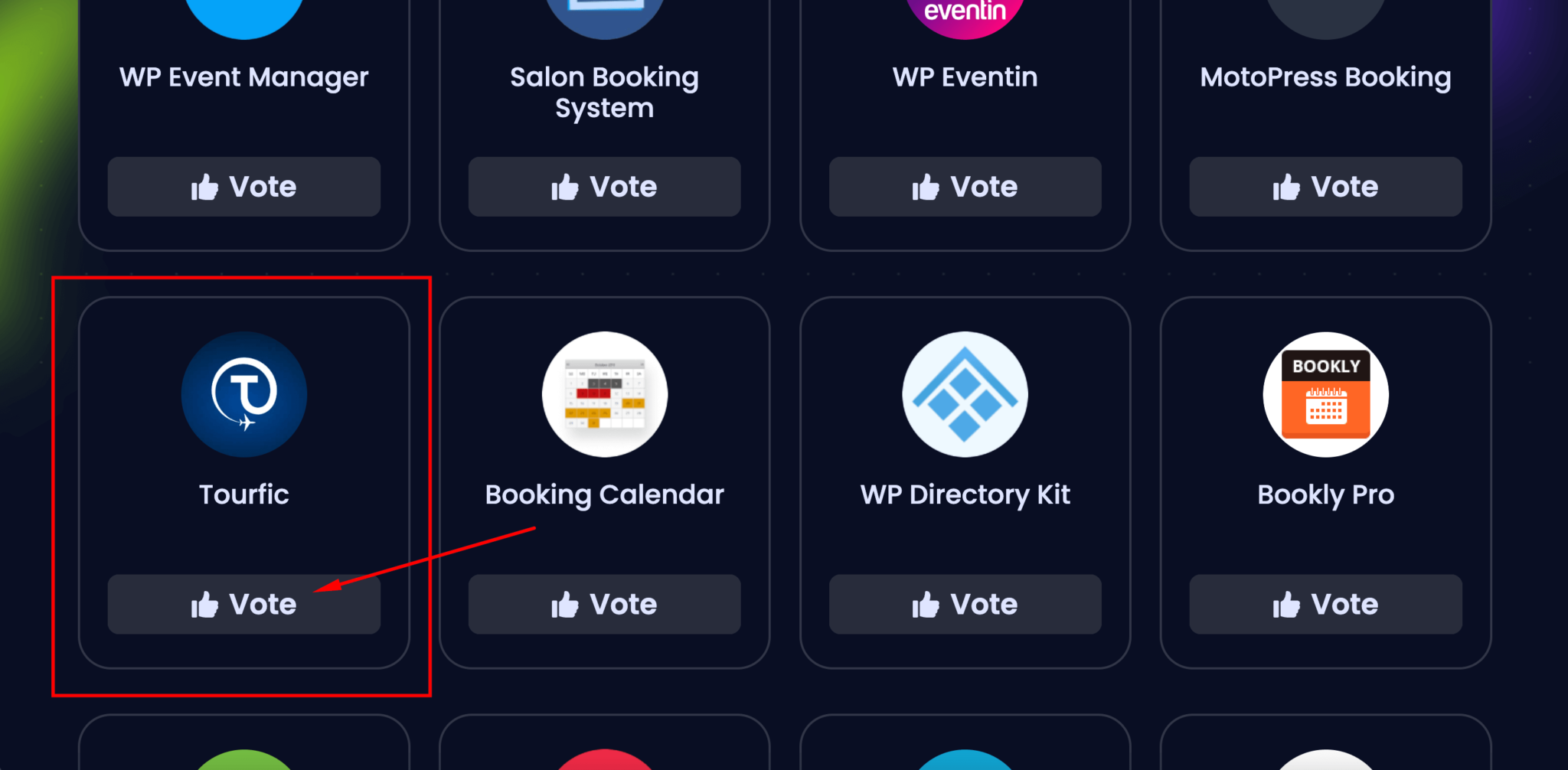 If done right, you'll be able to see the percentage of votes for each of the plugins, including Tourfic.
Yes, it's that simple!
So, vote for the quality booking plugin before the poll closes
Don't miss the chance to make a powerful booking and appointment plugin to win the race. Your vote is priceless to recognize Tourfic out of the box.
Come and show us your love! Time is running and you can vote till December 11, 2023. So, don't waste time and go ahead to vote for Tourfic.