Well, it's August, it's a new version of WordPress on the horizon and a new Tourfic to boot! That's right, we've updated our plugin and made a bunch of changes to it for the latest release.
For example, we've included a new role called "Manager" in our dashboard, and provided frontend dashboards for Admins, Managers, and Vendors.
While we were at it, we ensured that businesses could brand themselves a bit better with a custom logo setting on the dashboard and did a lot more for our "Free" and "Pro" users.
Let's take a look at them, shall we?
Tourfic V 2.9.26 Changelog for Free Version:
Update: We updated our Remix Icons all across the board.
Improved: Now, you can automatically create "Login" and "Registration" pages.
Improved: Hotels and Tours Rest API is added in the plugin.
Fixed: We fixed hotels and tours badge bug issue.
Fixed: We fixed design issues here and there.
Tourfic V 1.6.30 Changelog for Pro Version:
New: We added a new role "Manager" in the mix to help you coordinate better.
New: We've added Frontend Dashboard for admins, vendors and managers.
New: We've added Vendor management feature for admin and manager in Frontend Dashboard.
New: Login & Register settings added in tourfic "Settings" section.
New: Now admins can assign different permissions to users.
Improved: We made design improvements for the "Login" and "Registration" pages.
Fixed:  Vendor Registration Name Issue Fixed in this version.
Fixed: We fixed Email verification url issues.
Fixed: We fixed Email verification broken layout issues.
Changelog for Frontend Dashboard for Vendors
Update: You'll find "Login" and "Registration" settings under the "Settings" menu of the plugin.
Fixed: We fixed issues with Vendors' "Earning" section.
Fixed: We fixed an issue concerning vendor's "Float Price" issue.
Pro Users Rejoice! You Have New, Interactive Dashboard to Work With!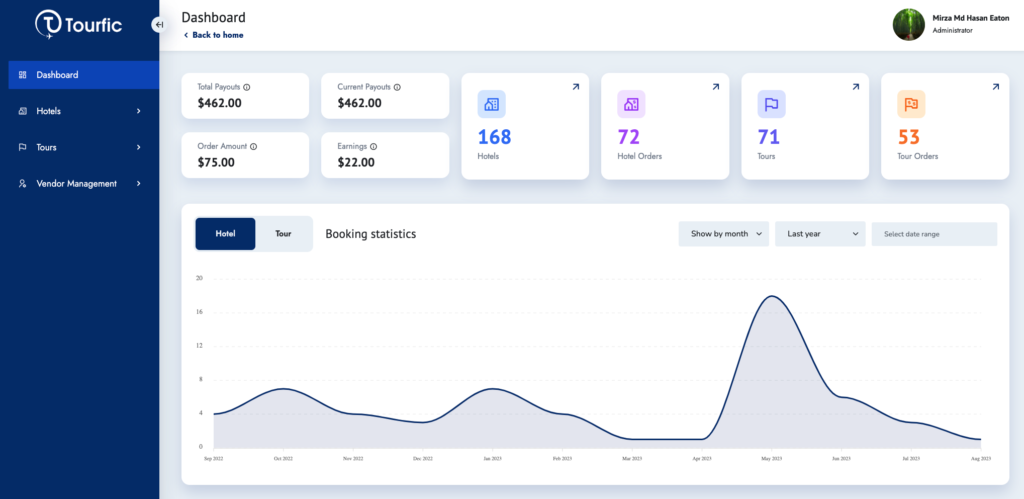 That's right! For our "Pro" users, we revamped our dashboard and brought everything to frontend. Now, you don't have to log in to the website and navigate to plugin settings to access everything as an admin. Oh, make no mistake. You still can. But we believe it's easier for people to access it from the website's frontend.
So, we made it happen. Not only that! The dashboard has a new feel to it. Depending on your assigned role (Oh, we'll get to that, don't worry), you'll see an impressive presentation of the needed details. You can set up a new logo, view your income, how your hotels and tours are doing, and more.
As An Admin, You Can Assign Specific Roles to Different Members of Your Team
When you're in the Travel & Tourism business, a good team wins you half the battle. You'll need to recruit some good managers and pair up with reputed vendors in real life.
As far as collaborating with them virtually is concerned, tourfic has you covered! We're dividing the roles of your team in three distinct categories.
As per our newest feature, Admins can assign a "Manager" or a "Vendor" role to certain personnels of their teams. They'll be able to assign numerous capabilities to Managers and provide access to several features as well.
The designated "Manager" will be able to access the capabilities and options he's been granted from his dashboard once he logs in.
Admins can assign different people as "Vendors" as well. They can do it from the back-end of the website, as well as the frontend public registration form.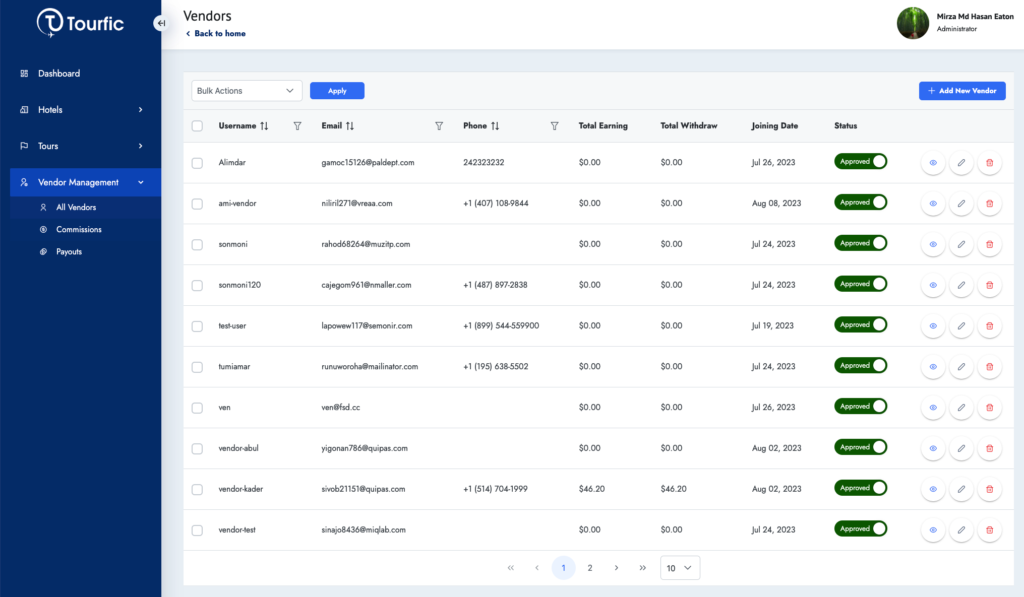 Designated Vendors can access the options from their own dashboards. The options to watch over hotels, tour information, payouts, and commission rates are all there like they used to be.  
Before you ask: yes, all three dashboards will be completely unique for the abovementioned roles. Still, Super Admins can access all features of the plugin.
Note:  A Manager can allow or restrict vendor's access as well. Things are easy using our new dashboard system.
As a manager, your teammates can see vendor lists and check their personal details. A vendor isn't up to the mark? As a manager, you can also revoke his/her status.
Look, we could've kept things the way they were, within the old interface. But no one likes an old, boring interface… right?
That's why Tourfic v2.9.26 and Tourfic pro v1.6.30 spiced things up with a sleek frontend dashboard. We added a bunch of new roles and features for our "Pro" users. Improved our UI design and did some bug fixes all around.
Our team wants you to make some profit and be a part of the success story as well.