Instantio 3.0 is finally here, and it brings a whole new WooCommerce Checkout Experience. Get ready for a special 4-in-1 release that includes:Design System Features, New Checkout Design, Payment Compatibility & Significant Performance Improvements.
IMPORTANT – Instantio 3.0 is a major release, and that's why we recommend you backup your site before updating.
With every feature release, Instantio continues to progress, but the major updates bring significant advancements to enhance our users' workflow. In our previous versions, we always aimed to introduce something new to the plugin. Now, in 2023, I am thrilled to announce the highly anticipated launch of Instantio 3.0, a complete transformation of the Instantio experience.
Months of dedicated work and a comprehensive rebuild of our infrastructure have culminated in Instantio 3.0. This update brings forth improvements to both the core and Pro versions, along with a revolutionary approach to the WooCommerce Checkout Experience. Prepare to be amazed as this version completely revolutionizes your workflow, enabling you to create faster and more consistent checkout experiences like never before.
Discover the countless ways Instantio 3.0 will transform your productivity and empower you to provide an unparalleled checkout experience for your customers. This update represents a leap forward, reflecting our commitment to pushing boundaries and delivering exceptional results. Get ready to embark on a journey of enhanced efficiency and customer satisfaction with Instantio 3.0.
Features of Instantio 3.0
Multiple Layout
Instantio offers multiple aesthetic layout options including light, dark, glass morphism, and gradient themes, letting you align the checkout design with your brand's identity.
---
Quick Setup
Get started quickly with a streamlined and easy-to-follow setup process. Instantio is designed with a focus on user-friendly setup and configuration, enabling you to get your WooCommerce checkout up and running in no time.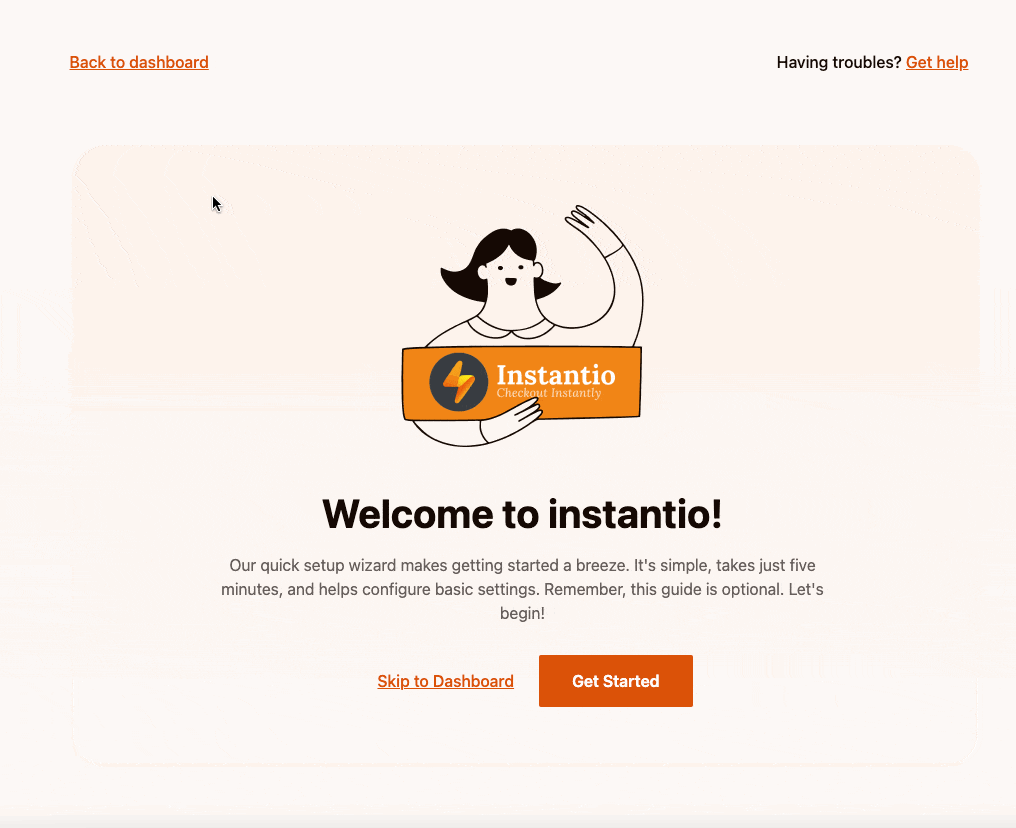 ---
Optimize Assets
Minimize load times and enhance performance with optimized images, scripts, and stylesheets. Instantio is built for optimal performance. It optimizes assets to reduce load times and improve the speed of your checkout process, providing a better user experience and improving conversions.
---
Animation
Make your checkout process more dynamic and engaging with custom animations. Create a more engaging checkout experience with our range of animations. These can be used to draw attention to important information or to enhance the overall user experience.
---
Progress bar
Improve the checkout experience with a progress bar that shows customers where they are in the process, helping to reduce cart abandonment.
---
Upsell – Cross Sell
Amplify your sales with the powerful feature of upselling and cross-selling. You can effectively offer your customers complementary or higher-priced items at the checkout. This not only enhances the customer's shopping experience but also boosts your overall revenue.
---
Payment Method Compatibility
Enjoy the advantage of numerous payment options. Instantio integrates seamlessly with a broad range of popular payment methods, providing a flexible and convenient checkout experience for all customers.
---
New Dashboard
With an intuitive and easy-to-navigate dashboard, Instantio makes managing your WooCommerce checkout effortless. The dashboard includes tutorials for easy learning, FAQs to clear up any uncertainties, and a 'What's New' section to keep you updated with the latest features and enhancements.
– Tutorial
Get guided through the plugin's functions with an integrated tutorial.
– Documentation and Support links
Instant access to comprehensive user guides and direct links to our dedicated support team. These Comprehensive documentation and dedicated support links are provided within the plugin to assist users with troubleshooting, configuration, and customization, ensuring you make the most out of Instantio.
– FAQ
Quickly find answers to common questions in the FAQ section.
– What's New
Stay updated with the latest changes, improvements, and new features.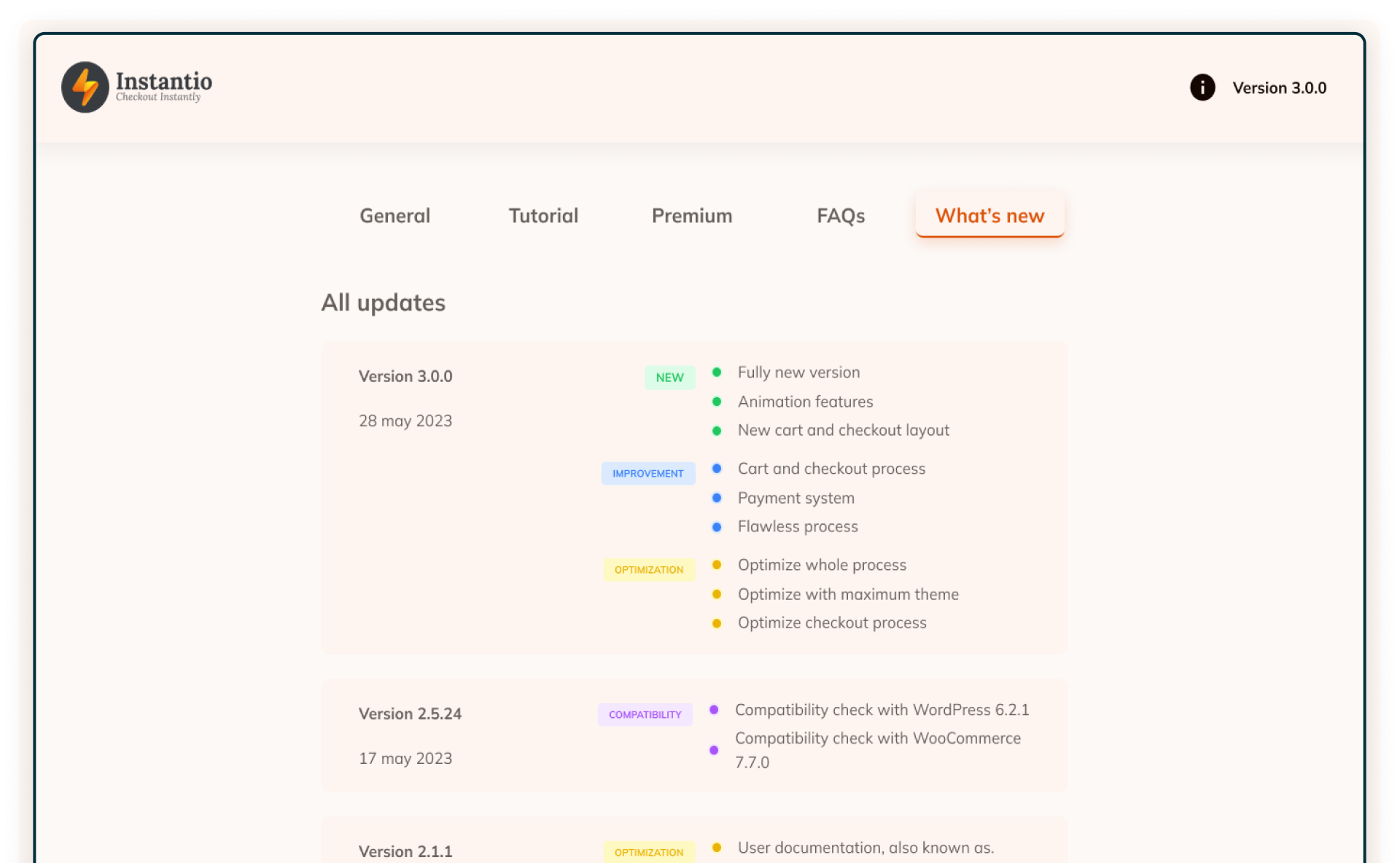 ---
New Settings panel
A user-friendly interface for managing all plugin settings, is now more intuitive and easier to navigate.
The revamped settings panel in Instantio offers a streamlined and user-friendly experience, allowing you to configure and customize your checkout process more efficiently.
---
Layout Design/Design Panel
Tailor your checkout layout to fit your brand with customizable design options. This highly customizable design panel allows you to tailor the layout of the checkout page, enabling you to create a unique and branded experience for your customers.
---
Icon Library
Access a library of diverse icons to enhance your checkout interface's look and feel. With such a comprehensive icon library, you can add visually appealing and recognizable elements to your checkout page, enhancing its readability and functionality.
---
Custom CSS
For advanced customization, apply your own CSS to modify the layout, colors, and styles. The Custom CSS feature allows you to further tweak the design of your checkout page, providing the ability to override default styles and create a unique look that matches your brand.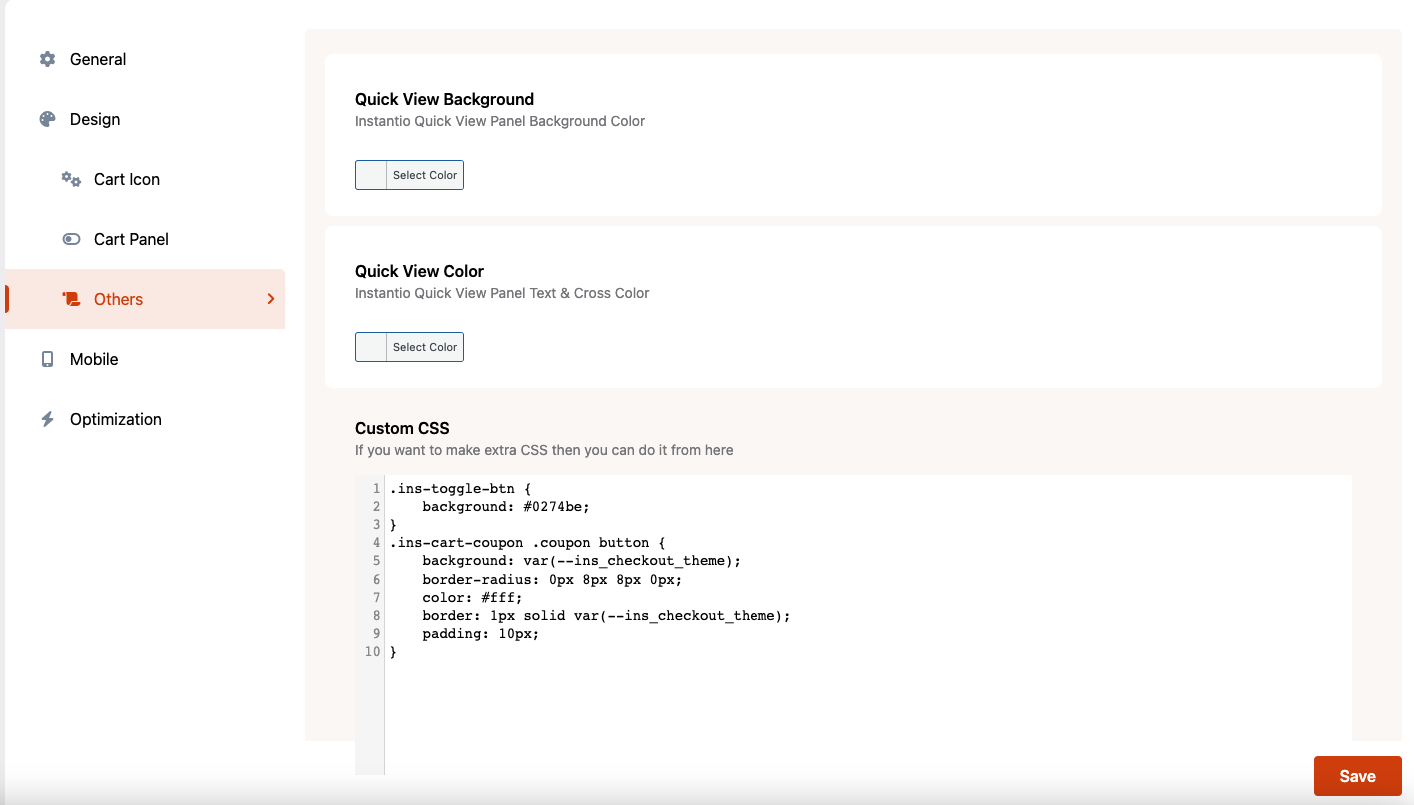 ---
Compatible with popular themes
– StoreFront
– Avada
– Enfold
– Astra
– Betheme
– WoodMart
– GeneratePress
– OceanWP
– Blocksy
– Divi
– Porto
– And Many more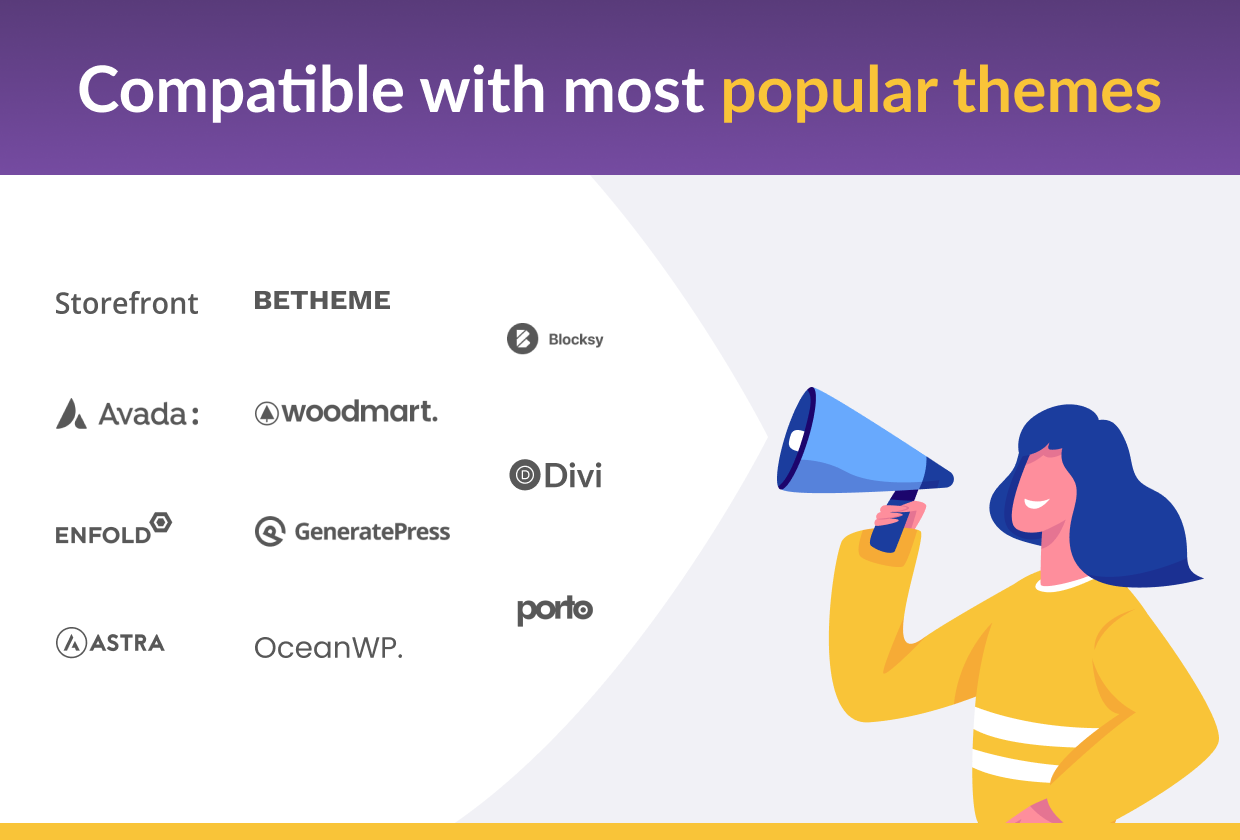 ---
Responsive Layout( Desktop, Tablet, Mobile )
Instantio's layouts are fully responsive, providing a seamless shopping experience on desktop, tablet, and mobile devices. This ensures customers can complete their purchase anytime, anywhere.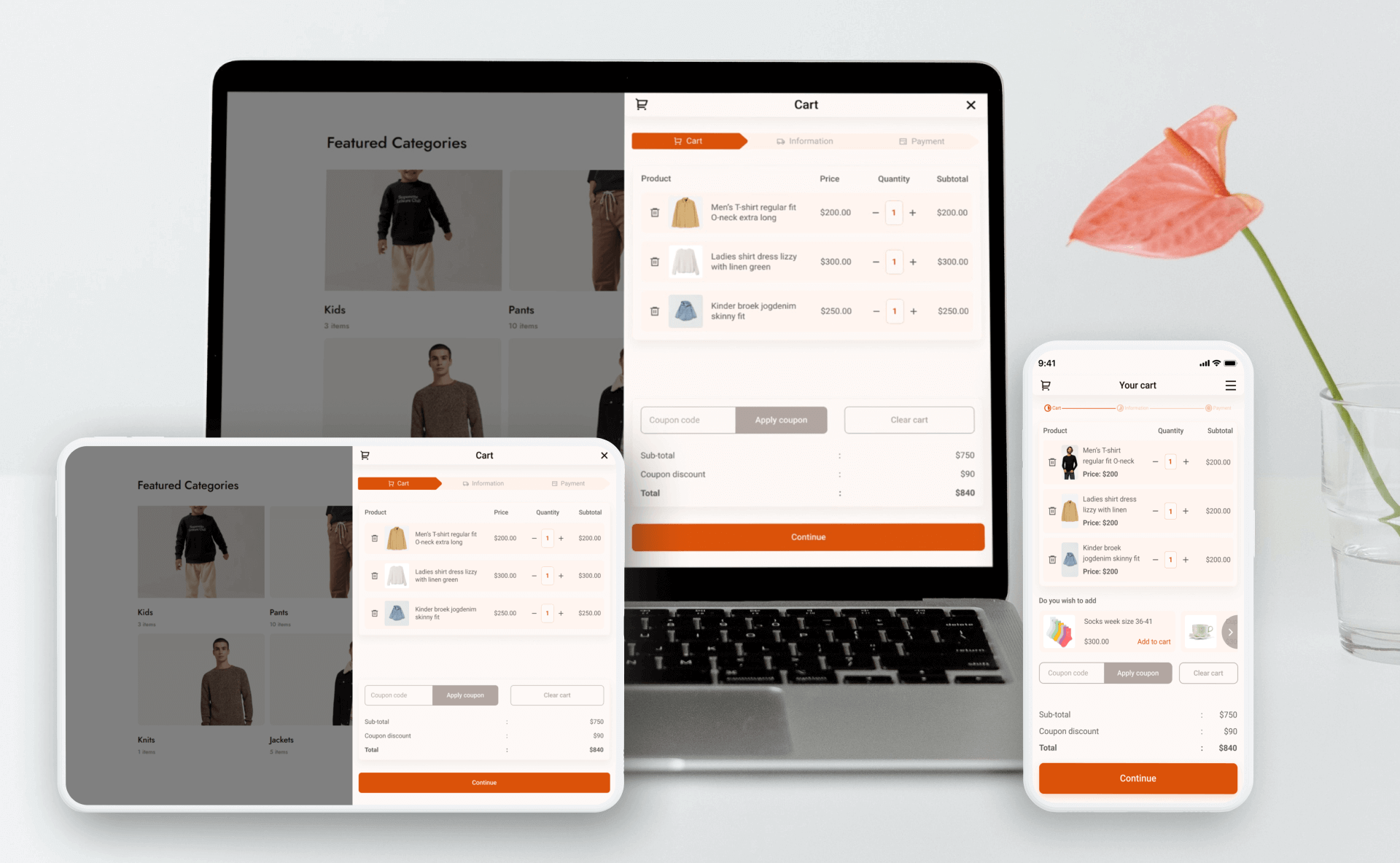 Cater to your mobile audience with a responsive mobile layout. Instantio ensures your checkout page looks and functions seamlessly on all devices.
---
Important Note About Upgrading
Instantio 3.0 is a major version, and includes some substantial infrastructure changes. Before you upgrade to v3.0, please make sure you backup your site. Please make sure you upgrade to the free version of Instantio 3.0 before upgrading the Pro 3.0.
Time to Take 3.0 for a Spin!
Get ready to uncover a wealth of exciting features in this highly anticipated version of Instantio. We are confident that Instantio 3.0 will have a profound impact on your daily operations as an Ecommerce site owner. This update is designed to give you the competitive edge you've been seeking.
By upgrading to Instantio Pro, you can fully harness the power of Instantio 3.0 and take your business to new heights in 2023. We've packed this version with a plethora of goodies that will revolutionize the way you work and help you achieve unparalleled success.
Don't miss out on the opportunity to propel your business forward. Upgrade to Instantio Pro today and unlock the full potential of Instantio 3.0. Let this be the year when your business soars to new heights and achieves remarkable growth. Embrace the future of Ecommerce with Instantio 3.0 and experience the difference it can make for your business.