Creating contact form tags may not be too difficult, but it can take some time when manually creating them with the tag generator. Or if you're creating an entire form, it's an even bigger chore to make everything from scratch.
That's why we're introducing AI integration with Ultimate Addons to help you generate forms with mere clicks. Be it form tags or extensive forms — you can now create Contact 7 forms within minutes and customize them with ease!
Enabling the Form Generator AI
Using the new form generator doesn't require any additional work from your side. Simply update the UACF7 plugin, and you'll find that the Form Generator AI toggle is already enabled!
You can then move on to create a new form or edit an existing one within Contact Form's settings. You should now see a dedicated button for the generator at the top.
Generating Forms and Tags with AI — Never Been Easier
Once you go to the form editing section and click the Form Generator AI button, it'll open the new generator window.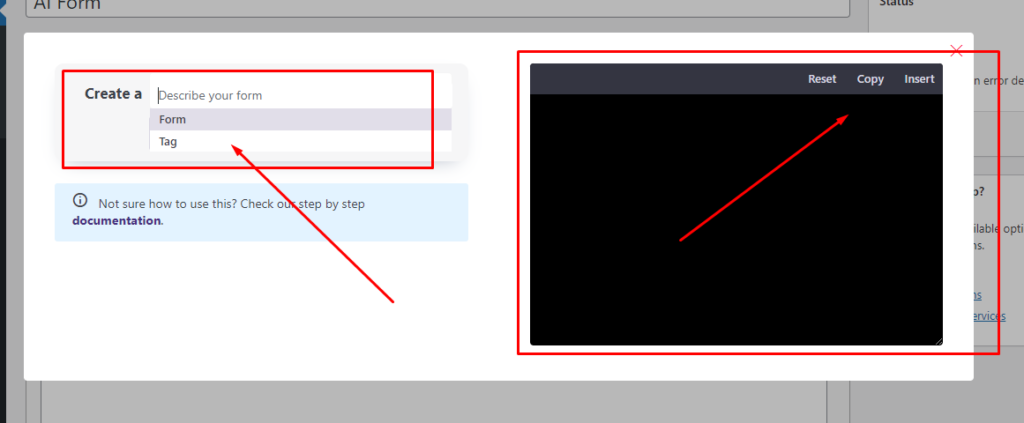 Tag Generation
Once you hit the Tag option from the dropdown, Ultimate Addons will inquire about the type of tag you want to create. Be it a dropdown menu, radio button, checkbox, telephone numbers, or a simple text box — you'll have everything within reach.
Simply select the type you want, and the generator will keep suggesting some viable options for the next step of the process.
In this case, we created a text tag and determined that we wanted a label for it. Once done, the generator asks if we also want the field to be required. If you're satisfied, hit the Generate with AI button, and Ultimate Addons will put the shortcode within the textbox next to it.
You can create another tag within that window and hit Generate again, which will add the new shortcode below the previous one. This can be a great way to create an extensively customized form within one place!
It's also possible to Insert the new code directly into the form or Copy it for granular control.
Generating Forms
If creating tags one by one isn't your cup of tea, ask the generator to do it at once! Select the Form option from the initial dropdown menu, and you'll find various sorts of forms to choose from.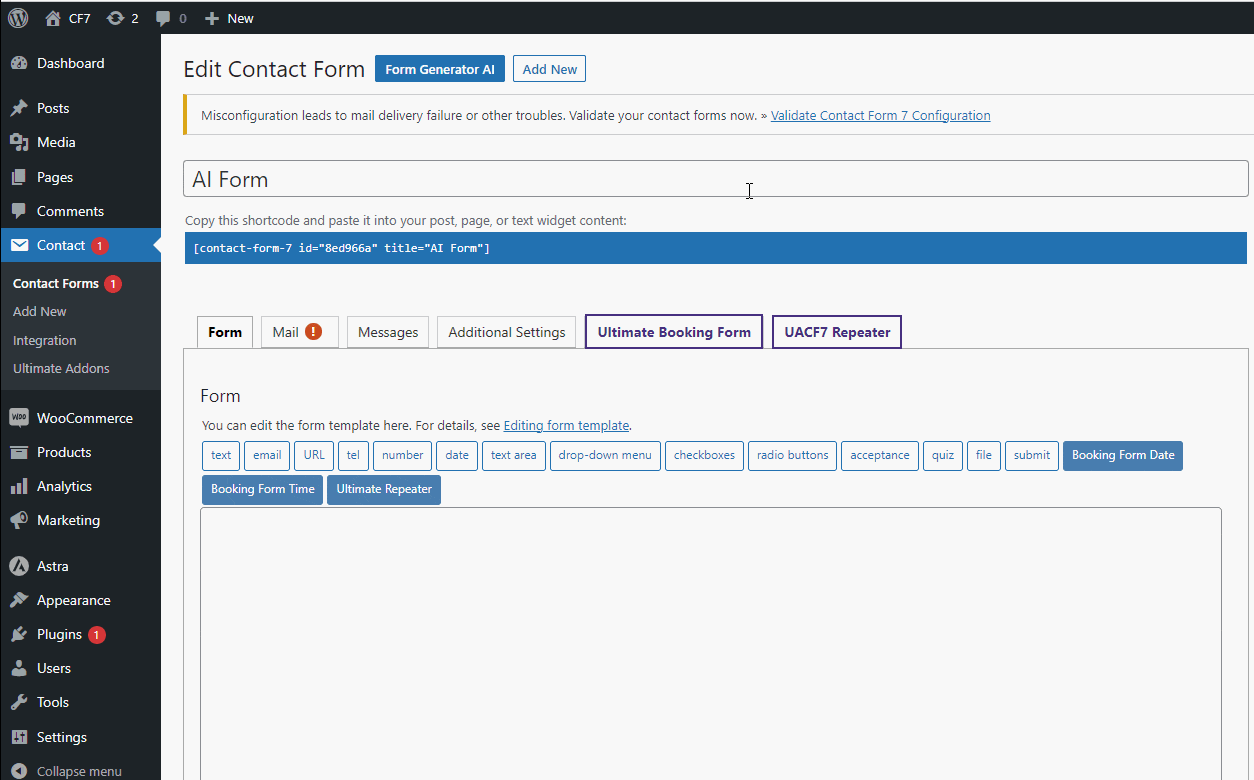 Let's say we want an appointment form. Simply select Appointment and click on the Generate with AI button once again. This time, the generator will populate the text field with a full-fledged form with name, email, time slots, doctor's preferences, and much more!
You can click Insert and edit these properties within the form editor with ease.
Live Preview
View Documentation
Creating Forms with Pro Addons
If you want to use your pro addons with the form generator (e.g., UACF7 Booking/Appointment Form), all that's required is to install and activate the respective addons. You'll then see those form types automatically available in the dropdown menu.
There you have it — another significant update to Ultimate Addons for Contact Form 7's form generation capabilities. Creating tags and forms shall now be swifter than ever before.