The Ultimate Addons for Contact Form 7(UACF7) facilitates the creation of electronic signatures for individuals seeking to incorporate E-signatures into the system. We've designed it for user-friendliness, ensuring a seamless experience for users to sign your contact forms.
In cases where agreements and contracts require digital signatures, individuals can easily provide their autograph using a mouse or touch screen directly on the form. This is precisely why we have developed the Digital Signature feature in Ultimate Addons for Contact Form 7
Key Features
User-Friendly Interface: Easy-to-use functionality ensures a seamless experience for users.
Signature Field Requirement: Option to make the signature field mandatory or leave it as an optional feature.
Convenient Access: Digital signature option conveniently accessible at the top of any form.
Clear and confirm Functionality: Easily clear the signature pad after drawing, you can select the confirmed signature before you submit
File Attachments with Signature: Include the signature attachment in email correspondence by adding the signature field name to file attachments.
Color Adjust: You can set color of the signature pad and signature pen.
Signature Input Field
To incorporate the signature field into a form, locate the Signature Field option within the form settings. This will allow users to provide their electronic signatures.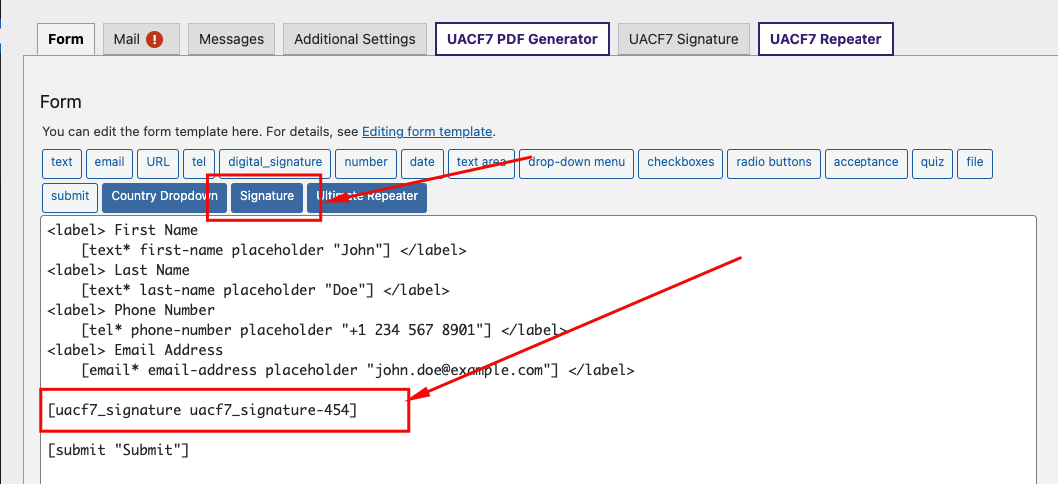 Signature Feature Settings
To enable the Signature feature, navigate to the form settings. Within the Signature settings, you can customize both the signature pad's background color and the color of the signature pen.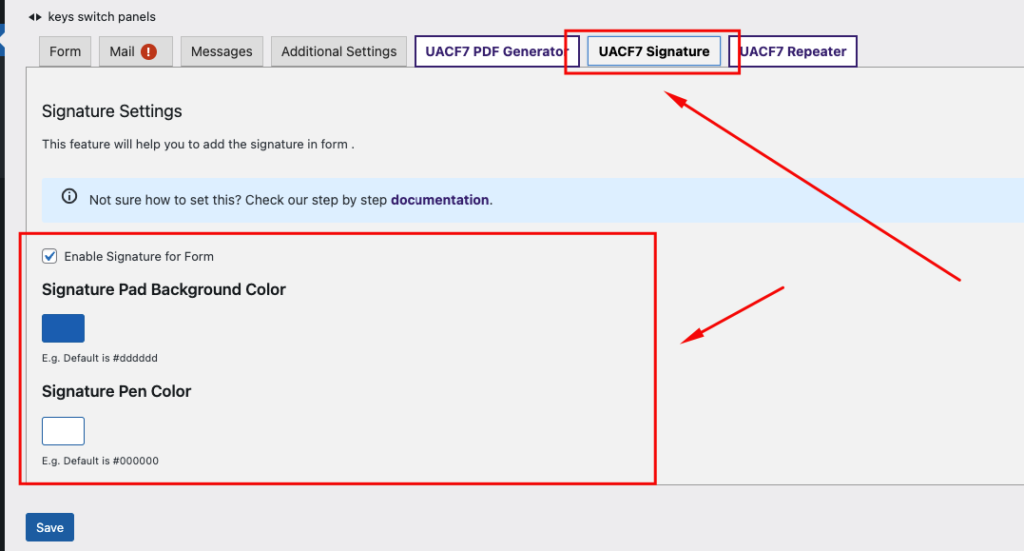 Live Preview
View Documentation
Compatible with PDF Generator
The Ultimate Addons for Contact Form 7 has now introduced an exciting feature, enabling users to effortlessly generate digital signatures within Contact Form 7. This innovative addition allows users to securely incorporate digital signatures into the generated PDFs. By seamlessly integrating these capabilities, we aim to provide a user-friendly experience, making it easy for users to create professional documents with an added layer of security.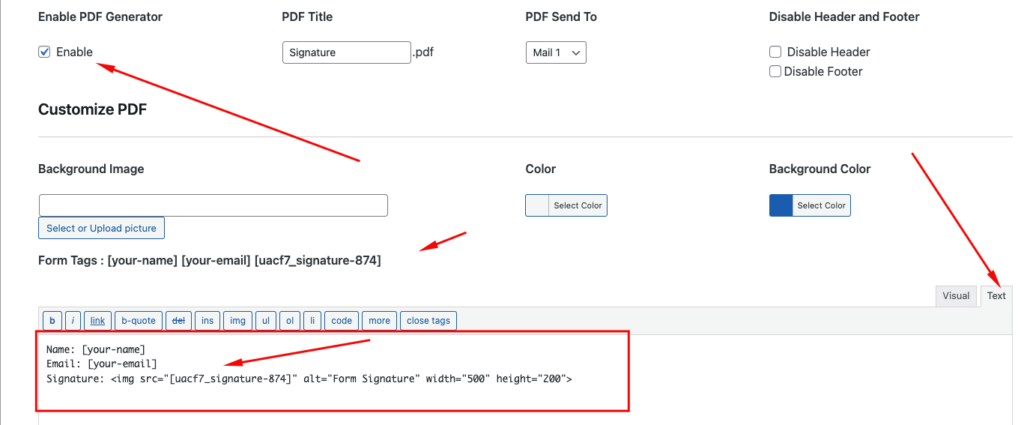 To the get the signature form into the pdf you will have to add the signature shortcode inside the HTML imgage tag src for Example
Signature: <img src="[uacf7_signature-874]" alt="Form Signature" width="500" height="200">