The rise of services like Airbnb or Vrbo has taken the world by storm and has proved to be a worthy competitor of traditional hotels. Airbnb alone has listings in more than 100,000 cities — which speaks of the potential this market holds.
But developing such a massive site and service takes time, effort, and a lot of know-how. Well, we've heard you and brought one of the most-requested capabilities — creating apartment booking websites like Airbnb with WordPress!
Rental marketplaces you create with Tourfic will combine all of WordPress' usual benefits with our excellent booking management system and wide range of tools.
Let's take a look at what it offers, shall we?
Tourfic Grants You All the Advanced Features with None of the Hassle!
Tourfic creates your websites with WordPress, which is already user-friendly and flexible with efficient design and back-end.
The addition of Tourfic adds advanced features catered toward an apartment rental marketplace. This reduces the need for additional plugins or advanced skills to create a website from scratch.
The development process also remains quick and cost-efficient, and additional features like mobile responsiveness and theme support are built into WordPress' framework.
Tourfic adds its extensive booking management software, integration with WooCommerce payment gateways, and support for review and location features as well. Consequently, you can make the most out of WordPress' flexibility and create a full-fledged booking website with one plugin!
Tourfic's Extensive Booking Management Tool will be a Blessing for Our Users!
Tourfic allows you to customize every bit of the booking process of your website. Fee types, prices, guest count, discounts, or duration — everything is customizable from one place in the back end. You can also add variable pricing depending on elements like the guests' age.
This allows website creators absolute control to suit their pricing and marketing strategies.
Another exciting feature we've added is the ability to perform admin-side booking on your websites! If any of the apartments have been booked offline or require modifications to keep the inventory up to date, you can list the apartment as booked — both from the front and back end!
Room Management Has Never Been Easier
Booking comes later, but first, room management is the real chore you have to go through. And since the number of rooms and their types play a vital role in apartment booking websites, Tourfic streamlines that whole process.
Along with the apartment and its features, Tourfic allows users to customize the properties and rules or regulations of each room.
You can add separate rooms in the back end and modify each of their features. Pro users of Tourfic can adjust the room type, its footage, the number of beds, or the maximum number of guests allowed in each room!
To make things easier, the pro version also allows your website to add room thumbnails and separate image galleries for each room.
All the Location Details in One Place
Providing extensive location information is critical to an apartment booking website. Sites created with it allow for customized search capabilities for users.
Additionally, pro users can add helpful details such as the property's surroundings. This section allows you to add crucial and attractive areas around the apartment, which increases the chances of booking and improves the user experience.
Site users can also make location-specific searches to narrow their options down!
Ensure Easy Pickings for Visitors/Guests
Tourfic realizes the importance of allowing users to find what they require — with the least possible effort. All of our search functions and structures have been designed with that in mind. For one, searching for specific locations and apartments is an absolute breeze.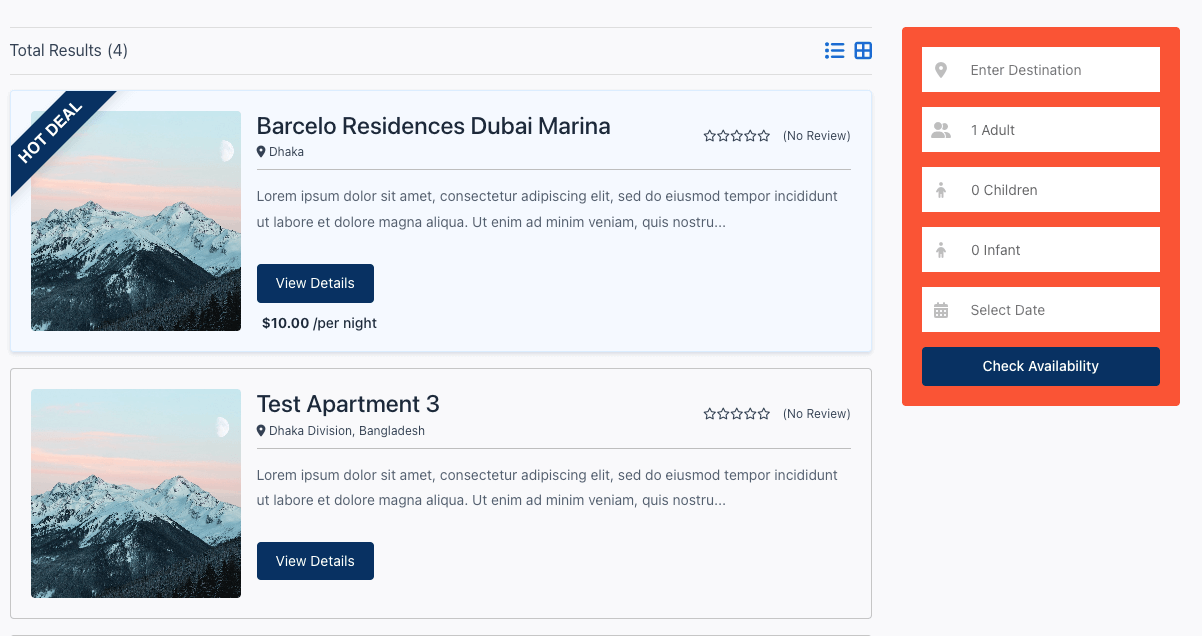 In addition, users can check the availability of apartments right from the details page. This feature is entirely customized to the guests' requirements, booking dates, and visiting duration.
Additionally, the apartment page has all the necessary information and contact details. The FAQ, host's contact information, or the terms and conditions — everything is accessible to the user.
Additionally, you can add an extensive review section (optional) at the bottom of the page to take things further!
Providing Solid Options for Hosts
Along with the visitors, it's vital to provide hosts with the necessary features and control to maintain a balanced user experience. Hosts can feature additional details, such as the amenities provided with an apartment.
Furthermore, there's a separate section for house rules to ensure a responsible, clear contract between hosts and visitors. It allows you to guarantee transparency throughout the services as well!
You Lose None of the Control
Maintaining proper control throughout a booking website requires an equilibrium among multiple entities. Hence, you still have total control over the apartment inquiry section, the review section, or the related section.
Not only do users and hosts have an accessible booking website, but you also have the ability to tweak every bit of it.
And all the Tourfic Goodies!
Tourfic's apartment booking capability comes with the usual features you all love. It still utilizes Ajax to exchange data between the client and the server without requiring a reload, which massively improves the user experience.
It also receives quality-of-life features such as integration with Font Awesome or device responsiveness to give that little edge to your website. Additionally, our remarkable multi-lingual support has found itself on the apartment booking side!
The apartment-booking marketplace has been one of the most asked-for features in Tourfic, and we're delighted to introduce it to you! Now, all that's left is to get going and create your own website like Airbnb or Vrbo.