WordPress is an incredibly popular platform for building websites. Over 1.8 billion websites are built in WordPress (Source: 2022). There is no surprise that it's also a great choice for tour organizers who sell their travel packages online.
With WordPress Booking Plugins, you can seamlessly automate booking schedules and appointments directly from your WordPress website. Hotel booking plugins are flexible and allow you to do more than just streamline the booking process; ensuring benefits both for hotel owners and guests!
However, with the large collection of Tour and Booking Plugins WordPress has, it is often a hassle to find the right one for your hotel business. We are here to help you get rid of the scenario. This article will take you on a journey about the best 5 tour packages plugin in WordPress.
5 Best Tour Packages Plugin for WordPress
What do you need to learn about Tour Booking Plugins before concluding? Here are detailed facts about the 5 Best Tour Packages Plugin for WordPress. Learn their features, benefits, drawbacks, and other details in the next part:
WP Travel Engine

The first one, WP Travel Engine is a popular tour packages WordPress Plugin. It is a comprehensive tour package plugin for WordPress with an extensive set of features. The team designed this plugin specifically for tour operators and travel agencies –  to effortlessly create and manage tour packages, and accept online bookings, and even payments.
With WP Travel Engine, you can create custom tour itineraries, set prices, and availability, plus manage bookings all in one place. It allows you to create SEO-friendly websites, and offer weather forecast information including automatic currency conversion.
Some other features of WP Travel Engine are – a customizable booking form, support for multiple pricing options, and integration with popular payment gateways like PayPal and Stripe. The plugin is fully responsive, so your tour packages will look great on any device. Besides, you can create SEO-friendly tour sites; sparing the extra effort for search engine rankings.  WP Travel Engine is a push behind to increase engagement, bookings, and average order value.
Price: It is a freemium WordPress booking plugin. You will find it in the WordPress repository. The premium WP Travel Engine starts at $99.50/year (Personal), $199.50/year (Travel Agency), and $299.50/year (Development Company).
Tourfic
Tourfic is a powerful and versatile travel booking WooCommerce Plugin. It is designed to streamline your booking process, enhance the guest experience, and increase revenue. Whether you're a small hotel owner or a large hospitality group, Tourfic is a great option to consider for your booking needs.
The plugin is easy to set up and customize, even if you don't have a lot of technical knowledge. The plugin comes with a range of customization options, allowing you to tailor the booking process to your specific needs and preferences. You can customize everything from the look and feel of the booking form to the types of fields that are included.
Your guests can see the latest room rates and availability with this WordPress booking plugin.
Tourfic offers real-time availability and pricing information. This helps to create a more seamless and efficient booking process and can help reduce the risk of double bookings or overbooking.
Plus, Tourfic offers multilingual support, allowing you to translate your booking process into multiple languages. This is a great feature if you have guests from all over the world, and can help to make the booking process more accessible and user-friendly for non-native speakers.
Key features of Tourfic are single-day and multi-day bookings, as well as package deals that combine hotel and tour bookings. This flexibility allows you to offer a range of options to your guests, helping to increase bookings and revenue.
The good news is, this plugin seamlessly integrates with WooCommerce, one of the most popular e-commerce platforms for WordPress. You can use all of the features and functionality of WooCommerce to manage your bookings, including payment processing, order management, and more.
Price: Tourfic is a freemium WordPress Tour and Hotel Booking Plugin. The free version is available at WordPress.org; while the Premium Tourfic starts at $59 (Starter), $149 (Premium), and $249 (Business).
Tour Master
Tour Master is another popular tour packages WordPress Plugin which can help you create a travel website in WordPress easily. It offers a wide range of features for tour operators. With this plugin, you can easily create and manage your tour packages, including pricing, availability, and itinerary details. You can also enable online payments directly on your site, making it easy for your customers to book their trips.
Some of the standout features of Tour Master include support for multiple languages, custom tour labels and badges, and a powerful search and filter system. It allows users to find the right tour package for their needs. The plugin also includes a built-in review system, so customers can leave feedback on their experience with your tours.
The plugin improves the tour and hotel booking experience for your guests; revamping the hotel management system. Plus, it is integrated with a number of necessary features with more flexibility for pricing, coupon, and managing an easy dashboard. Customers also have a separate dashboard to handle their booking details.
Price: Tour Master is a premium plugin for WordPress Booking. It is available at $45 with an extra charge of $15 for 12 months of long support.
WooCommerce Bookings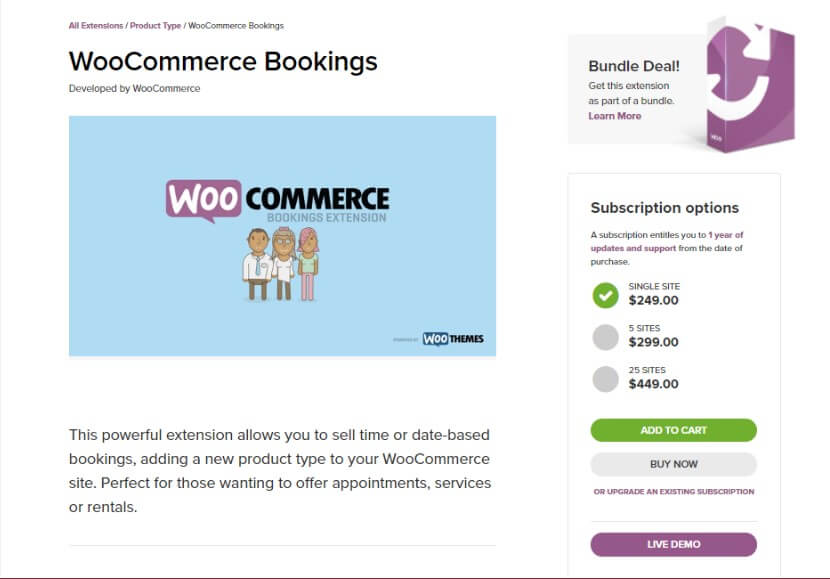 For WooCommerce Store Owners, WooCommerce Bookings is a familiar name. It is a 'made by product' from WooCommerce; with strong team support and enriched resources by the WooCommerce team. Plus, since it's built by WooCommerce; you will have no integration issues.
WooCommerce Bookings is a popular booking plugin for WordPress. It offers an easy solution to sell tour packages as well as other types of appointments and reservations. With this plugin, you can easily create and manage your tour packages, set prices, and availability, and take online bookings and payments.
With this plugin, you can offer special prices for groups, days, or individuals. You can design the discounts and offers and customize them for people based on their order quantity, order time, or simply at the beginning of weekends.
Because it is made by WooCommerce, you can easily manage your tour package bookings alongside your other product sales, all in one place. The plugin also includes a variety of customization options, so you can tailor the look and feel of your tour packages to your brand.
Price: It is a premium WooCommerce Booking plugin; available at $249/year.
WordPress Hotel Booking by MotoPress
Hotel Booking By MotoPress is a popular plugin for hotel owners and hospitality businesses. It offers easy hotel booking management and reservations within your WordPress site. The plugin comes with a range of features; allowing you to create and manage room types, set up pricing and availability calendars, and enable online payments.
One of the key benefits of WordPress Hotel Booking By MotoPress is its user-friendly interface. The plugin is designed to be intuitive and easy to use, even if you don't have any coding skills. This makes it a great option for small hotel owners or hospitality businesses who want to manage their bookings and reservations without having to hire a dedicated web developer.
WordPress Hotel Booking By MotoPress also comes with a range of integrations with other WordPress plugins and tools, such as WooCommerce and PayPal. This makes it easy to integrate your hotel booking system with other parts of your website and guests can pay online.
However, it may not be suitable for larger hotel chains or hospitality businesses with more complex booking needs. The plugin is best suited for small to medium-sized hotels that need a simple and easy-to-use booking solution. Overall, it's a smart solution for small to mid-scale online hotel businesses.
Price: It is a premium WordPress Hotel Booking Website available at $99 (Single Site) and $199 (Unlimited Sites).
Here ends our review with the best-selected plugins by our team. 5 Plugins mentioned here are best known for their versatility and useful features. However, there are more. And you are always welcome to conduct your self-research on that.
Final Words
WordPress Tour Package Plugins revamp hotel businesses whether you run it personally, by staff, or if you are building clients' websites. It's important to move on with the one plugin that best suits your business niche.
For example, Tourfic is exclusively designed for managing Tours along with hotel bookings. Thus, Tour organizers may not be able to do much with plugins with hotel booking features only.
This is why, it's important to analyze your booking type and choose the ideal one to digitalize your physical shop.