Tourfic pays heed to user feedback, and along the path of making your journey smoother, we're proud to introduce an impactful changelog once again! In addition to its new and shiny capability to create apartment booking websites, we've added a new bunch of valuable tools and features.
Let's take a look at what's new! 
Changelog
Added: The ability to create apartment booking websites like Airbnb is now available. 
Added: Hotels, apartments, and tour type taxonomies or categories. 
Added: New widget to filter hotels or tours depending on their type. 
Added: Admins can now book hotels and tours without user interaction from the front or back end (Pro). 
Added: Book tours without requiring payment (Pro). 
Added: Enable Traveler Info section for tours without payment requirements. 
Added: External bookings are now available through redirection. 
Fix: Tour single-page responsiveness issues have been fixed. 
Updated Feature: Tourfic settings now have the tour start price hide option available. 
Add Hotel, Tour, and Apartment Type Taxonomies for Granular Control 
While they're separate categories themselves, hotels, tours, and apartments involve a vast industry with a plethora of options. It can be tedious to categorize or find the correct item at once — both for the admin and the client.
The addition of taxonomies for hotels, tours, or apartments will help you streamline everything. Adding new types categorizes things into as many convenient, compact pieces as you want. This makes organizing and maintaining exceedingly effortless.
Additionally, having these sub-categories is helpful for website users looking for a specific type of hotel or tour. You can also add elements in a parent-child hierarchical relationship if you want to pinpoint everything even further!  
Being able to add URL slugs and descriptions for each type are some more features that can customize the user experience however you want! 
Note: While this feature isn't user-ready for apartment-booking websites as of now, it will be available within a very short period. 
Creating Bookings from the Admin's Side 
In some cases, users may request admins to do their bookings, while the bookings are done offline in other cases. This made the process somewhat complicated, and keeping the inventory updated for admins and future visitors could be a challenge.
To alleviate that issue, we're introducing admin-side bookings for Tourfic! As the admin, you can create bookings on behalf of customers, and the inventory will treat it just like it would in normal cases.
Even better, you can do it from both the front and back end (check the respective photos below)! Consequently, you don't even have to visit the WordPress dashboard to keep track of things — cutting down time and effort.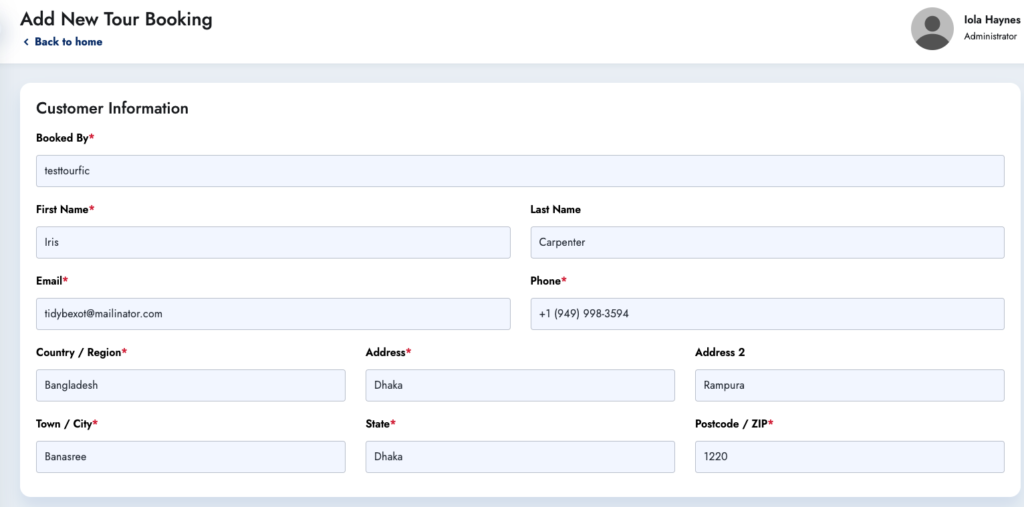 Add Widgets for Efficient Search Filtering
This update also introduces widgets to filter search results to add to the ease of usage for users. For websites with a large number of search results, this can significantly reduce the time it takes users to find something.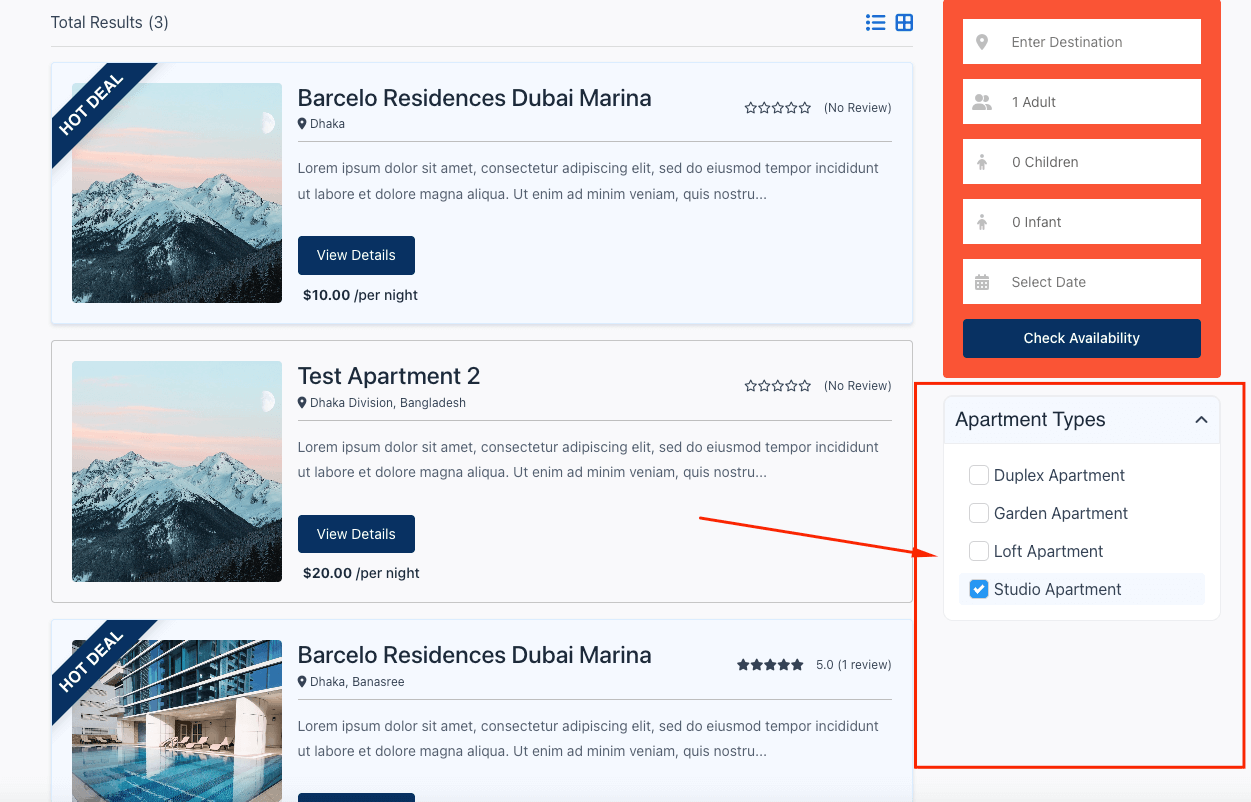 You can customize which types show up on the widget during filtering, along with controls like showing the count or hiding empty taxonomies.
Users can then merely check the preferred box, and the results will be filtered! 
Booking Tours without Payment Details
Our users have been asking for the ability to allow visitors to book tours without having to add payment details first. This can be a beneficial feature to ensure a higher number of conversions and bookings for many business models, so that's what we brought!
Now, once a visitor inputs their preferences on the website, they can confirm the booking without having to add payment details.
Note that this feature is only available for tours. 
As you can see, you can have the website only require personal details and allow visitors to finish the booking. The information should then be transferred over to your WordPress backend.
This update also introduces traveler info, so let's take a look at that! 
Enable Traveler Info when Booking without Payment
If you've selected the Without Payment feature from a tour's settings, you can now choose to enable Traveler Info in your booking form.
In the Tour Options settings, select the Enable Traveler Info toggle to enable this feature. This should bring up a new section where you can create and modify new fields for the traveler's info!  
Book Tours and Hotels through External Redirections
If you want to redirect visitors to other source sites for the booking process, Tourfic now enables that as well! 
You should now find a dropdown with different booking types in the booking section. If you click on External, it'll show a field for your target URL.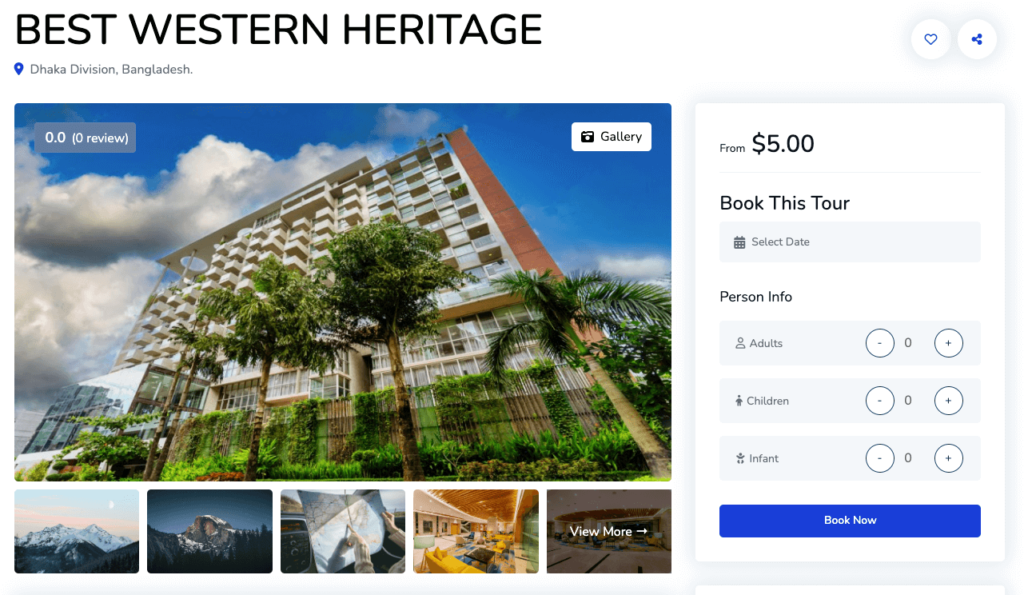 All you have to do is add the link, and users will now be redirected to the external site once they hit the Continue button. 
Note: This feature isn't yet available for apartments but is set for release soon.
So, there we go. This update adds a whole lot to the experience for both the admins and users, and it's only going to get better with future updates!